Choreographic Compostiion through Yoga with Myriam Gourfink
Learning Curve 2016 | Dancehouse
5th – 9th Sept | Expressions of Interest Close 21st August
FOR EXPERIENCED CHOREOGRAPHERS AND PERFORMERS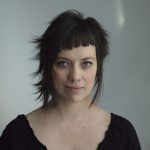 For the past two decades, Myriam Gourfink's choreographic compositional process has entwined principles of breathing and meditation yoga practice. Her dance is guided by the flowing elasticity of breathing movements, allowing the performer time to genuinely feel these movements. This heightened awareness of breath – cellular breathing – allows the subtle transfer of weight, inch by inch, maintaining balance without tension.
Gourfink proposes a workshop that creates an immersive environment to share her cerebral and corporeal practice based on energy yoga techniques – Tibetan Buddhist tantric practices (Tilopa-Naropa-Marpa) – and will invite participants to explore the compositional frameworks that can be generated through them.
Devising the right conditions to connect the cerebral and the corporeal has become a major focus in her practice. In order to be able to establish these subtle connections between doing and thinking, she developed open scores, which invite participants to actively participate in choreographic composition.
Supported by composer Kasper T Toeplitz's sound scores and Laban notation, this workshop will allow participants to further delve into the practice.
Learning Curve is Dancehouse's development program aiming to place emerging choreographers in an immersive and intimate environment with a prominent figure of dance making and thinking. Learning Curve recognises the relationship between experience and development and encourages dance makers to consider the essential nature of a career in dance as a life-long learning process.
MYRIAM GOURFINK is a leading figure in choreographic research in France, but also the guest of numerous international festivals (springdance in New York City, the Künsten Arts festival in Brussels, the Festival de la Bâtie in Geneva, the Danças Na Cidade festival in Lisbon etc.), Myriam Gourfink was artist in residence at the IRCAM in 2004-2005 and at the national Fresnoy-studio for contemporary arts in 2005-2006. From 2008 to 2013, Myriam Gourfink has been director of the Program for Choreographic Research and Composition (PRCC) at the Royaumont Foundation. Myriam Gourfink and Kasper T Toeplitz are guests of the 2016 edition of the BIFEM FESTIVAL.
MYRIAM GOURFINK WORKSHOP


Dates: 5-9 September
Time: 1pm – 6pm
Where: Upstairs Studio, Dancehouse (this event is not wheelchair accessible)
Cost: $250 Full | $150 Dancehouse Member
Bookings: Participation in Learning Curve 2016 is by application via www.dancehouse.com.au