Manifesto to Feature at RISING Festival
Melbourne Dancer, Choreographer & Director in the Spotlight
On the first night of winter, artists, musicians and creatures of the night will pulse through a city reawakened. A festival three years in the making, created by Melbourne, and reconnecting with the world, RISING is inviting audiences to get lost, go deep and shake loose. This is the festival the city has been waiting for. A surge of art, music, performance and ceremony in the heart of Melbourne, RISING will electrify the city from 1—12 June, 2022. (Read our full article on RISING – Click HERE)
There are some fantastic dance events happening across the program from some of our very own Australian leading talents, including Stephanie Lake. Dancer, choreographer and director of the Stephanie Lake Company, Stephanie has presented works across the country and abroad in the UK, Germany, and France among others and has been the recipient of many awards over the years.
Known for her gutsy, original choreographic style and striking visual aesthetic, she comes to RISING with her latest work Manifesto – a tornado and sound, movement and will as nine dancers and nine drummers take to the stage unleashing rebellion and commanding obedience.
Chris Duncan managed to chat to Stephanie last week to find out a little more about her creative force and her current work Manifesto.
****
How long has your company been operational?
We started the company in 2014. So it's been alive and kicking for a while, but it really feels like it's hit its stride in the last few years; which is ironic because in the pandemic shutting most things down. I guess it's been a really steady growth. I set up the company because there was such momentum happening for me as an independent choreographer, and I thought it'd be a good time to put some structure around it. I'm really glad I did. It has been an enormous amount of work and personal and financial sacrifice, but I feel like now we're at a stage where it's really delivering on what I was hoping it would and I've got dreams for it getting even bigger… but yes, it's been an amazing journey.
Where are you based?
I'm in Melbourne and I've been here for a long time, but I was born in Canada and grew up there and then in Tasmania. I moved to Melbourne to study at the Victorian College of Arts and I've been here ever since.
How is your company funded? Is it all self-funded or did you manage to get some government support?
Via a huge combination of things. Only just this year, for the first time, we got some recurring State funding and that's just kicked in this year from Creative Victoria. But up until now, we've been operating project by project… kind of piecing together bits of project funding and fundraising over the last five years. I've recently developed some relationships with some incredible philanthropists, which has been a completely new area for me. And those individuals are just so amazing and have basically meant that the company has survived through some pretty tough times. So their support has meant we've been able to keep going. And then we make money on the projects.
Most excitingly is that we're now actually able to generate income from our shows; that then feeds back into the creation of new work. It's a complicated puzzle, but I'm happy that we're not completely reliant on government funding.
Tell us a little bit the Stephanie Lake Company … what do you produce and what kind of stories do you like to tell?
It's a contemporary dance company. That's my background, my training. I came up through Chunky Move and Lucy Guerin, and worked with Philip Adams in the early days. So they're my big influences as a dancer and choreographer. But I think I draw on lots of different styles. I'm a bit of a 'bowerbird', collecting performers. I like working with dancers with different training backgrounds. For example, the dancers in this new show Manifesto are all really incredible contemporary dancers, but various individuals have strong ballet, salsa, hip-hop, break dancing, and martial arts training. I like that diversity in training and I like the way dancers influence each other in the room, because it's a very collaborative process making the work. But yeah, the shows I make are pretty wild! I wouldn't say there's one 'thing' that I do. I've obviously developed a choreographic style over the last 20-something years, but I try and challenge myself to make something different every time I'm making a new show. For example, I've made really big scale works like Colossus, which is a piece for 50 dancers and is still touring all over the world; and then also intimate duets that explore really personal things. So yeah, I like and create a whole range of works. I like being able to work with different performers in different ways and with different collaborators.
So it's not just one genre all the time? … It's a collaboration and eclectic mix?
Yeah, absolutely. Audiences do comment on that. I think that's important for the success of the work that we see a bit of a snapshot of humanity. Obviously the performers are all incredible physical specimens because they're amazing dancers, but I think people resonate with their diversity, as they like to see difference that is interesting, even within the uniformity of a group. I'm really into unison dance as I like big, strong statements. I like rhythm. I like unison, but within that, I love that variation. I don't want them to be cookie-cut replicas of each other, like a corps de ballet… As beautiful as that is, I like the variation and the difference.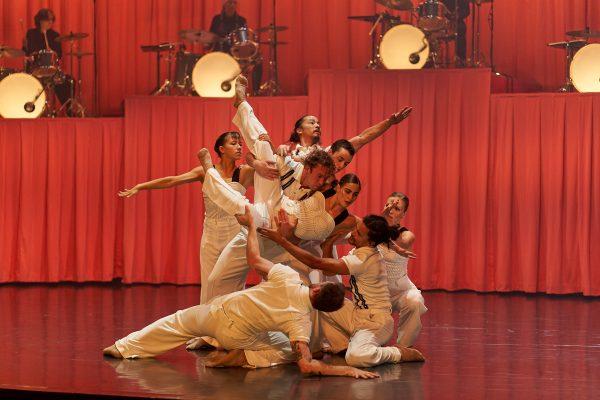 For the upcoming RISING festival, you created a new work Manifesto … Can you tell us a bit about that?
Well, it's a big show. It's got nine dancers and nine drummers on nine drum kits. It's a big, dynamic, loud, layered work. We premiered at the Adelaide Festival not so long ago, and it was absolutely amazing to be on stage again after so long… just thrilling to be in front of an audience, and especially with a high-energy work like this. It's actually a really joyful show, and I think that's partly to do with that connection between the drumming and the dancing. It's so elemental… it kicks people in the guts. I wasn't setting out to make anything didactic, I'm not trying to get any kind of message across, I just really wanted this show to be an experience. It's really just about that connection between movement and rhythm, which is a very primal thing. People can draw whatever interpretation they want from what it is. The drums are arranged on this glorious kind of 'Busby Berkeley' set, with big nine-metre high bright pink velvet curtains … it's really glorious… and they're kind of on this curved staircase, so it looks quite grand, but then they thrash it out on the drums and I love that contrast.
Was there any particular inspiration?
I've always wanted to work with drums, it's been something that's been ticking away in the back of my brain for a while. A good friend was doing a tiny gig here in Melbourne that was just him drumming solo on a kit. I was sitting right next to the bass drum, as we were all squished into the venue, and and it was such an overwhelming, exhilarating experience. It was then I realised I had to make a dance piece with live drumming. So I think that was the seed. Then over time it just grew, and I thought multiple drum kits would be amazing… like, having an orchestra of drum kits… and we eventually landed on nine because of the symmetry we could get with staging and the nine dancers.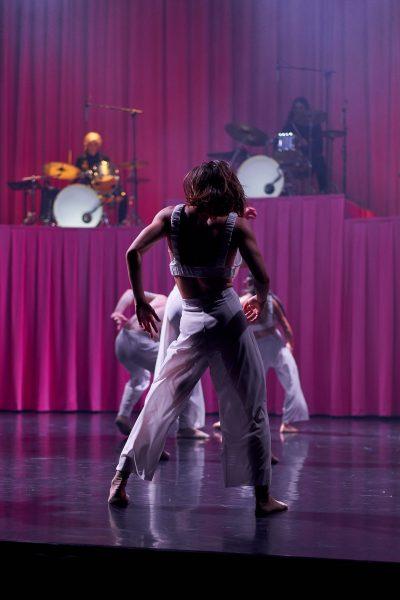 Can you tell us a little bit more about the cast?
I'm in love with all of them! They're so incredibly talented and amazing. They come from all over the country, different companies, and some people I've worked with on commissions before. It's a real mix of some my favourite dancers that I've worked with in the past, some young dancers that have come up through my Colossus work as well as a couple of dancers that I took a chance on and thought you'd be amazing in this show. We've pulled them from all over the place and I think that's been really great because, as I was saying earlier in our chat, the influence across the cast has been really interesting and exciting. It's the same with the drummers; they come from a range of backgrounds from technical classical percussionist to punk drummers, to jazz and heavy metal. It's really fun.
Will you be touring Manifesto after the RISING Festival?
Yes, it's going all over the country because we've been partly funded for this project through the Major Festivals Initiative [MFI]. We had six festivals co-commission this work, so they all got behind it before we even set foot in the studio. They all committed to the show, which is just phenomenal. For someone with my background as an independent maker, this is just a dream. So we premiered at the Adelaide Festival, we'll do RISING now in Melbourne, we've got  the Brisbane Festival, Perth Festival, Sydney Festival, and hopefully go to Auckland as well. And then off into the world hopefully, as we're already fielding some interest internationally.
Such great news to hear that Aussies are doing so well!
Thank you. To be honest, it might be partly a result of the squeeze because of the pandemic, as festival directors were forced to look to their own artists … Australian artists. They couldn't just import the big international names for the festival programs. And that timing worked out particularly well for me in this project, because it's a big show that I wouldn't be able to make without that kind of backing. It's an interesting turn of events and I really hope, despite the devastation of the pandemic on the performing arts, that lasting commitment to Australian artists is one of the positives that comes out of it. I really hope it's a positive change.
It's always fantastic to hear that Australians are actually getting in there and making it happen, as there's just not enough work in our country, so well done!
Thank you so much for acknowledging that. I feel especially proud because we're a really small company that is able to make work – big work – on a main stage work that employs a lot of performers and is touring. Yeah, I'm really proud.
***
BIO | Stephanie Lake
Stephanie Lake is a multi award winning choreographer, dancer and artistic director of Stephanie Lake Company. Her major works include Manifesto, Colossus, Skeleton Tree, Pile of Bones, AORTA, Replica, A Small Prometheus, Double Blind, Mix Tape and DUAL.
The company has toured across Australia and internationally to Theatre Chaillot Paris, Taipei,  Germany, Denmark, Scotland, Ireland, Singapore, Hong Kong and New Zealand. Lake has created many works for other companies including Sydney Dance Company, Chunky Move, Queensland Ballet, Dancenorth, Tasdance, New Zealand Dance Company, Frontier Danceland (Singapore), Expressions Dance Company and Beijing Dance/LDTX (China). She has won a Helpmann Award, two Australian Dance Awards and two Green Room Awards for Outstanding Choreography.
Stephanie was the inaugural Resident Director of Lucy Guerin Inc. She was awarded the prestigious Sidney Myer Creative Fellowship, Australia Council Fellowship and Dame Peggy Van Praagh Choreographic Fellowship. She danced for Chunky Move, Lucy Guerin Inc and BalletLab for nearly twenty years. Stephanie collaborates across theatre, film, visual art and music video and has directed many large-scale public choreographies involving over 1500 participants.
Stephanie Lake Company respectfully acknowledges the Land of the Boon Wurrung and Wurundjeri peoples of the Kulin Nation.