Energy Boosting Nutrition Tips!
The Importance of Iron
PLUS!… Chickpea, Broccoli, Zucchini & Basil Pasta Recipe
Many dancers aren't aware of the importance of the mineral iron, but it's fundamental to delivering enough energy to your cells. Iron's main job is to help make a protein called haemoglobin. Haemoglobin (abbreviated below as 'heam') acts as a ferry and carries oxygen from your lungs to all of your cells. Without enough oxygen your cells aren't able to produce energy, leaving you without much pep in your step!
Females, who menstruate heavily, participate in regular dance classes or have food absorption issues have increased iron requirements. If you feel you aren't getting enough come check in with an experienced Sports Dietitian, like the team at Body Fusion.
How to increase your Iron levels
Eat haem and non-haem iron rich foods to boost your intake. Haem iron is best absorbed by the body and comes from animal sources, whereas non-haem iron is found in plant based foods but isn't as well absorbed.  Iron rich foods to include in your diet are:
Haem iron sources:
Lean red meat (lamb, beef, kangaroo)
Coloured fish (salmon, trout, fresh tuna)
Non-haem iron sources:
Wholegrains
Beans, legumes & lentils (eg. chickpeas)
Dark green leafy vegetables (spinach, chinese broccoli, kale)
Nuts & dried fruit
Eating Vitamin C rich foods with your iron containing foods also helps boost absorption, something very important for any dancers who are vegetarian or following a plant-based diet.
Try this carefully crafted (very yummy!) chickpea, broccoli and zucchini pasta to boost your energy levels!
Enjoy!!
From your Dancing Dietitians at Body Fusion
Energy Boosting Pasta
Makes: 4 servings     Prep time: 20 mins      Cooking time: 30 mins
Serves: Protein – 1  Vegetables – 2   Fat – 1   Grains – 1
Ingredients: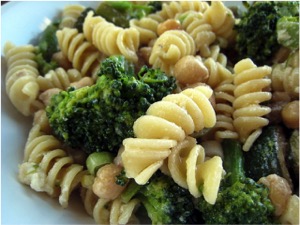 1 cup of dry spiral pasta
1 x tin chickpeas, drained
1 tblsp olive oil
2 large broccoli heads, cut into florets
2 zucchini, chopped
3 cups cherry tomatoes, halved
¾ cup low fat ricotta cheese
3 tblsp pine nuts
1 bunch basil leaves
What to do:
Bring 2 cups of water to the boil, add pasta and cook until al dente (approx. 15 mins). Drain and set aside.
In a large frying pan add 2 tsp olive oil and cook zucchini, broccoli until tender. Add the cherry tomatoes and cook for another 2 minutes or so.
Add pasta, chickpeas & ricotta to the pan, adding 2-3 tblsp water to form a smooth textured sauce.
Serve each plate ¼ of the pasta mixture, top with pine nuts & basil leaves.
*TIP:  Cook a double portion and have as a cold salad the next day!