Hot Talent Watch | Jacqui Heeney
Talented Dancer Applies Her
Skills to the Lifestyle and Fitness Profession
Interview and article by Heather Clements
Jacqui Heeney perfectly illustrates the power and diversity of dance as a profession. Even though she has travelled the world supporting artists such as Kylie Minogue, Beyonce, Ricky Martin, Jessica Mauboy and Samantha Jade, she has found true affinity and success in applying her skills to the fitness industry. It is since her collaboration with model/presenter Rachael Finch that Jacqui's career has skyrocketed as an industry sage-voice for all things health and fitness. Not that she minds!… She is more than happy to be here and loving it! Jacqui is a trained dancer, dance teacher, motivator and advocate of things health and fitness. For the past year and a half she has been a guest instructor on the online fitness program, titled Body By Finch. She has since gone out on her own and developed a range of dance-fitness workouts, as part of her JH Health Initiative, for many audiences and has become the 'go-to girl' when it comes to anything dance-fitness related.
Even though Jacqui works with some A-list artists she is also extremely passionate about giving back and sharing her knowledge of dance and fitness with others for the greater good. Jacqui toured Australia working with Indigenous youth bringing awareness about depression and anxiety through dance which she says highlighted the positive effects of what moving the body can do to one's mental health and physical well-being.
Jacqui is the perfect example of how being mindful, keeping fit and healthy through dance can actually lead you to many different life paths.
Through her specially-designed dance workouts, for all levels, her stretch and strength sessions, Pilates classes, and unique flow and barre exercises she demonstrates just how easy it is to feel good about keeping fit, with a varied workout regime, and still smile at the end of a session!
As she says, "If you're having a great time while you exercise you will see better results."
---
Q: How and when did you start dancing?
I started dancing at age 3, in Melbourne. My older sister was doing ballet so I followed in her footsteps.
Q: What made you pursue it further in training and as a career option?
Since I can remember I always wanted to dance, there was never another option for me. I remember my school friends talking about going to Uni after completing year 12; that never crossed my mind, I was always thinking about dance, and touring with artists.
Q: Congratulations on your success in the fitness market. When did the health and fitness lifestyle become of interest to you?
As a dancer, body conditioning is part of the practice. From a young age I was aware of what exercises I needed to do to strengthen my dance ability. I started to take more of an interest in body awareness and long-term fitness goals when my dance school introduced Pilates classes into the schedule when I was 15 years old.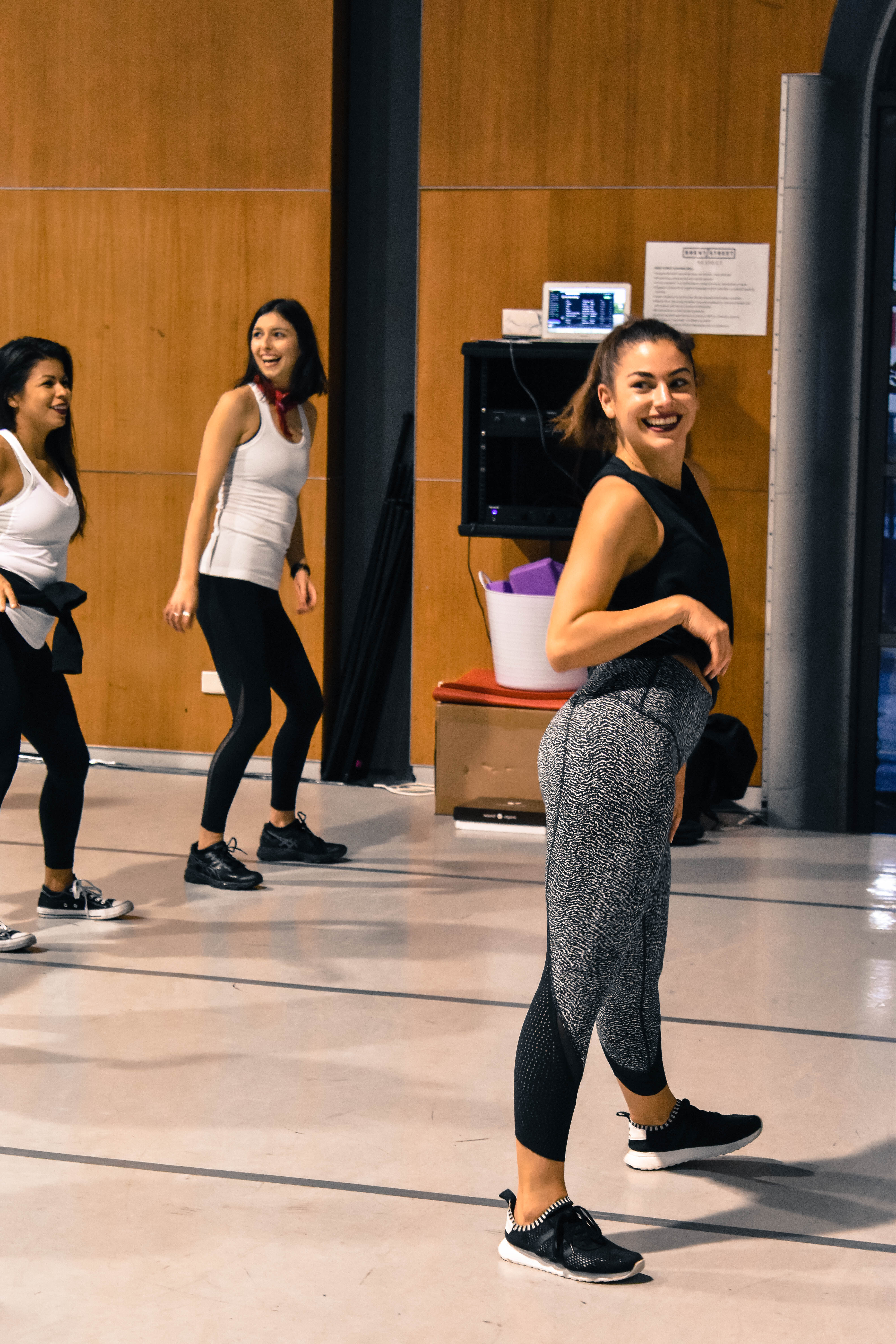 Q: How did this new career avenue come about for you as a dancer?
I started running a cardio dance session at a fitness studio in Bondi about 2 years ago, and it got a great response! People started coming to class having heard positive things about the class from their friends and they wanted to try it out! People were surprised by how much of a workout a dance session can be, and how good it feels. This was a good confidence booster for me and made me realise there was a big interest in dance fitness.
In the beginning my classes were aimed at woman aged 18-50, but they have since evolved, I have created various sessions for both men and women. Anyone who wants to keep fit and, most importantly have fun, can participate.
Through the support of my agent Focus Talent Management I met Rachael Finch and have since been a creative player and fitness instructor for Rachael's online fitness program. Through this platform I have been able to showcase my skills and my advocacy of keeping healthy and happy! The fitness project is still on-going and I love seeing the transformations of people … it's really up-lifting and motivating.
Q: Tell me a little about your JH program and how it differs from others in this very competitive marketplace? Who can do it and where are you holding JH sessions?
JH is Fun Fitness! The program aims to unleash one's confidence within and build stronger connections through music and movement in the body. The JH program comes to you – your workspace – offering a range of fitness programs to keep you fit, healthy and happy.
The emphasis is on nourishing the body, the practice of compassion, and above all, having fun while exercising. The program is designed for all ages, and levels offering custom workout sessions for an individual or groups.
Q: Are you still involved in the dance world?
Yes, of course! I am resident back up dancer for pop Australian singer Samantha Jade. We travel (away from home) weekly and the schedule is packed with back-to-back shows.
When travelling I always fit in a workout and meditation in my hotel room to keep my body and mind centred. These days people live busy lives, which is another reason why I offer workouts online, you can access FREE dance cardio, abs, and HIIT workout on my website.
Q: Finally, some may think that all those years of training in dance may have been wasted if you are not a career dancer … what do you say about this?
I have danced professionally as a dancer for 8 years and I hope to continue to do so until my body tells me otherwise. Since working in the entertainment industry as a dancer I have worked with some of the most incredible artists all over the world and I am grateful for the opportunities I've had so far – I've learnt so much about what it means to work in the biz. Working with true professionals has taught me principles I live by. I make sure I am punctual, prepared and on my game when I go to an audition, a rehearsal or booked on a job.
As I continue to be a part of the dance industry, my focus is more acute. I enjoy sharing my love and expertise of dance, fitness and wellbeing with others.
Dance has taught me fundamental principles I practice on daily basis; listening to your body, awareness, discipline and to love and enjoy your body for what it is.
Q: What is next for Jacqui Heeney? What are your goals?
I aim to inspire and connect through the power of movement and dance. We live in a world that is constantly throwing information at us via many digital platforms, and it's hard to switch off. Living in the now and being present is fundamental to happiness. So, I would have to say, the main goal is to keep dancing, share dance with as many people as I can, and make the most of every opportunity that comes my way.

@jacquiheeney
Visit www.jacquiheeney.com for updates and where the classes are held.