AUDITION
Twisted Element presents the NEW
Wild Hearts Youth Dance Company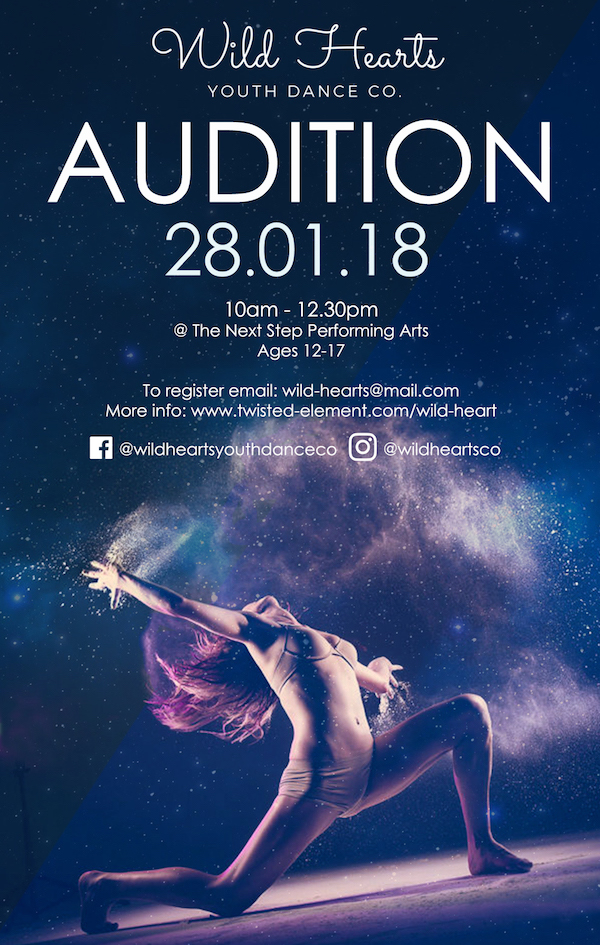 Twisted Element & Opus creator Angela Hamilton
Presents
Wild Hearts Youth Dance Company
AUDITION


Sunday 28.01.18
10am – 12.30pm @ TNSPA (15-17 Bibby Street Chiswick, Sydney)
Ages 12-17
Register Now: wild-hearts@mail.com
M: 0479 127 853
The Details
• Program starts Sunday 11th February 2018 and runs on
Sunday's from 2pm – 6pm during Term 1 & 2.
Program Cost
• $70 per week for 4 x hour session
More info email: wild-hearts@mail.com
*****
Wild Hearts Youth Dance Company, created by Twisted Element Founder Angela Hamilton, is bringing an opportunity for talented young dancers to gain professional experience in exciting and cutting-edge contemporary dance projects.
After years of planning, Twisted Element will be launching their youth company program Wild Hearts in 2018! Dancers aged 12-17 will be selected to be a part of a cutting edge pre-professional program fostering creativity and innovation in the next generation of contemporary dancers.
Directed by Angela, who has 10 years of international experience as a freelance dancer, choreographer, director, producer and teacher, has learnt through her career the dance world is evolving in a way that in order to thrive you need to have a large tool set of creative and business skills and the next generation will need to be able to collaborate with all sorts of people and work in all sorts of settings using a variety of skills.
We are seeing dance becoming a very fluid art form, moving away from the stage and becoming intertwined with technology, mixed media, film and even virtual reality. Dancers need to be so versatile, savvy and adaptable.
Our young 'Wild Hearts' will be given high quality training in contemporary dance, including exposure to different techniques, floor work, improvisation, choreographic skills, teaching and business skills.
Our dancers will be exposed to performance experiences in challenging, contemporary settings, on film and photography sets and be introduced to working with challenging environments and design elements, with professional quality media and performance credits to start building a portfolio from.
Each season, dancers will be selected to be a part of a unique Wild Hearts company project, whether that be a stage production, an original concept video a collaboration or a site specific or immersive/interactive show.
This is one of very few programs in Australia of this type and will be limited to 18 dancers per project.
Wild Hearts will be launching with 'Project 1- 360 Degrees – Original Contemporary Dance Work'.

Learn more about Angela and her aims here: