Increase your Triple Threat potential with Acting Classes at NIDA
New 2018 Term Classes Now Open for K-12
What is a Moodoodle? Ever wanted to try your hand at slapstick comedy? Getting prepared for an audition or screen test? Want to get into Musical Theatre?
NIDA term classes are a vibrant opportunity for children to develop and discover their creativity. After school or on the weekends, NIDA term classes are held in Kensington and on location in Kellyville, Chatswood, Summer Hill, Parramatta and our new venue in Glebe at the Australian Performing Arts Grammar School.
"Our classes are alive and buzzing for children keen to immerse themselves in the world of theatre, film and television.' said Acting Head of NIDA Open Gillian Lemon.
'Beginning in the first term, younger children are encouraged to set their imagination free and explore the skills to create fantastic characters and unfamiliar worlds through weekly adventures. Older children aged twelve and above explore visual storytelling techniques and employ improvisation to create unique characters and scenes' said Acting Head of NIDA Open Gillian Lemon. 'There's a course to suit all levels and ages, from the curious beginner to the aspirational artist. All children are welcome – from Kindergarten to Year 12.'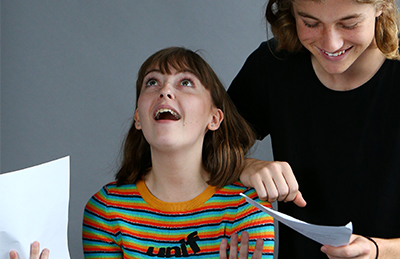 'It's a great program for shy but witty kids like mine. I was particularly impressed with the simple and effective design of the program.' Parent, Screen Acting Boot Camp, grades 3–6
The children work closely with some of Australia's finest performing arts professionals with years of experience in the industry. NIDA Open courses focus on skills development, unlocking creativity and fun and cover all aspects of performance including acting, directing, design, production, musical theatre, filmmaking, writing and stand-up comedy.
Starting on February 3, term classes for children and young people commence at NIDA's award-winning facilities in Kensington and in Chatswood, Glebe, Kellyville, Parramatta, and Summer Hill.
Book all four terms in advance and receive 15% discount on your full year enrolment by calling NIDA Open on 1300 450 417.