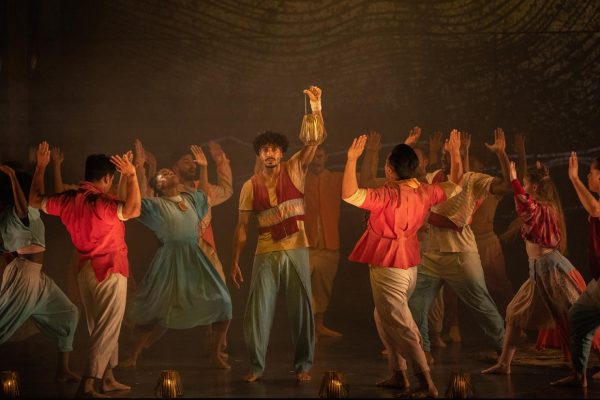 Message In A Bottle
A Sadler's Wells  and Universal Music UK Production
In an Australian premiere, spectacular new dance-theatre work Message In A Bottle from award-winning choreographer Kate Prince, set to the music of 17-time Grammy Award-winning artist Sting, is coming to the Joan Sutherland Theatre this October as part of the Opera House's 50th Birthday Festival.
Combining gravity-defying hip hop and contemporary dance with breath-taking music, Message In A Bottle is a vital story of humanity and hope that explores the global refugee crisis through the lens of one family's experiences.
Message In A Bottle depicts a village alive with joyous celebrations suddenly come under siege. In the chaos, three siblings – Leto, Mati and Tana – are separated from their parents. They undertake a perilous journey to new lands and set out on their own extraordinary adventures. Through the score and choreography, the emotions and struggles of the siblings come vividly alive – from the initial feelings of dispossession to the human drive to persevere and survive.
The stunning soundtrack features new vocals by Sting and new arrangements by Grammy and Tony award winner Alex Lacamoire (Hamilton, The Greatest Showman). Songs include Every Breath You Take, Roxanne, Every Little Thing She Does Is Magic, Walking On The Moon, Englishman In New York, Shape Of My Heart and Fields Of Gold.
Sydney Opera House Head of Contemporary Performance, Ebony Bott says: "Message In A Bottle is a universal story of loss, fear, survival, hope and love. Told through dance, it traverses a mix of hip-hop and contemporary dance with strikingly bold choreography from triple-Olivier Award nominee Kate Prince, set to the uplifting and rousing music of iconic artist, Sting. We're thrilled to bring a globally renowned work to Australian audiences for the first time, particularly during the Opera House's 50th birthday celebrations."
Zoonation Artistic Director, and Message In A Bottle Director and Choreographer Kate Prince says: "I am blown away that Message In A Bottle is touring to the Sydney Opera House, it is the first time that I will travel to Australia, as well as the first time that ZooNation has toured to the country, and this feels like a real milestone for the production and for us as a company. The production started as a dream of mine back in 2016 to choreograph a dance show to the iconic music of Sting, as I've been a fan all my life. To have been able to work with him and all the other amazing creatives, and now to be able to take Message In A Bottle to the other side of the world – It's been quite the journey. We can't wait to share it with you."Iconic musician, Sting says: "When I first saw Message In A Bottle, I was overwhelmed by all the different styles of dance in the show. What I really didn't expect was to be so emotionally engaged in the story. Kate's imaginative story and beautiful choreography has brought my songs to new life."
This project is proudly supported by the NSW Government through Create NSW Blockbusters Funding initiative.
Message In A Bottle
Sydney

– Joan Sutherland Theatre, Sydney Opera House
From 25 October – 29 October 2023