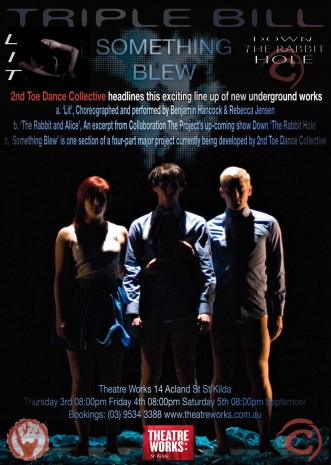 'Something Blew' is one section of a four-part major project currently being developed by 2nd Toe Dance Collective. The work is a modern take on the old English proverb 'Something old, something new, something borrowed,something blue.' The colour blue in the proverb symbolizes purity, love, modesty and fidelity and 'Something Blew' focuses on the modern acceptance of sexual freedom within relationships, which contradicts, neglects and abuses the origins of the ancient saying..
'Something Blew' will be staged as one part of a triple bill presented by Collaboration the Project.
The other two pieces in the show 'Lit' Choreographed by Benjamin Hancock and Rebecca Jensen is based on ones shadow and how a body intecepts light.
And the thrid piece is an excerpt from Collaboration The Project's up-coming season, Down The Rabbit Hole, in October.
After recent success with Inhale, Beat N' Move Euphoric, Immersed & Time A Story Of Youth; Collaboration The Project takes the original novel by Lewis Carrol, and darkly adapts it with a host of Australia's most talented and innovating new talents.
Something Blew season is running from Thursday September 3rd – 5th @ 8pm, Theatreworks, 14 Acland Street St Kilda
Tickets are $22 Full/ $18 Concession
www.collaboration-project.com
DanceLife is GIVING AWAY a double pass to see the show this week. Simply email win@dancelife.com.au with you name, age and suburb before Wednesday.