Celebrating 20 Years of Ballroom Spectacular
Perth | Melbourne | Brisbane | Sydney
PLUS! … We have a double pass to giveaway to each of the cities Burn The Floor XX2018 is playing! To enter, simply send in your name & phone number to win@dancelife.com.au with the subject title 'Burn The Floor – Preferred city'. Entries close before each city's opening night and will be drawn at random.
In the past two decades, the highly acclaimed Australian production of Burn the Floor has simply revolutionised Ballroom dance style around the world.

The production was conceived as a theatrical dance performance in 1997 by Australian Producer Harley Medcalf, as a combination of ballroom dance tradition and history, staged with a rock and roll pedigree. Read our 2015 interview with Harley Medcalf here.
Since its first performance in the UK in 1999, Burn the Floor has toured regularly around the globe.  With three seasons in the West End, multiple tours through Japan, China, South Africa, Canada and the USA, Europe and the UK, South East Asia and New Zealand, the show has created a formidable performance history and reputation.
Performing on Broadway in 2009, Burn the Floor set a new box office record at the Longacre Theatre, 48th Street, during their 193 Broadway show run.

The Broadway season was followed by a 52 city, gruelling nine month US tour through 2010.
In the last six years Burn the Floor has also helped to reinvent entertainment in the Cruise Ship industry, now with five permanent dance show installations around the world on ships with Norwegian Cruise Line, playing to over 10,000 people every week.
With their unique combination of jaw-dropping choreography and ground breaking high voltage dance moves, Burn the Floor brings their now legendary, infectious and rebellious athletic energy to the stage with every single performance.
From seriously romantic Waltz to a futuristic Foxtrot, the passion of the Tango, Paso Doble, Samba or Swing, the vivid, often rebellious personality of the dancers cuts right through.
Director and Co-Choreographer Peta Roby has been with Burn the Floor since the very beginning.
"Today our dancers, hold nothing back, physically or emotionally. They are not afraid to explore daring choreography, or wear their heart on their sleeve," said Roby.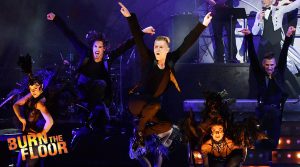 "And, our audiences today are very educated about dance, and have high expectations and appreciation of the art-form and stage craft."
"For me, our dancers own the show, I am just a caretaker of our history, and all we have learnt about passionate dance characterisation, and expressing our vivid, often passionate stories from the stage."
With this tenth world tour, scheduled in their 20th year, don't miss your chance to experience the "pure dance joy" of Burn The Floor, as it continues to raise the dance performance standard to another level.
www.burnthefloor.com

BURN THE FLOOR XX2018
PERTH

 Regal Theatre – April 12 – 21
MELBOURNE

 The Palms at Crown – April 26 – May 5
BRISBANE

  QPAC Concert Hall – May 8 & 9
SYDNEY

The Darling Theatre at ICC Sydney – May 12

Tickets from www.burnthefloor.com/australia.html