BARE – The Musical
Chapel off Chapel, Melbourne, Wednesday 21 March
Review by Sam Webb


Setting this new production of bare: the musical at the Chapel Off Chapel venue was perfect. A giant stained-glass window framed the back of the set with minimal staging and clever lighting throughout: Intimacy achieved!
Director Dean Drieberg and producers Katherine Armstrong and Robbie Carmellotti have brought to life an important and timely story of suppressed love set within the confines of organised Church and confusion of youth where emotions are high and the journey into adulthood is often rocky.
This piece is starkly divided into 2 acts. To be honest, at the end of Act 1 I really didn't know what to make of it. The story seemed compelling but the production lacking any light and shade, almost relentless in its pace leaving no room for applause. Every performance was committed and of a high quality, but lacked a little emotional connection. The one character who shone in the first act was Nadia, performed by Hannah Grondin, and that's not because anyone lacked in anyway, simply that the whole performance was kept at a single driving pace.


Then, WOW!! Act 2 delivered tremendously well. The duet performed by Mandi Lodge and Adam Di Martino, between mother and son, was an absolute turning point. The raw emotion, sadness and disconnect was portrayed beautifully. There were plenty of highs and lows, emotional connection and applause moments.
I was so pleased to see Hannah McInerney playing Ivy, back after catching her brilliant performance in Spring Awakening earlier this year. Hannah is a great talent and she did a wonderful job with the character of Ivy; delivering a strong yet tender performance.
The storytelling through dance was really good also. Sometimes poignant, sometimes really funny, and performed strongly throughout the whole cast. New up-and-coming choreographer Kirra Sibel did really well with the choreography on this show.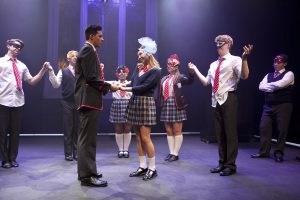 The male leads were convincing in their complex portrayal of love, misunderstanding, suppression and fear. Played by Adam Di Martino (Peter) and Finn Alexander (Jason), they really shone in Act 2 delivering best in the climatic 'Romeo and Juliet' scene.
For me personally, the message was clear: Being told to hide and made to feel like you are wrong destroys lives. The only way to heal is to talk connect and understand. This is a powerful message for our youth and one we all need to hear.
I highly recommend this show. Stick through Act 1. It's intentionally paced to 'wow' you in Act 2 and it doesn't disappoint.
Read more about bare: the musical here

bare: the Musical
From March 20 – April 15, 2018
Chapel Off Chapel – 12 Lhttp://www.stageart.com.au/bare-2018ittle Chapel Street, Prahran
Tickets on sale 20 January
Bookings:  http://www.stageart.com.au/bare-2018