Harley Medcalf's still loving 'Burn The Floor'
Australian Harley Medcalf has come a long way from organising dance nights in Sydney in the 70s. He is now one of the most successful promoters in the world with his associates including Elton John, Queen, Billy Joel, New Kids on the Block, and multiple theatre productions. In 1999 he took an enormous risk to back the formation of Burn The Floor – the world's first ballroom show for the masses.
Seventeen years later, his gamble has paid off and Burn the Floor is still going strong as an international dance-performance phenomena.
DanceLife had the pleasure of talking to Harley about the upcoming tour of the Burn The Floor's latest production 'Fire in the Ballroom'.
Keep Reading to Win Tickets to 'Burn The Floor' …
Q:  What was the idea behind the theme of this 'Fire in the Ballroom' production touring Australia?

A: For our new production we have gone in quite a circle. Mid way through our life, around 2005, we became very stripped back and bare; wanting to focus just on the dance, so the sets, costumes and glamour were scaled right back to expose the dancers as the 'rebels of ballroom' on stage. Now, since 2014, we have decided we are 'glamorous' once again!  Lush costumes are back, along with a beautiful styled set, lots of colour, generating a new 'fire' amongst the dancers on stage. It's exciting, having gone through the journey, we are constantly looking at how we can be better, different and give a constant challenge to our dancers and new looks, steps and sounds for our audiences.
The dancers are still the 'rebels', but they have all of the 'toys' back on stage again, making the show a really strong theatrical experience, combined with great story telling in the choreography and really different music, played with quite an edge to it.
This show – Fire in the Ballroom – has parts of all our three current productions. We will work on the Gold Coast in January for three weeks to polish it some more. To me it is a real showcase of all we have learned and the best work we have created in the last few years: Very theatrical and very, very passionate.
Q:  What can an audience – who may be uneducated in the Latin/ballroom styles – expect?
A: To be totally entertained! The cast has a lot of fun on stage and that is seriously infectious when you are sitting in the audience. We have emotional moments, funny moments, and times when the action on stage just blows you away. We have great sets, tons of costumes and a really eclectic music collection. And then there is the hot band, which this year features two guitarists as well, and then the two amazing singers … you almost need seat belts!
Q:  And counter to this, what can someone who is an experienced ballroom dancer take away from the shows?
A: The technique of the BTF dancers is second to none, something for a trained eye to experience. We pride ourselves on this aspect; and put in hours upon hours to achieve it. The dancers take risks; never sitting back. The passion for their art is always at the forefront. It is inspirational. And then, there is Jason and Peta's choreography, which is groundbreaking. I feel the Burn the Floor ensemble work cannot be bettered – anywhere.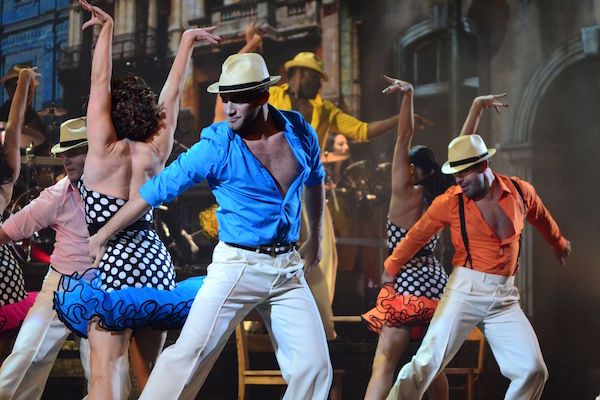 Q:  You've had incredible success as a promoter of various artists and shows over many years – but you've stuck with Burn the Floor and endured the ups and downs. What keeps you passionate about Burn the Floor?
A: The truth here is, that when I started talking about starting a ballroom dance show in 1997 my contemporaries looked at me like I was crazy! I flew back from London with legendary promoter Michael Gudinski and his team in 1998, and was excitedly showing him them all the first workshop photos. Michael just stared at me as only Gudinski can.
I was working with incredible, amazing artists and concert performers at the time. However, I just got inspired by dance, and in particular, fell in love with the dancers themselves, their work ethic, energy, respect for each other, love of tradition, fierce commitment and passion, and on top of this an inspiring gift of talent. It wasn't a dance of seduction, it was full blown love at first sight!
Imagine: in 1999 being surrounded in a rehearsal room by Jason Gilkison and Peta Roby on top of their game, a young 19 year old Kym Johnson, David Feast and Tamara Cranswick, Dermot and Dianna Clemenger, David and Malin Watson and many other champions. I had no chance and I was hooked completely. It set me off in a new unexplored direction, it helped me discover my inner self, and I did everything I had to do, to build this show.
Overall the culture we have created in Burn the Floor has become something special; dear to my heart. It has become more than a show, even more than that – a family. It's a lifestyle. I totally love being around the dancers, they inspire me still, exactly as they did on that first day. The one constant thing about the dancers and the company is that they give you 100% every day; they never let you down. They are fiercely passionate and committed to our brand and our performances.
No doubt we have had some tough times. We have toured through the perils of SARS and Bird Flu. The opening night of our first big American tour was the day the planes crashed into the Twin Towers, September 11, 2001.
We prevailed through small and tough audiences. Being snowed in, and woken up by earthquakes in Japan, and spent all night in airports for planes that never came. We've had PA systems crash, lighting systems fail, wardrobe lost at the cleaners. You name it! No matter what, the cast and crew have never, ever failed to deliver 100% on stage, every single night, and I am talking 16 years and thousands of shows. Simply Inspirational!
The tough times are where this Company has really learnt their very best lessons. And BTF is really built on this culture, and it shows, shining brightly on stage every single day.
So how could I not be totally committed and motivated? I just love it – everything that Burn the Floor stands for.
Q:  It's been almost 20 years – how has the professional dance/performance industry changed over this period, and is it for the better?
A: We have a young generation of dancers now, who have grown up surrounded by dance: On TV, at school, at home, with their friends, lots of studios and successful role models. This is fuelling real growth in the industry. Dance is now a career choice, with real security, and a path to follow. Young dancers now come to us with a great understanding and appreciation of dance itself and technique.
And the dust of the ballroom has also been blown away, and dance is like the new rock and rock, fashionable and exciting. When Burn the Floor started it was hard to find a studio to even rehearse in. The ones we did find looked at us as outsiders and didn't want our business. Now there are hundreds of studios, the industry is professional, stronger and a lot more progressive.
Q:  How have recent reality/dance TV shows influenced the way you produce and tour your Burn the Floor shows?
A: When we started Burn the Floor it was unique. Were were the only ballroom dance show out there. It was quite a few years before the TV dance boom came around. We were certainly ahead of our time, and also ready to ride the ground-swell right around the world. You could not see what we did anywhere else but on our stage. Today, we see fantastic and groundbreaking ballroom and Latin on TV and on stage, in theatres, TV commercials, just everywhere. This has made us hungry to continually evolve. Try to set the trends and leave it for everyone else to catch up. And we have really worked out how to tour. Touring is a science in itself, that others try and cannot really replicate yet.
Q:  In your opinion, what is the secret to the BTF global success? And, what is next for the BTF brand?
A: We all work really hard! Our whole team. And the reputation of Burn the Floor has been built on a really high level of on stage performances. Dance is universal, it does not need translation as we move around the world.  However, it takes commitment, planning and intensity from every member of the company. A constant desire by all the company to be the best we can be. Burn the Floor is blessed with the support staff we have, most of which are like gypsies – always on the move. But they make us really 'hum'. Seeing them at work is really impressive.
And it just takes time; tons of it, and money, beyond what most companies are prepared to do.
We just completed our sixth tour of China over ten years. It lasted ten weeks, and it is the first time I have come away feeling fulfilled, knowing that we are really starting to break through in that market, that we now have a huge future there. We are going back ‪on January 7th to perform on TV, in a Gala show that will be seen by 500 million people. And we will tour there again in 2016.

In Japan we are going back for our 9th tour in April. No one else is in this hemisphere. We have fans from Japan who follow us all around the world. They are always there at every opening, every special event. That Ttakes your breath away.
We currently have four Burn the Floor productions. Three are permanently located on Norwegian super cruise ships in each of Miami 'The Getaway', Manhattan 'The Breakaway' and Barcelona 'The Epic'. Plus, there is our touring company, which is just constantly on the road.
Our dream and focus for us is to get back to Broadway, New York,  in 2018, and we have started planning for this. We performed 193 shows on Broadway, at the Longacre Theatre, in 2009/10, and going back will take us to a whole new level.
Q:  Jason and Peta are amazing choreographers to have on board – how have they influenced the direction of BTF over the years?
A: Jason and Peta are visionaries – visionaries who can devise and implement a piece of complex choreography, both new and exciting, seemingly in minutes. This sets them apart from anyone I know. They are BTF! They create trends, re-energise styles and break rules. They are also two of the most wonderful, stylish, interesting and talented people you will ever meet. Both danced in the original BTF years though to 2004, now they have the helm, and BTF is safe for years to come.
Q:  After this tour of Fire in the Ballroom, when will BTF be back in Australia next?
A: We look to tour in Australia every two years. With that cycle our newest work is always on show. So 2017 it is!
Q: Also, you work with dancers from all over the world – the cream of the crop! – how does the Australian dancer's training compare/rate? What could be improved in Australian approach to ballroom?
A: Australian dancers have a great work ethic. They just grow up with it. They are well trained physically, strong and always mentally very tough. These qualities are often used to inspire new dancers from other territories … "This is how it is done mate". Head down, pedal to the floor and go!
Mostly they have started very young and encouraged to dance lots of different disciplines. This is a real strength, good education to all of what dance can offer if you are willing to explore.
And on the eighth show of the week, after many tough months on the road, when the company is tired, your body is screaming at you, you are covering three roles and the audiences need a kick up a level, these kids always know exactly what to do, just an instinct from those early years of hard work in the local studio.
Truly the strength of any serious company, its natural and needs to be recognised, not changed.
Q:  You work with a hugely talented and large cast. What is the audition process like? What advice would you give young aspiring Australian dancers if they want to work in a production like Burn the Floor?
A: Our audition process is tough. If you are invited to audition you will already have a strong dance track record and great references. It is mostly a long, hard strenuous day. It can't be any other way. You are put through all forms of Ballroom and Latin, with a partner, in an ensemble, perhaps blindfolded. You need to show stamina, passion, individual flair and personality, as well as both physical and mental strength. More than anything you need to show you really want to be there.
We have 80 dancers working in the Burn the Floor shows around the world. They are elite, and a pedigree to be proud of.
Over 50 BTF alumni dance in the Strictly Come Dancing, Dancing With The Stars franchises around the world. This is an amazing statistic and one of which I am personally very proud.
You may just consider yourself to be a ballroom or a Latin dancer, but you must posses the ambition, willingness and desire to work really hard, expand your dance horizons and show the potential technique to back this up. Dress to kill, bring your steely focus, knowing your life might just be about to change.
______________________________________________________
TICKETS TO WIN
DanceLife has 1 double pass (2 tickets) to give away to a show in each of the cities
BURN THE FLOOR is touring.
To win, simply email your answer to the following question to win@dancelife.com.au:

Q: Who are the two Australian choreographers of  BURN THE FLOOR:FIRE IN THE BALLROOM ?

Please include your name and contact details with the answer and include your preferred city to attend in the subject line: 'Burn the Floor – City'.  You can enter for more than one city.

Winners will be chosen at random. Entries for each city will close, and be drawn, approximately 3 weeks before the performance dates – so please keep your entries coming in to win! To increase your chances, be sure to comment and share this page via your Facebook page.

GOOD LUCK!
_____________________________
BURN THE FLOOR – 'FIRE IN THE BALLROOM'
FEBRUARY 5 – 21  – GOLD COAST JUPITERS
Bookings: www.ticketek.com.au
TUESDAY  February 23   –  NEWCASTLE CIVIC THEATRE
Bookings: www.ticketek.com.au
FEBRUARY 26, 27 28   – SYDNEY ENMORE THEATRE
Bookings: www.ticketek.com.au or Ph 9550 3666
MARCH 3 – 19  –   MELBOURNE PALMS AT CROWN
Bookings: www.ticketmaster.com.au
MARCH 23 – APRIL 3  –  PERTH REGAL THEATRE
Bookings: www.ticketek.com.au
______________________________________