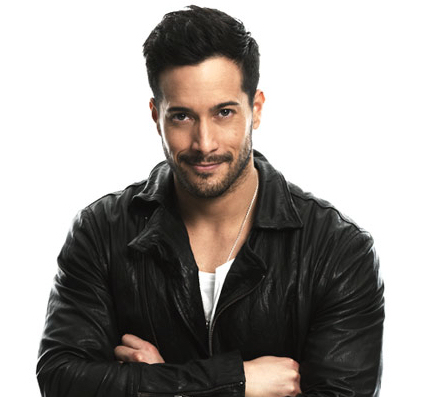 From the moment he could stand on his own two feet, the Moonwalk was attempted…
We had a chance to catch up with this season's SYTYCD judge Shannon Holtzapfell yesterday and gain some exciting insights into the mind and world of a current Australian dance icon!
Are you loving being a judge on SYTYCD in Australia this season?
It's GREEEAT! First of all I am so happy for the opportunity to come back to Australia, to be on our soil, to be a part of the Australian dance industry again because I've been away working in LA for the last five years and it's been such a pleasure to come back and see how much more developed the dancers are. They're stepping out of the box;  they're taking risks and being more daring in movement now where as five years ago I felt like there was less of a dance vocabulary that they had. Now it has been very surprising. The dancers seem to have something else up their sleeves!
What was your background and journey in your training?
I started dancing because I loved watching MTV and Michael Jackson on Television – so that's what got me groovin' and movin'! Then my parents put me into dance class when I was 5 years old. I got the opportunity to audition for shows like 'The King and I' and landed that. I also auditioned for the Australian Ballet as a child for some acting roles. There was the film and television side, I was in my first commercial at 7 years old. But then I actually did a hop-skip-and-jump through a number of dance schools over the years. I started at Johnny Young Talent School but moved around a bit!  I really found my place and growth when I started at Davidia Lind's (DLDC). She really looked out for me there and gave me a scholarship.
I ended up at Robert Sturrock's on the Gold Coast. He really matured me as a dancer and took me from a dancing school kid to a professional. Then at the age of 16 I was dancing for Marcia Hines and Deni Hines so I started really young! I got a scholarship for the Edge Performing Arts Center in Hollywood so at 18 I moved to Hollywood and started studying there and had my eyes opened and then every year I've travelled back and forth between Australia and America. I'd keep training in America and then I'd come back here and work.
BUT long story short, I'm back in Australia – hopefully to groom some new young fresh dancers. Hopefully one day I'll see them follow me!
What do you say to Aussie dancers who think it's too hard to 'make it' in America?
It was always in the back of my mind, it was something that I wanted to pursue from a kid. I always dreamt of the Hollywood 'thing' – you know like Gene Kelly – I always knew I wanted to go to America and I always knew I wanted to chase the 'American dream'.

I would say to dancers, 'Have a realistic outlook', of course, but don't be nervous about it! If you believe you can truly do it then go do it! You're never going to know … 'if you never never go, then you'll never never know!!' It's so true; if you're not in it then you can't win it!

Everyone is different. I've done what I've done because I've thought differently to others. I know a lot of great dancers who could have done more but they've been content with where they're at. Not everyone's going to have my journey but I knew that for me, it was probably detrimental for me to stay in Australia, because I had stopped progressing.  But that's not the same for everyone because a lot of people can reach their potential through what Australia offers. I just had other aspirations.

Hopefully with TV shows like SYTYCD we're giving people opportunities again and being in people's living rooms – maybe people will want to go out and support the arts! Hopefully there'll be more corporate events involving dancers again or TV opportunities.

What are your thoughts about the Top 20 that have been selected?

They are BRILLIANT! Of course we ran into the problem of the fact that there were other people that we would have loved to have seen on the show but we only had 20 spots to fill. I have to say that now I truly think that we have the best top 20 the show has ever had!
Is it hard to choose a cross section of contestants across genres?
We have to cover everything so that's another limitation but I think we definitely have the top dancers that deserve to be on the show! But from hereon it's going to get quite tough. I think the first elimination will be the hardest. We literally do not see any preparation until the live show so we are looking at it purely from their performance on the night.
So You Think You Can Dance Australia airs 7.30pm Sundays on Channel 10.
A little more about Shannon …
Shannon Holtzapffel is an established and accomplished entertainer. Born in the Netherlands, he has called Brisbane, Australia, home since the age of four. Shannon was cast in his first professional musical, The King and I, at just six years of age. As a young performer, he was selected for the Queensland Ballet production of Sleeping Beauty and the coveted Australian Ballet seasons of Manon and Don Quixote.
At 17, Shannon was offered a scholarship to the prestigious Edge Performing Arts Center in Los Angeles. With experience in dance, acting, modelling and choreography, he has gone on to be featured in more than 30 television commercials, the films The Muppets and Happy Feet, numerous music videos, and television shows including So You Think You Can Dance.
In 2008, Shannon featured in Britney Spears' documentary, For The Record. He then became "The Last of the King's Men", that is, a principal dancer with the King of Pop, Michael Jackson. Shannon appears in Michael's This Is It, the highest grossing concert movie and documentary in the history of cinema. He was also part of the worldwide marketing campaign for the music video game Michael Jackson: The Experience.
Shannon's resume also includes touring with Whitney Houston and appearing in Christina Aguilera and Ne-Yo videos. Other artists he has worked with include Katy Perry, Mariah Carey, Taylor Swift, Kelly Clarkson and Jennifer Hudson.
In 2011, Shannon joined fellow Aussie Kylie Minogue on her largest concert tour, Aphrodite: Les Folies World Tour, and the subsequent 3D theatrical cinema release Aphrodite Les Folies: Live in London. Shannon later joined forces with Jennifer Lopez, performing in her Dance Again World Tour, starring in the television documentary series A Step Away, and featuring in the movie Dance Again 3D.
Shannon's television credits include the Academy Awards, the Emmy Awards, the Grammys, the American Music Awards, the MTV Movie Awards, American Idol, True Blood, Glee, Dancing With The Stars (US version) and Your Chance To Dance. He is also the choreographer for the legendary Smokey Robinson Presents Human Nature: The Motown Show, which resides at the Venetian, on the famous Las Vegas Strip.