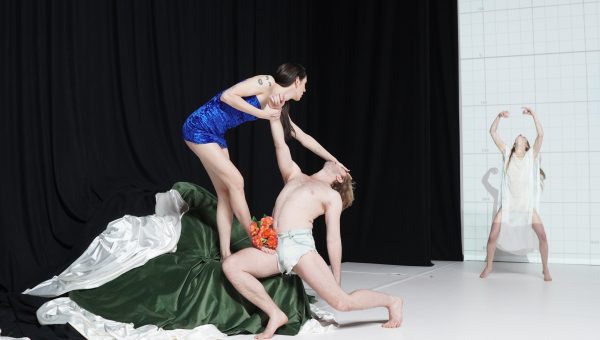 Embodies Imaginaries You are Going to Remember
Next Wave and Chunky Move
Reviewed by Brendan Daynes
White floors and the projection of an alignment grid onto the white backdrop create a cold and clinical feel to the performance space for Victory Over The Moon. This new experimental work, co-commissioned by Next Wave and Chunky Move, choreographer Nana Biluš Abaffy and long-term collaborators Milo Love and Geoffrey Watson explores what happens when time seems to move at a different pace.
The white space is sparingly dressed with few set pieces, plaster casts of the three dancers bodies which are draped in white silk. These were constructed by the dancers with the help of Darcey Bella Arnold and provide a platform for the dancers to add levels to the movement. Plants and flowers sprouting from parts of the set help give the space some warmth. The pops of colour provided by the set as well the costumes, blue velvet and pale blue denim, also help to add some additional feeling.
Each of the dancers appears to be on their own independent journey using a variety of movement pathways, often using repetitive forwards and backwards or circular movement to travel around the space. The absence of a traditional soundtrack provides a strange silence in the space but the use of the sonic capture technology used in the floor provides a soundscape that is original and complimentary to the movement.  This unique soundtrack combined with the dancers playing with the speed at which movements are performed helps depict the mood. Although mostly appearing to work in solitude, including moments where the dancers appear to become audience members stopping to view their peers, there are points throughout the 50 minute performance where the dancers paths collide which results in some collaborative and cohesive movement phrases. Whether working in solitude or in unison the choreography utilises repetition of movement phrases throughout to provide audiences the opportunity to really absorb what they are viewing.
Victory Over The Moon is a work that has an interesting perspective and point of view. It is a dance around the visions that arise in moments of crisis, when time seems to move differently – either speeding up or slowing down in unexpected ways.
Chunky Move presented Victory Over The Moon which played at Chunky Move studios in Southbank, Victoria from 27th-30th July 2022.