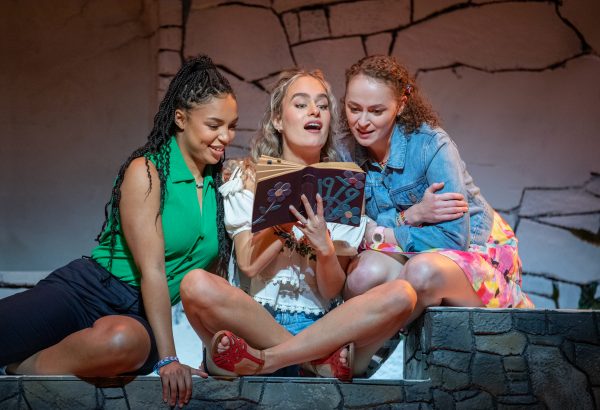 Mamma Mia!
Dancing Queens and Super Troupers Unite in a Theatrical Triumph!
Reviewed by Brendan Daynes
In the heart of the bustling theatre district of Melbourne, a shimmering spectacle has taken centre stage, capturing the hearts of audiences with an infectious blend of nostalgia, romance, and irresistible melodies. Mamma Mia! has returned to the stage, and this production is nothing short of a joyous celebration of music and life. With dazzling sets that transport you to the Greek Islands, and a soundtrack that will make you want to sing and dance in your seats, this production is a true testament to the enduring appeal of ABBA's music.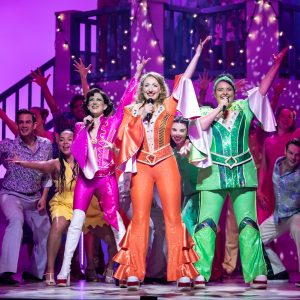 The familiar story, which captured hearts worldwide when the wildly successful original musical, conceived by Judy Cramer, was transformed into a blockbuster Hollywood film, unfolds on a picturesque Greek island as young Sophie prepares to tie the knot. The catch? She has invited three potential fathers to her wedding, all of whom she believes could be the key to unveiling her true paternal identity. The unfolding story, underscored by the iconic music of ABBA, takes audiences on an enchanting journey filled with humour, nostalgia, and unforgettable melodies, as the characters navigate the past, present, and unexpected future.
The beloved characters come to life through the remarkable talents of the cast, with Elise McCann leading the way. In her portrayal of Donna Sheridan, she delivers a performance that is emotionally charged, raw, and vulnerable. She captures the essence of a mother torn between her past and present, and her vocal prowess is nothing short of spectacular. Sarah Krndija as Sophie Sheridan embodies the innocence and sweetness of youth, making her a perfect counterpart to Donna's character. Her portrayal is endearing, and her vocal performance is both youthful and powerful. Bianca Bruce and Deone Zanotto as Rosie and Tanya, bring humour and charisma to the stage. Bruce's Rosie is a standout, with her big personality and impeccable comedic timing eliciting laughter from the audience. The three potential fathers of Sophie, Sam Carmichael played by Martin Crewes, Bill Austin played by Tim Wright, and Harry Bright played by Drew Livingston, display great chemistry together, creating a believable dynamic among their characters. Each actor has standout solo moments that showcase their vocal and acting abilities. Lewis Francis as Sky, Nina Carmen as Ali, Kadesa Honeyhill as Lisa, Jordan Tomljenovic as Pepper, and Etuate Lutui as Eddie all contribute to the energy and vibrancy of the ensemble, rounding out the cast with their respective talents.
The large and impressive sets, designed by Linda Bewick, were a highlight, smoothly whisking the audience from the quaint Greek island taverna to the sunlit beachfront, fully submerging them in the idyllic setting of the story. What's even more remarkable is how seamlessly these large sets were moved to change the backdrop, creating a realistic sense of place and time. This was further accentuated by the pivotal role played by the lighting design by Gavin Swift, which masterfully heightened the ambiance of each scene, providing depth and dimension. Costume design is often a critical aspect of bringing a period or theme to life, and in this regard, Suzy Strout's remarkable work truly shines. The costumes paid homage to the original production and the film while also infusing a fresh and modern feeling.
Let's talk about the heart and soul of Mamma Mia! – the music. ABBA's timeless hits are an integral part of the production, and they are executed flawlessly by the talented cast. The melodies of songs like Dancing Queen, Waterloo, and Voulez-Vou are so infectious that it's impossible to resist tapping your feet or singing along. The energy that emanates from the stage when these songs are performed is electrifying, creating an atmosphere of pure joy that is palpable in the audience. Tom Hodgson's choreography brilliantly translates the contagious energy of the music, with dance sequences that are both vibrant and precisely executed. The youthful ensemble cast brings a tight and exuberant performance, capturing the spirit of the production with unwavering enthusiasm.
Mamma Mia! stands as a timeless classic that will continue to delight audiences, time and time again. This production serves as a testament to the incredible music of ABBA, paying a fitting homage to their iconic songs with skill and reverence. The entire cast delivers memorable performances that tug at the heartstrings and prove that this is not just a musical; it's an experience that will leave you singing and dancing your way out of the theatre with a heart full of music and a smile on your face.
Mamma Mia! is currently playing at Princess Theatre in Melbourne, and it's a must-see for anyone looking to be swept away by the magic of theatre and the timeless music of ABBA. For more information or to purchase tickets visit https://mammamiathemusical.com.au/