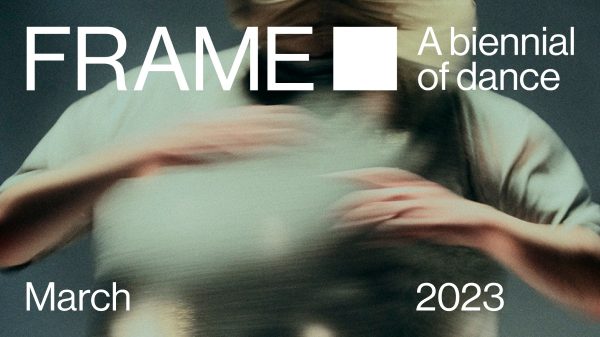 FRAME A biennial of dance
A Collaborative and Transformative Dance Festival for Melbourne
Reviewed by Brendan Daynes
During the month of March, Melbourne's art scene came together to celebrate and showcase dance in all its forms as part of FRAME: A biennial festival of dance that united independent artists, organizations, and partners. As a successor to Dance Massive, FRAME was a festival that represented diverse dance artists and projects from across cultures, histories, styles, and disciplines. The festival encompassed a range of events and programs, including shows, talks, films, public programs, sharings, and workshops that successfully highlighted the diversity and talent of Melbourne's dance community.
Us and all of this was a truly remarkable and immersive dance performance that showcased the power of community and togetherness. Led by the award-winning choreographer Liesel Zink and featuring an exceptional creative team, including Lawrence English as composer and Martyn Coutts as dramaturg, the show was a testament to the beauty of collaboration. The participation of 300 local participants across Victoria added a unique and authentic element to the performance, creating a truly one-of-a-kind experience. The soundscape created by Lawrence English enhanced the experience, allowing the movers to explore their collective energy and create a meditative and sculptural work of art. Us and all of this was truely unforgettable and was a performance that showcases the experience the power of dance and community.
Cuddle was a thrilling and mesmerizing contemporary dance performance that pushed boundaries and defied expectations. Harrison Ritchie-Jones and Michaela Tancheff's expert choreography and intense chemistry created a captivating dance heist story that kept the audience on the edge of their seats. The use of surreal visuals and sounds added an unexpected layer of depth to the performance, leaving the audience in awe.
The Honouring was a truly powerful work of dance-theatre that explored the depths of grief, trauma, and healing. Through dance, puppetry, and physical storytelling, Jackie Sheppard created a raw and visceral depiction of the grieving process that illuminated how trauma can take root in the body, psyche, and soul. The performance was an incredibly brave and transformative investigation that pulled no punches, and the use of Jackie's own personal experience to create a unique and intentional method of healing was truly inspiring. The Honouring was an incredible tribute to the resilience of the human soul and a testament to the healing power of ceremony and the transformative power of art.
A Certain Mumble was a collaborative dance work between First Nations Gamilaroi dancer and choreographer Amelia Jane O'Leary and Chinese Malaysian dance artist Janelle Tan. The piece explored themes of conviction and confusion, voice and incomprehensibility, sisterhood and lineage, and being watched and being understood. The dance was a celebration of First Nations arts and culture and showcased the power of collaboration and conversation within culturally diverse groups in Australia. Through an intimate and emotive narrative, the audience was invited to delve deep into the layers, codes, and stories woven throughout, leaving them moved and inspired.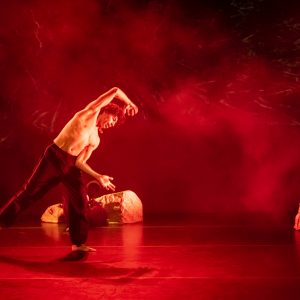 An afternoon of works in progress presented by The Australian Ballet displayed four pieces that offered a diverse and captivating range of contemporary dance. Each piece showcased a unique vision from their respective choreographers and performers, providing a compelling viewing experience. The four pieces titled,  DUET (working title) by Prue Lang, Yūgen by Yuiko Masukawa, Safehold by Sandra Parker and Dance Becomes Her: a performance-lecture by Lilian Steiner were performed in a relaxed studio setting and clearly showcased the amazing talent of not only the dancers who performed them but also the whole creative team behind each piece.
Atlanta Eke's Body of Work + QWERTY were presented as a double bill, exploring the relationship between the human body and technology. Body of Work imagined a future where time collapsed and the physical body and its digital simulations collided, while QWERTY probed the capability of the dancing body to break free of its pre-installed design. Eke drew connections between seemingly disparate topics such as the QWERTY keyboard, wine-making, and ancient Greek mythology, underscoring the complexity and depth of her work. The double bill offered an awe-inspiring commentary on the relationship between the human body and technology and was a captivating experience for fans of contemporary dance and those curious about the impact of technology on our bodies and lives.
NEWRETRO, a performance installation at the Australian Centre for Contemporary Art, was a breathtaking display of contemporary dance that seamlessly blended fragments of choreographer Lucy Guerin's previous works spanning over 21 years. The site-responsive work featured an ensemble of 21 dancers who expertly re-learned the choreography of 21 of her previous works. The performance took place in four galleries, and the creative team had done an outstanding job in bringing this innovative dance installation to life, including lighting designer Paul Lim, sound designer and composer Jethro Woodward, costume designer Kate Davis, and curator Elyse Goldfinch. NEWRETRO was a brilliant and innovative work of contemporary dance that showcased the talent and vision of Lucy Guerin and her team.
Exposed was a powerful and evocative exploration of vulnerability and risk directed by Michelle Ryan. The show's creative team, including Assistant Director Larissa McGowan, Musical Score by Hilary Kleinig and Emily Tulloch, Lighting and Set Design by Geoff Cobham, Costume Designer Renate Henschke, and Creative Producer Roz Hervey, had all contributed their skills to create a visually and audibly stunning show. The seven Restless dancers embodied the themes of vulnerability and breath, exploring the unstable foundations on which we constructed our lives and the importance of community and interpersonal relationships as lifelines. Exposed was a reminder that even strangers could support us in moments of need, leaving a lasting impression on the soul.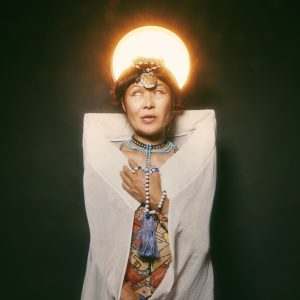 Δ: A change from Archipelago was an incredible three-floor experience. Held at Dancehouse (Naarm) with live DJs beamed in from Basement Theatre in Tāmaki Makaurau (Auckland), the performers were impressive, waving, dipping, duckwalking, and summoning psychopomps to the genre-bending, ass-shaking sounds of Lay the Mystic, Pataphysics, DJ Zeke, and more.
The event bridged the islands of Te moana nui a Kiwa (the Great Sea of Kiwa / the Pacific Ocean) and Australia in real-time. The global live-streamed nightclub brought together participants from Chunky Move's 2023 Choreolab at Dancehouse in Naarm and the party at Basement Theatre in Tāmaki Makaurau. Leading Tāmaki Makaurau movement artists Jaycee Iman and CONJAH (Jahra Wasasala and Ooshcon) did an incredible job building the celebration of new worlds rooted in diversity and safety one sweaty dance floor at a time. Δ: A change from Archipelago was a unique and inspiring celebration of diversity and the currents and tides of dance on Oceanic lands
Somewhere at the Beginning was a spellbinding autobiographical solo performance by Germaine Acogny, the renowned mother of contemporary African dance, that traced the history of her life across continents and intermingling with the histories of Africa and Europe. With the help of text, film, music, and movement, Acogny beautifully confronted her troubled past, connected with her grandmother's Yoruban spirituality, and laid waste to patriarchal power structures. Director Mikaël Serre's ambitious direction created a dialogue between different cultures and histories, making it an unforgettable performance. The show was a confrontation between self and world, and Acogny's testimony and movement portrayed it in a way that spoke to every spectator's intimacy. Somewhere at the Beginning was a mesmerizing testimony to the human experience and a celebration of the power of dance and storytelling and a reminder that identity is not a conclusion but a means of transport.
Body Crysis/身體災變 was a unique choreographic work that pushed the boundaries of digital corporeality, merging motion capture, CG animation, and dance into a stunning hybrid performance. The collaboration between Harrison Hall, Sam Mcgilp, and NAXS FUTURE presented impossible choreography that seemed to defy the laws of physics.
What was particularly impressive was its ability to unite performers in two different parts of the world, Newport and Taipei, in a simultaneous, shared performance. The hybrid live/digital dance work was the result of two years of experimentation, showcasing the visionary approach of these artists to genre-fluid performance.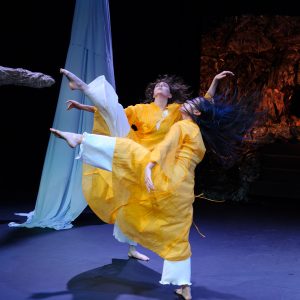 TOXX was a stunning piece of performance art that challenged us to confront the impact of industrial residue on our planet. Through an intricate exploration of the eco-monstrous figure, the work queered the toxic environment to reveal the grotesque figurations of ecological presents and alternative futures beyond our imagination. The performers embodied the porous progeny of the Toxicocene, unified in their contamination across every cell, site, and species, creating a powerful visual metaphor for the fragility of our ecosystem.
REALREEL was a truly stunning exhibition that showcased the power and versatility of dance on screen. Curated by Jo Lloyd and Melanie Lane, the carefully selected group of artists from across Australia brought together a range of experimental and contemporary performances that truly captured the essence of the art form. What was truly remarkable about this exhibition was the way in which it pushed the boundaries of what we thought dance could be. The films on display ranged from cultural storytelling to speculative fiction, each one offering a unique take on the language of dance on film. This made for a truly fascinating and thought-provoking experience, as viewers were invited to consider the ways in which dance could be used to explore memory, ephemerality, and imagination. While dance is traditionally a live art form, the films on display proved that it could be just as powerful when captured on screen. Each piece was a testament to the incredible talent of the choreographers and dancers involved, and a reminder of the incredible beauty and power of the human body in motion.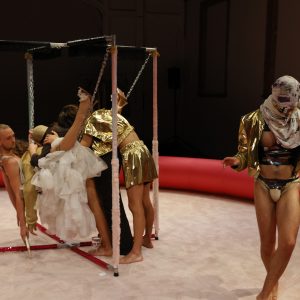 An Experiment in Intervals III – Violet Desert was an extraordinary video work that delved deep into the complexities of industrialisation and its aftermath. The work, which responded to a decommissioned industrial plant in Portugal, explored the promises and failures of the vision of economic boom that was meant to accompany industrialisation. The video captured the essence of the site, characterising it as a place of "monstrous architectures" that embodied the machinations of state violence and industrial exploitation. Through its title, "Violet Desert," the work referenced Michelangelo Antonioni's 1968 film "Il Deserto Rosso," providing a thought-provoking critique of modernity and its impact on society. This video was a poignant reminder of the lasting effects of industrialisation and the importance of recognising the impact of human actions on the environment.
FRAME: A biennial festival of dance provided a platform for dance artists to showcase their work and contribute to Melbourne's vibrant dance community. The festival celebrated diverse perspectives and encouraged collaboration and conversation between culturally diverse groups. Each performance showcased a unique vision from the respective choreographers and performers, providing a compelling viewing experience. FRAME is a festival that deserves recognition for its contribution to the art scene in Melbourne and audiences should be excited for what's to come as, based upon the works on display, the future of dance is exciting!
FRAME: A biennial festival of dance was presented at various locations in Melbourne and surrounds throughout March 2023 with thanks of the following partners Arts House, Ausdance VIC, Bunjil Place, Centre for Projection Art, Chunky Move, Dancehouse, Darebin Arts, Lucy Guerin Inc, Punctum, Temperance Hall, The Australian Ballet, The Substation, Arts Centre Melbourne, Abbotsford Convent, APAM, BlakDance, Next Wave & The Arts Wellbeing Collective.