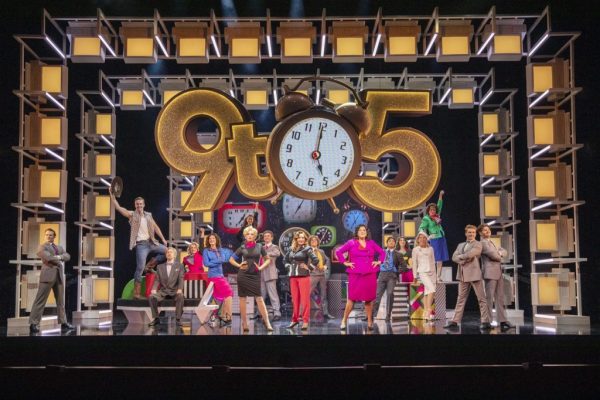 Guarantees a Night of Laughs, Catchy and Heartfelt Songs
Arts Centre Melbourne
Reviewed by Brendan Daynes
This reimagined musical version of a 1980s classic film guarantees a night of laughs, catchy and heartfelt songs and showcases the extraordinary talent of Australian Musical Theatre.
After having successful seasons in both Sydney and Brisbane, on Thursday 14th July, audiences enthusiastically welcomed Dolly Parton's musical adaptation of the cult 80s film, 9 to 5 The Musical, to the State Theatre stage at the Arts Centre Melbourne.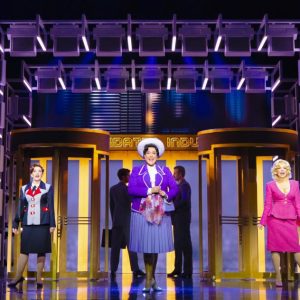 Opening with some pre recorded words from the iconic Dolly herself which roll into the unmistakeable toe tapping title tune, the opening number takes us back to the 80s, introduces the corporate world of Consolidated Industries and skims over the storyline of the next 2 and half hours. Our three leading ladies, Violet, Doralee and Judy, are at different points in their working careers and are all in different roles but all work for the sexist, egotistical, lying, hypocritical bigot boss Franklin Hart Jr. Over the course of Act One the ladies soon come to realise that they have one thing in common, contempt for their boss due to the inequalities they have experienced and jokingly cook up a plan to murder him. They assume their murderous fantasy becomes a reality when Violet believes she accidentally poisoned and killed Hart. Roz, another female who works for the company and is in love with Hart, overhears the ladies discussing the situation and informs Hart who concocts a plan to scare them by pretending that he did actually die as a result of poisoning. When the ladies realise that Hart is in fact alive and again mistreating and taking advantage of them they take control of the situation, kidnapping and imprisoning him while they start to make the changes in the workplace they feel they deserve. The story culminates with another pre recorded appearance from Dolly to tie up loose ends and outline how each of the women live their happily ever as well as a reprise of the title tune.
Credit must be given to the creative team on this production for their exceptional work, matching the depth, colour, vibrance and feel of anything Dolly works on. The full scale set and costumes, designed by Tom Rogers, including retro office furniture and vintage corporate fashion and frame like arches made of old computers, add authenticity and are made current and relevant by the colourful lighting design of Howard Hudson and the video projections designed by Nina Dunn. The set transitions are intelligently incorporated into the choreography of Lisa Stevens and the brilliant ensemble cast reveal the calibre of Australian talent, performing not only transitions but also big show stopping numbers with meticulous precision.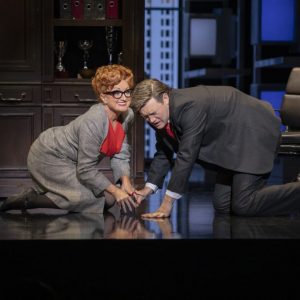 Our principal cast have been gifted beautifully written and heartfelt songs from Dolly, who wrote the music and lyrics, that allow them to flaunt their incredible talent. Leading the cast is veteran, Marina Prior, who plays the often overlooked Violet, demonstrating just how versatile she is as a performer with not only her vocal brilliance but also her comic timing. As Franklin Hart Jr, Eddie Perfect is just the right amount of cavalier arrogance. Casey Donovan, who has historically been cast in stronger more commanding characters, is exceptional as Judy. She positively shines during the second act with her rendition of 'Get Out And Stay Out' which shows not only the strength and control of her vocals but also a vulnerability and softness that we have not seen from her. Erin Clare steps into some pretty high heels as Doralee, the role based upon Dolly's character from the film. She does this with ease. She perfectly captures Doralee's naivety during 'Backwoods Barbie' and this combined with her convincing southern twang clearly demonstrate that she is a rising star. Caroline O'Connor is exceptional as Roz, a small role that could have easily been forgotten. During her performance of 'Heart To Hart' she shines and gives everyone a lesson in how to command the stage, get a laugh and have an audience eating out of the palm of your hand.
Although an outspoken advocate on some causes, one things for sure when it comes to Dolly Parton, guaranteed entertainment and 9 to 5 The Musical is no exception. In true Dolly style, audiences are given a night of entertainment with energetic dancing, catchy and heartfelt songs and show stopping performances by the exceptionally talented ladies of Australian Musical Theatre. 
9 to 5 The Musical is produced in Australia by John Frost for Crossroads Live, Suzanne Jones and Ambassador Theatre Group Productions and will be performed at the State Theatre, Arts Centre Melbourne until 17 September 2022 before heading to Adelaide from 9 October.
Tickets available now: https://9to5themusical.com.au/