Rambert School Auditions & Workshop Tour
Australia & New Zealand
February 2020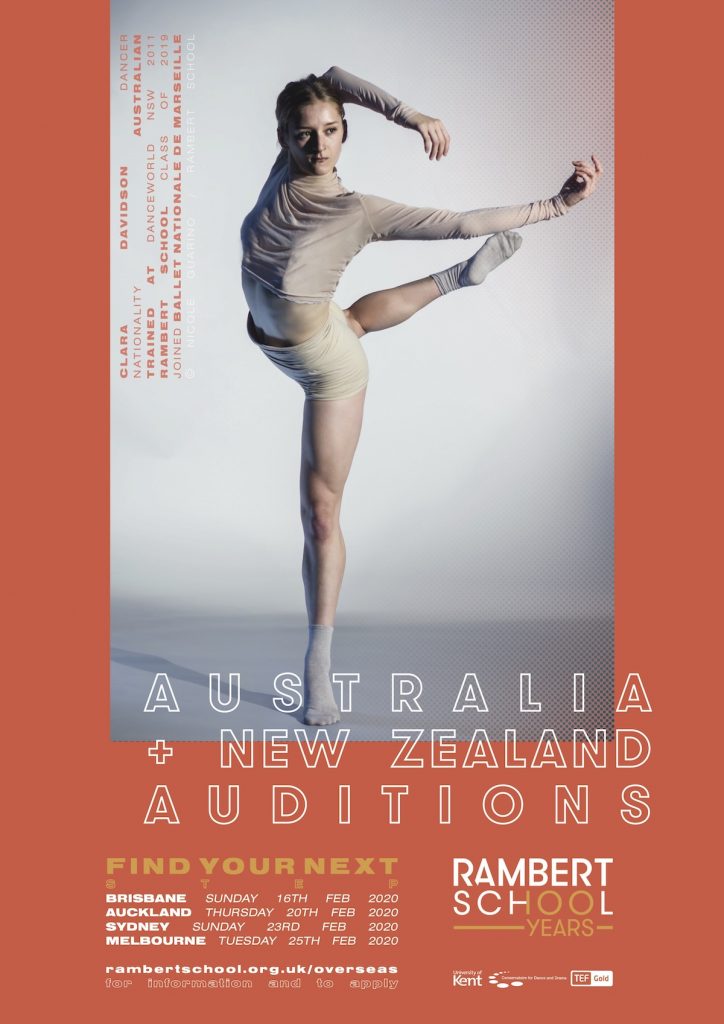 England's renowned Rambert School of Ballet and Contemporary Dance will be visiting Australia and NZ in February 2020 to hold auditions and workshops.
Auditions for the FD/BA in Ballet & Contemporary Dance, September 2020 entry, and workshops for aspiring dancers aged 14-19 years will be held in Brisbane, Auckland, Sydney and Melbourne on the following dates:
BRISBANE


Sunday 16th February, starting at 10:15am
Queensland University of Technology (QUT)
Creative Industries Precinct, Kelvin Grove campus, Victoria Park Rd, Kelvin Grove, QLD
AUCKLAND


Thursday 20th February, starting at 4:15pm
Wellesley Studios
113/115 Wellesley St W, Auckland CBD, Auckland
SYDNEY


Sunday 23rd February, starting at 10.15am
Brent Street Studios
122 Lang Rd, Moore Park NSW
MELBOURNE


Tuesday 25th February, starting at 4.15pm
The Space Dance & Arts Centre
318 Chapel St, Prahran VIC
AUDITION APPLICANTS
If you would like to take part in any of the Australian or New Zealand auditions, please visit the HOW TO APPLY page where you will be able to download and complete an application form.
Completed application forms must be submitted via email to admissions@rambertschool.org.uk by Wednesday 29th January. Please specify in the body of your email which audition you wish to attend, i.e. Brisbane, Sydney, Melbourne or Auckland.
Please note the one-off, non-refundable, application fee of £50 applies to all applications (international and domestic). Payment instructions can be found on the HOW TO APPLY page.
WORKSHOP APPLICANTS
Each of the sessions will also be open as a workshop to those aspiring dancers, aged 14-19 years, who do not yet wish to audition for the School, but who would like to learn more about it and to take class with Amanda Britton, the School Principal.
Workshop places are strictly subject to availability and will be assigned on a first come, first serve basis, after the audition places have been filled.
Any applicants accepted on to the workshop will be required to pay a workshop fee of $40AUD or $40NZD via international bank transfer. We will send you further information if you gain a place on the workshop.
To apply for a place in the workshop please download and complete an APPLICATION FORM and return it to admin@rambertschool.org.uk by Monday 3rd February.