Pro Talent Watch | Renee Ritchie
Doing it all as Dancer, Choreographer, Assistant & Judge
Interview & Article Chris Duncan
Chris Duncan recently spoke to Aussie dancer and choreographer Renee Ritchie about her recent successes after being based in LA for several years trying to break into the entertainment industry. Finally, Renee is seeing her hard work and commitment pay off with a recent prime gig featuring in a new music video for Jennifer Lopez, while still maintaining a presence in the Australian dance industry, which she happily returns to as regularly as she can to teach and mentor young dancers. In fact, she will be returning this September to judge at the DanceLife Unite Nationals at Sydney's Luna Park.
***
Q: What was it like working with Jennifer Lopez?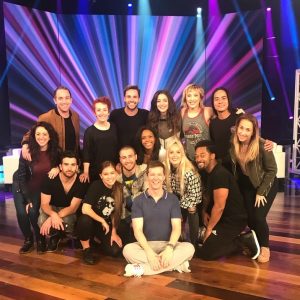 It was amazing! I worked on her newest music video for the song 'El Anillo', which was choreographed by 'Nappy Tabs' (dynamic choreographic duo Napoleon & Tabitha)… this was a really awesome experience! I also got the experience to work on The Ellen Show assisting choreographer Nika Kljun on an opening dance number featuring Sean Hayes (from Will and Grace).
I was actually booked for the music video job directly from knowing a lot of the female dancers that regularly dance for J-Lo. The more people you know, the more connections you make, and then, people always put your name forward if they believe in you.
Q: With working in LA and returning to work in Australia regularly, how long has it really taken you to break into the industry in LA?
I would say probably three-and-a-half to four years. I would do little jobs, here and there. And this has probably been my biggest year working here, yet, because it's taken me a good three and a half years to create a foundation of knowing people.
The biggest key was for me to always to follow the choreographers … taking their classes regularly, and making sure that I introduced myself to them. The biggest thing for me has been being personable and being able to communicate with other people … I think that's been a very big part of learning how to be a consistent worker in LA.
Q: What other jobs have you had and enjoyed the most?
I do lots of underground jobs… a lot of assisting work with many choreographers. I actually worked with Squared Division just the other day on a music video with Bebe Rexha as the assistant choreographer, not dancing, but helping them create the choreography.
I also get to travel as an adjudicator with dance competitions in the US, and I really enjoy that too because I get to do a mix of choreographing, dancing, and judging.
Plus I get to teach when I travel with a small in-house convention, called Lux, as well as travel and teach at other dance studios all around America.
Q: Who are your mentors?
My biggest mentor in the US is Kevin Maher and I work with him regularly. He's probably actually one of my best friends now. But I work with him almost on every job. Kevin is known for being a tour choreographer, so he's worked with Justin Bieber, Madonna, J-Lo… all the big names! His movement is more on the commercial side and he has trained so many of the best dancers in LA. I'm so lucky to have him as a mentor because it's hard out here in LA if you don't have someone guiding you.
Q: Do you have an LA agent, and was it difficult to get one?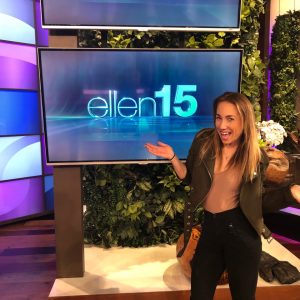 Yes. I've been with Go To Talent agency, which they call GTA, for five years. I actually was lucky enough to have someone refer me to the agency. It was very nerve-racking, obviously, so I came very prepared… I had my CV, photos and dance reel ready to go. But, if you have someone that's able to refer you, then they're always very open to having meetings with you, and if they like you then they will most likely take you on board.
Q: What's next for you going forward?
Actually, I don't know what's coming up next! I will admit I've been very lucky … every week I think, "Oh, I hope I get a job next week…" and something has ultimately been popping up.
But honestly, what's next for me is I'm coming home to do DanceLife Unite!!
Q: Is there anything else you wanted to share with our DanceLife audience?
I've also helped Michael Dameski put his solos together for the World of Dance TV show. I was like his mentor and creative director. I can't tell him what to do anymore (laugh), but I definitely guided him through the last few solos and in the finals. Helping him was very stressful, as he didn't have anyone else there as support. I've been there, helping him, since he was 14.  Read about Michael's performance on World of Dance here
BIO
Renee Ritchie has been dancing for many years starting her dance training in Tasmania (Australia) at the age of 5.  In 2007 at age 17 she made the move to Sydney to pursue her dance career studying full-time at Brent Street Dance Studios. 
Renee's career contained further bringing her to the US were she now works as a professional dancer and Choreographer. 
Renee has had a very successful journey in her career being a contestant on Season 3 of So You Think You Can Dance Australia, making it to the Top 12. Renee also has worked as a dancer for Artist in Australia and the US such as….
Renee's career further brought her to US were she now works as a professional dancer and Choreographer. 
Renee just recently choreograph assisted Nika Kljun on The Ellen Show for Actor Sean Hayes opening dance number. 
Renee choreographed Seasons 4 SYTYCD Australia and working closely with many other choreographers and dancers throughout the season.  She co-choreographed Paula Abdul's "Check Yourself" Music Video.  Winning an award at the World Choreographer Awards.  Recently choreographed Music Video for one of Australia's biggest pop stars Dami Im. New hit song "Fighting For love". 
Renee currently travels around the US now teaching and Judging for KAR Live and in house convention LUX.
Renee is a very well rounded and experienced teacher/choreographer that has a passion for teaching, giving and bringing her own style to share with other dancers around the world

.