Hot Talent Watch | Michael Dameski
Quietly Conquering the US Dance Scene
Interview by Chris Duncan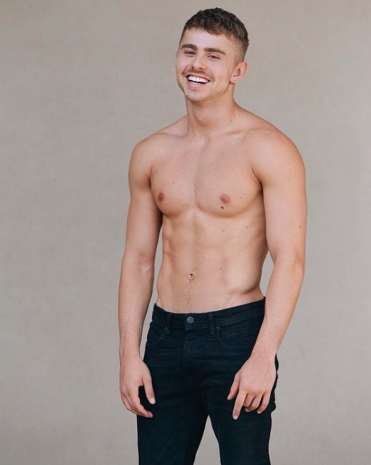 Hot off the heels from his heart-stopping performance on NBC's World Of Dance this week, Michael Dameski has been quietly settling into a new life for himself in the United States where he has been busily building his career and making a definite name for himself amongst some impressive industry circles.
Since winning Australia's So You Think You Can Dance in 2014, where he is remembered for his athletic style and sizzling solos, Michael has gone on to perform with The Dream Dance Company, tour with Disney's Newsies the Musical in the States and feature in a the dance version video to Pink's Beautiful Trauma.
I recently caught up with Michael, still only 22 years old, whilst visiting Australia from his new home in LA, and discussed how he has been working towards his goals, how much his life has changed and how Paula Abdul has become his American 'mom'!
***
Q: Hi Michael, how are things for you in Los Angeles?
Yeah, it's good. I just got back like about three weeks ago. I was just on World of Dance and now I'm waiting for the show to air. (It aired in the US on 12 June 2018)
Q: Tell me all about what you've been doing in LA.
I try to stay as busy as possible! I guess since moving to the States around two years ago I've travelled with Newsies… which was the first national tour of that Disney production, the Broadway version of the show, just in tour form, around the US and Canada.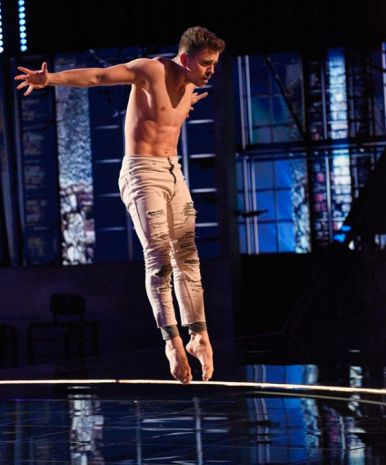 After that ended I settled in LA and was just taking classes and trying to stay as active as possible … the goal was to maintain my ability and fitness and LA is good for that because there are classes left, right and centre! You need to keep active as obviously those jobs they don't last forever.
I also reconnected with Travis Wall at an event randomly and … right off the bat, he asked for my number! And then I got a text from him asking my availability to help him out for a routine he was doing for So You Think You Can Dance routine.
So, the next day I was available and then, I was rehearsing, helping put a number together for a group routine that we did on the show. I got to go to the set and was backstage … it was me and another girl that assisted him to put this routine together. A week or so after that, I got a call from the producer of Shaping Sound, Nikole Vallins … she reached out to me, wondering if I was available to join the 'After the Curtain' production.
I immediately said, 'Of course!' A month or so after confirming, I started rehearsals with the company. Then, I was on tour with Shaping Sound for a couple of months. That was toward the end of 2017.
Then it got a little quiet but I needed to work! … and that's why I decided to submit for the World of Dance TV competition.
Q: Tell me about your performance on World of Dance.
It airs in the US on NBC and the judges are Jennifer Lopez, Ne-Yo and Derek Hough. It was actually claimed as the American summer's number one show last season! … So that's why I decided to do it this season. I was contemplating it …because I've already done a TV dance show … but I thought I needed to get my name out there in America more. So I decided to do it as a competitor, from Australia.
It's completely different to So You Think You Can Dance. It's kind of like 'Dance Olympics', basically you get scored out of 100 by the three judges and then the scores are averaged. To get through you have to score above 80 in the first round, and then the second round you have to go up against someone and score higher than them to progress. And then, the third round has the top three highest scores go through. The fourth round is the divisional final, so the people that are in your category (split into four different categories), and ages. And then, the next round after that is the World Final. When there's one competitor left in each division, they then go up against each other to crown the one ultimate winner.
To think it was the number one show there is just crazy! It's just great that there's a platform for dance that is so supported. You never think that dance could be so popular… and especially in Australia I wish it could be appreciated it a little more.
Q: So I've heard that you have become close with Paula Abdul … is this true?
Yeah, she's like my American mum! When I first moved out she really helped me by letting me stay with her and supporting me. I was living with her and then, I just got to a point where I thought I should experience the reality of what moving to LA is actually like, so I decided to get my own little place.
Our relationship is really cool. I reach out to her and we chat, and we catch up. She came to World of Dance to support me too.
Q: You must pinch yourself and think 'Wow! This is my life now, and how cool is it?'
It's insane! Just to have connections like that and have someone like her support me and believe in me is really cool. It really helps me kind of know that I'm good at what I do. And I think that the only way to really believing that is by surrounding yourself with people that believe in you.
Q: I believe there is quite an Aussie contingency of dancers in LA right now .. do you get to connect with them often?
Yeah, I'm actually pretty close to Renee Ritchie. She trained me back at Brent Street. I actually reached out to her for World of Dance to see if she could come and be in the room with me for moral support, and give me a sense of helping me figure out the choreography … because on World of Dance I choreographed everything that I did myself.
That's why it's hard in a sense… you go up against people that are the best at what they do. And you don't have to see them do anything else. So, you just have to be really good at what you do. It is so different to So You Think You Can Dance as that show is about being versatile and World of Dance is just about being the best at what you do.
Q: It sounds like this last couple of years has really helped you grow … you seem to know yourself really well, yes?
Especially this year. This year has been the first time where I've created everything for myself … especially on the show. And I'm very proud of everything. Because I know how great it felt, so now it's just about sitting back and relaxing. When I look back at my time on So You Think You Can Dance, I was always nervous to see the end result.
It is just completely different now, and I feel like it's just because of my experience and just being comfortable in my own skin. And really just being confident in myself, and pushing forward with having that mentality of getting better every day and staying a student and keeping learning. Nothing really ever stops growing, so I just want to have that mentality.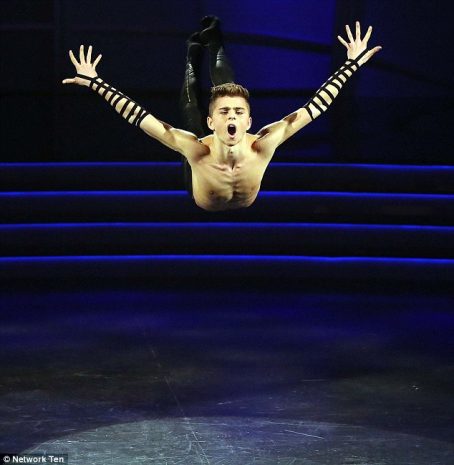 Q: What's next for you?
Well, I'm back in Australia visiting for a couple of months. I'm teaching some masterclasses and doing The Dream Dance Company with Marko Panzic and then I will see family and perform. I like to keep Australia in the loop of my training so that I am not plateauing and always trying to get better every time I return. I may come back again to perform with The Dream Dance Company at Australian Dance Festival in September, but it depends on what happens with the World of Dance competition in the States.
My goal was to always move to the US, and now I'm here. Obviously I'm not teaching or as recognised but now it's about me transferring that recognition from Australia to the United States.
It's a whole new world over there for me. Everywhere you go there's an incredible dancer. And it is intimidating, but it's also a great push… 'cause it's like you want to be as good, if not better, than some of the people that you see. And not just in a competitive way, but more in a way of being inspired by how people move, and how people dance.
And over there I am constantly around that. So, if I'm around that, I will obviously get influenced to become that, and that's why I think being here is really beneficial for what I want to be doing with my life.
Watch Michael's amazing performance on World of Dance here:
https://www.youtube.com/watch?v=_TRLttF3Zk0