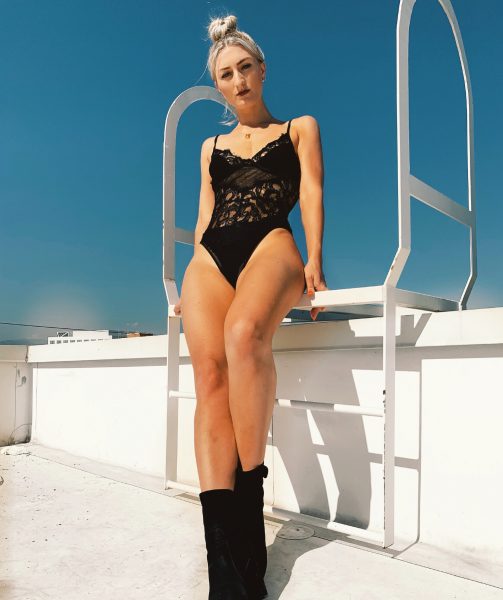 Pro Talent Watch | Elly Meyers
A Diverse and Dynamic Career Still on the Rise
Checklist: Bollywood movies, performing with the world's longest running circus, touring as the lead dancer on an international show … Elly Meyers has been living a dancer's dream. In fact, the sought-after Australian-born and trained performer is living her own childhood dream.
The 25-year-old has been strutting her stuff on international stages and movie screens for the past eight years. It is a journey that has even taken her by surprise. And while she continues to field opportunities and offers from various corners of the entertainment industry the humble performer still has to pinch herself about her experiences so far.
A graduate of Brent Street's full-time performing arts program, Elly hit the ground running ⏤ or should that be 'sashaying' ⏤ in her career as a dancer.
Her extraordinary talent led to her securing a contract working with Bollywood choreographers and movie directors within months of graduating from her full time course.
It was an opportunity for her to showcase her talent on such critically movies as Dhoom 3, and the song 'Asalaam-e-ishqum' from the movie Gunday with internationally renowned actress Priyanka Chopra, as well as performing in the Besharam theme song and Phata Poster Nikhla Hero.
Dhoom 3 received multiple awards including highest grossing Indian film of all time at a reported US$101 million and Vaibhavi Merchant was nominated for best choreography by Apsara Film Producers Guild Awards. Elly's involvement in the film is a testament to her talent as the audition process attracted many hundreds of applicants and was screened over several days. She performed on these movies under the direction of such sought after choreographers as Bosco Martis, Caesar Gonzalves and Remo d'Souza.
Elly's road to success continued shortly after when she was signed to two nationwide tours of the United States, over two years, with Ringling Brothers, an arm of Feld Entertainment, which is the world's largest producer of live touring entertainment events. She toured in the 2014 'Super Circus Heroes' show under the direction of leading US choreographer Michael Schwandt and his creative team including renowned talents Preston Mui and Valaree Young (nee Pohl). The second year of touring was in the show titled Built to Amaze under the direction of another industry icon Paul Becker.
Returning to home shores in Australia, Elly performed a leading and critical role as Lady Liberty in the burlesque production US Oh! Show in Sydney during 2016. Elly's time with this show ended early when she was pursued to take part in a 10 month tour of Malaysia as the leading ring mistress and dancer in the Great British Circus. During her time in Malaysia she was also sought after to take part in other major shows including guest performance at the 'Brand Laureate Awards', 'Sunway Lagoon's' Independence Day opening performance and her choreography and dance talents were showcased in the SOS Great Gatsby event in Ipoh.
Once again proving great versatility and talent, Elly's creative skills were highlighted when she was engaged to choreograph the Cirque Ramanza Christmas spectacular in Germany. Upon returning to Australia once again, Elly was signed with one of Australia's oldest cheerleading squads, the Manly Seabirds, which support the Manly Sea Eagles in the National Rugby League competition.
And this is just a brief glimpse into this talented performer's career so far. Other accolades have included dancing in music clips, television advertisements, feature acts in music festivals, corporate events and representing Mercedes Benz and Chevrolet in the biennial motor show in Delhi, Indian.
As far as Elly is concerned this is just the beginning. She is currently being sought after for several international productions.
Stay tuned for the exciting next instalment in this young dancer's adventures.
***
You can follow Elly on Instagram and Facebook