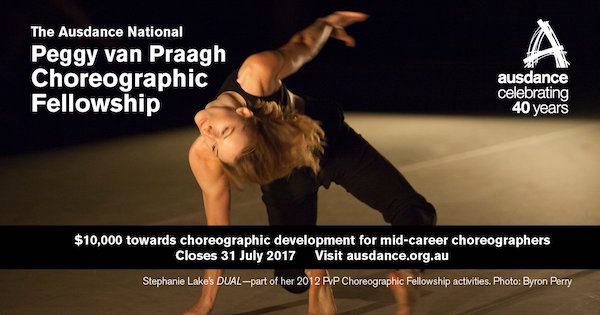 Peggy van Praagh Scholarship for Mid-Career Choreographers 
$10,000 available through Ausdance National
Applications Close July 31st
Applications for the Ausdance National Peggy van Praagh Choreographic Fellowship have opened and will close July 31st.
Mid-career choreographers (35 years and over), who can demonstrate the value of the fellowship to their choreographic practice, are invited to submit an expression of interest.
Fellowship amount: $10,000
Dame Peggy van Praagh was the founding artistic director of The Australian Ballet (1962). She dedicated much of her career to fostering young Australian choreographers in ballet and contemporary dance.
The next fellowship will be awarded at the 2017 Australian Dance Awards in Melbourne on Sunday 24 September.
Eligible choreographers  are invited to demonstrate the value of the fellowship to their own choreographic development, practice or career to submit an expression of interest.
Fellowship activities should be completed within two years. The fellowship will not contribute to a performance, but you must produce a public outcome of some description.
There is no formal application form, but be as concisely as possible (in two pages or less), please tell us:
who you are
what you want to do
how you are going to do it
how you think this work will advance the profession
what your public outcome will be.
Fellowship applicants must:
have a body of work valued and recognised by peers, in either ballet or contemporary dance
be 35 years or over with at least 10 years' professional experience working as a choreographer
be an Australian citizen or resident and an Ausdance member
provide a CV and two written references.
Previous recipients are Lina Limosani (2015), Kay Armstrong (2013) and Stephanie Lake (2012).
Visit ausdance.org.au for more information.
For further information and to submit applications email: Communications & Publications Manager Rachael Jennings with 'PvP Fellowship' in the subject line.