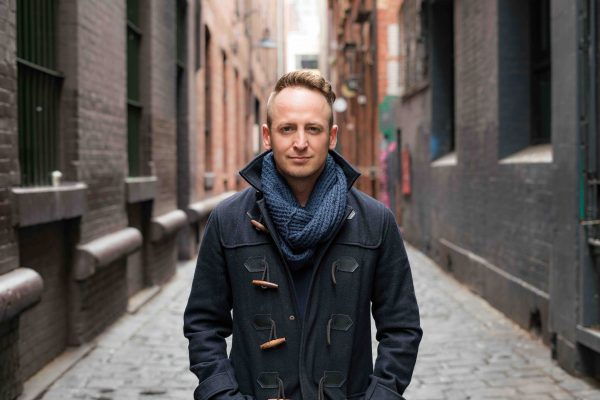 Paul Malek is Decidedly Optimistic Despite the State of 2020
Dance Inspiration at the Ready 
Interview by Chris Duncan
Paul Malek has been synonymous with dance in the state of Victoria for many years. In addition to his choreographic, event and corporate work, Paul has more recently claimed success with the establishment of Transit Dance ⏤ his pre-professional performing arts training studio located in Brunswick, Melbourne. Through educating and mentoring his students at Transit Dance, Paul has been able to extend their experiences via the associated Origin and Transit Dance Companies.
This year has been particularly challenging for all dance and performing arts businesses, however Paul seems to have bucked the general trend and remained incredibly calm and positive thorough it all, whilst 'pivoting' his business in times of necessity to create and deliver a productive and alternative dance offering to his clients and students.
Even though he cannot wait to get back to travelling to warmer shores away from Melbourne's stubborn winters, or attending an opening night at the theatre with a glass of bubbles in hand, Paul Malek has remained buoyant during this Covid-19 crisis and can even see that there may be several benefits to emerge from it for the dance industry going into the future post-Covid.  While he agrees professional performers have been hugely disadvantaged this year, he still believes that creativity and innovation can emerge during times of crisis. And he 'walks the talk' in delivering online dance productions and producing an industry 'live chat' Vlog during isolation. Click here to check out a Channel 10 news item about Origins Dance Company creating remotely. 
Paul is hosting Transit Dance's 2020 industry Digital Education Summit on August 30 via Zoom and invites teachers to join him to as one community to discuss Preparing for Auditions; Keeping your Dancers Healthy; Business Opportunities of the Future; Helpful Hints and Tips for your Classroom.
We invite you to learn more via Chris Duncan's recent interview with Paul Malek. 
***
Q: Considering all the COVID restrictions, how has your year been?  And how have you been affected personally and professionally?
It has definitely been a journey! … that is for sure. I think the impact all over the world has been, and continues to be, so very real and raw in it's uncertainty over the last few months. Personally, I liken it to a wave that continues to go up and down and round and round. Sometimes it is a higher, more powerful wave and other times it's just the right strength that you can manage and find joy whilst it carries you through the day.
I know professionally this has brought me and our entire team much more respect in regard to what we can actually achieve when faced with adversity. At Transit Dance we moved all 7 of our courses online including our youth company and programs. It was a massive effort to provide the highest level of training whilst moving online, ensuring our 12 full-time staff remained employed, and created three productions that were filmed in late June for our digital season. Exhausted? Yes. Learned a lot? Yes. Proud of our team and community? More than ever!
Q: Do you feel there is an 'upside' to this transitional time and, if so, what is it for you?
The integration of digital learning into our courses has been a great success and an upside. It has allowed us to expand our offerings, work on offering more opportunities especially in remote areas, and opened up the international market greater than ever before. Also, there is a greater sense of camaraderie within our community now. The amount of support for each other has been so overwhelmingly beautiful; and even through some dark times it is definitely amazing to still be able to share dance and education with so many amazing people.
Q: What have you been working on?
In 2020 we had a plethora of performances and tours booked in for my new work DANZA with Transit Dance Company. It performed in both January and February regionally, and had dates in April, June, July and August booked in with a Melbourne season in September. Of course, due to Covid-19, all performances have been either cancelled or put on hold until further notice. However, I was lucky enough to choreograph a Dance on Film project with our youth company Origins Dance Company called Our Own Island, directed by Jayden Hicks and which we created entirely through Zoom and then were able to film the one week that youth dance was able to return to our facility in June.
On top of this we created MACHINE, a triple bill with our contemporary dance stream and 'Dance Chat' returned with a variety special hosted by Yvette Lee, myself, and Transit performing arts students. Thanks to a mammoth effort from our Creative Director Chris Curran and our entire team here and Transit, we've managed to create some memorable moments in 2020 for Transit Dance, despite the viral pandemic.
Q: Do you feel that dancers have been disadvantaged in the big scheme of things this year?
Of course, especially for professional and freelance/independent dancers who have lost their ability to create within studios, make work and perform. However, education has continued, and in most cases to great success. There has had to be a major pivot in how we deliver dance education, which I hope has made a lot of professionals look at how, what and why we teach and adapt to evolve as dance educators. It has definitely has given me a lot to reflect on in my own practice.
In regards to creating art, that should never be disadvantaged, because we can create dance whilst sitting in a closet, laying in our garden, or cooking in the kitchen! We all have a phone, a camera, a computer… we all have the ability to make art every single day. That, especially in times like this, should continue no matter how bleak it may seem to not be able to be in a studio or a theatre.
Q: What is your greatest hope for our dance industry's future right now?
This is a great question … as always, it is unity. If there is one thing the pandemic should teach us is that we are stronger together. That one voice can be strong, but many voices can change the future for the better. If dance was left in limbo this time, we should never let it fall through the cracks again. We need to be united, patient and supportive. Collaboration can be so inspiring and communication is something that can truly build stronger communities, companies, projects and opportunities for our fellow industry professionals. Which is what I think we all want in the end… Great platforms for professional opportunities.
Q: What advice would you give to fellow choreographers/dance teachers/studio owners at this time?
You do you!!  There is no one right way to navigate our lives through this time. Don't be too hard on yourself; congratulate yourself on everything you are; and when you feel like it, make art! Go and create what it is you do. We can all make a great contribution always, no matter the restrictions making you side-step how you normally operate your daily existence. You are worth every win, and we can learn from every stumble. Perfection doesn't exist; So go make a mess, clean it up, inspire others and don't give up.
Q: What do you most look forward to doing/seeing when life returns to what we knew as 'normal' prior to the pandemic?
Two things … my two favourite things: I want to go to a beach or travel to a warm climate and lay in the sun. That just sounds amazing!  And of course, my number one desire is to be back in a theatre on opening night with the buzz of a foyer audience and glass of celebratory bubbles in hand.
Q: Can you tell us something interesting about yourself that most people would not know?
When I was 15 I accidentally swallowed a 20 cent piece! My dad took me to Emergency and they all thought I was going to be a toddler because my dad rang up and told them my son swallowed a 20 cent piece without mentioning that I was a teenager. I was visited by student nurses all night who just wanted to hear how I had managed to swallow a 20 cent piece at my age. Needless to say, I lived, and about 6 weeks later, the 20 cent piece finally made it out of my body. I have not digested money since that moment.
***

@transitdanceaus

@transitdance
***
BIO  | PAUL MALEK
Paul Malek one of the most highly regarded Directors and Choreographers in Australia.
With a passion for education, self-empowerment and artistic innovation; he inspires many individuals, businesses and communities to strive towards becoming the greatest version of themselves whilst nurturing artistic development and professional growth.
Trained in Classical Ballet and Contemporary Dance at the Victorian College of the Arts Secondary School, his performing career saw him tour the world through all five continents as a dancer, dance captain, rehearsal director and company manager all before the age of 25.
Returning to Australia in 2006, he became an avid entrepreneur, creating businesses such as Collaboration the Project (2008 – 2014), responsible for events such as UNDRGRND Melbourne, Sydney and Brisbane, Immersed Melbourne Dance Industry Night, DANCE CHAT and DANCE CHAT LIVE, Project Y (youth dance company) and over 16 professional production seasons and tours. Paul Malek is the original Founder and Director of popular Melbourne Dance Institute MAPA Australia (2006 – 2011), and was also the co-director of BOOM Media, a Marketing and Media Company, For Dancers by Dancers from (2011 – 2015).
He has also been a choreographer on 'Dancing with the Stars' and 'So You Think You Can Dance Australia' (SE 3 & 4). Paul has been the choreographic brains of well over a hundred corporate events, award ceremonies, television commercials, music videos and dance festivals over the last decade.
In 2015, Malek founded Transit Dance, and currently resides as Artistic Director overseeing the immense output of performance platforms and educational opportunities created from within their state-of-the-art dance and performance precinct in Brunswick, Victoria.
During his day-to-day commitments at Transit Dance, he is also a highly sought-after Host and Inspirational Speaker, speaking at many corporate events, conventions and festivals not only in Australia but across the globe.