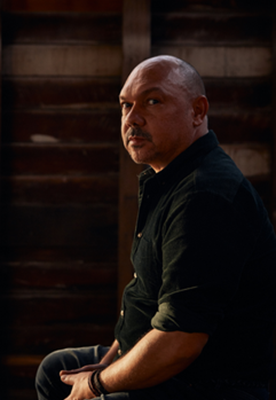 Interview with Stephen Page
Cultural and Creative Visions
Interview by Brendan Daynes
Stephen Page, the visionary and artistic luminary, has been instrumental in Bangarra Dance Theatre's journey through the world of performing arts. Over the years, he has masterfully choreographed and directed a multitude of works that resonate with Australia's rich cultural tapestry. With an illustrious record of achievements and an innate ability to craft narratives that transcend time and space, Stephen's creative endeavours have left an indelible mark on the world of dance.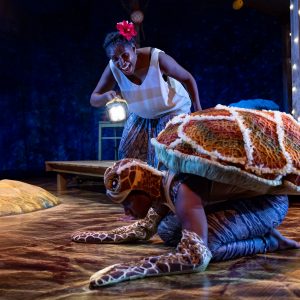 Waru – journey of the small turtle is a pioneering children's production that offers an immersive experience blending dance, storytelling, and interactive engagement. Inspired by Torres Strait Islander culture and the green turtle's totemic significance, the performance introduces young audiences to traditional stories and environmental themes. With its enchanting narrative and innovative approach, Waru ignites a sense of wonder and appreciation for storytelling and Australia's diverse cultural heritage.
Stephen recently caught up with Brendan Daynes ahead of the Melbourne season and upcoming national tour of Waru – journey of the small turtle.
Brendan Daynes: Waru – journey of the small turtle marks Bangarra's first dedicated work for children. How did the idea for this particular production come about?
Stephen Page: A children's show for Bangarra had been well overdue. We used to talk about it all the time. After Covid I focused in on it and did a workshop. Originally I got inspired by a work from 2001 and part of was based on the totemic systems. Sani Townson, who is one of the former dancers and now one of the directors of Bangarra's education program, and Elma Kris, another former dancer, who are both Torres Strait, helped me work with Turtle back then. So I talked to them and said what if we took Turtle, threw it up in the air, massaged it, brought it back down and created a 40 minutes children's show. At that time, my son Hunter Page-Lochard was working on Play School writing and directing and so he was working with children's content so I just got him in the room and we came up with this beautiful mother green turtle story, the journey of a small turtle. It came very quickly and it evolved. We wanted to give the theatrical experience as well, as Bangarra does in their dance theatre shows. So, I worked with Jacob Nash, a scenic artist who has been working with me for a long time, and he did the costumes and the set and we created that lifecycle story of a mother turtle.
Brendan Daynes – The production not only entertains but also opens conversations about important topics like climate change, environmental care, and traditional cultural values. How do you believe art, specifically children's theatre, can contribute to these discussions?
Stephen Page – We all talked about the adult issues. How do those social issues sit within the children's observation and their world? The beautiful thing about theatre and dance theatre is through all that magic, sets, props and costumes, you can find a way to bring those social elements, not through the disguise of those theatrics, but to lay along as a companion. So when you are observing, it doesn't feel like it's shoving the issue down your throat. It actually can softly be embodied by the children's minds. So environment and climate change, these global social topics that sit within Wuru are conversations that are being taught into children's social awareness through schools and education. We were able to find a way that these issues would sit within the story.
Brendan Daynes – The show is designed for children aged 3 to 7. How did you ensure that the performance would be engaging and enjoyable for such a young audience while also conveying meaningful cultural and environmental messages?
Stephen Page – First Nations stories and creation stories are full of messages. Elma, who plays the lead role, talks about the mother lifecycle. She talks about the hatching nest where the turtle comes and hatches her eggs. Elma takes them over two full moons, the changing tides and the fall winds. These elements represent time. The eggs hatch and Elma picks a little hatchling and tells a story of how this little turtle goes out into the ocean. He might be in danger by other creatures but the big thing is pollution and climate change. She explains the different energies behind the waters and how that is to do with the seasons. There is theatrical ways we can align those social issues through the story. We wanted to make sure that it all felt comprehensive and they were all sitting together and as we say children are like sponges, they observe. I think we should not try to underestimate their minds as well, they have that very sense of listening and they mimic a lot of things. So it was just trying to find a really beautiful and safe sensitivity around these issues and so they could sit in their world and digest those issues.
Brendan Daynes – Your collaborated with your son, Hunter Page-Lochard, on this show. What was it like working together on a project that introduces young children to culture?
Stephen Page – Hunter and I have been working together for years. Hunter worked on stage with me and worked in creation since he was seven or eight years old. I think he was on stage as a baby at eight months. The poor little bugger never had a chance, he was always going to be in theatre. He's always been expressive, had a wild imagination when he was a little kid and always loved art and animation. He did a lot of cultural dance, did a lot of trips with me to different clans around the country. So he's had a beautiful upbringing around the processes, the creative connections and the creative works that I've done. He went off and did acting on TV and film when he was young and just loved it. He also completed a writing and course and has directed things like Play School. Now he is a 30-year-old man and it's just been glorious watching him grow as an artist. This sort of seems like a natural progression actually. When he was directing for Play School, he was dealing with First Nation themes and how that would translate to a younger audience. So he was there at the right time having this experience and I asked if he wanted to come to Bangarra and do a workshop for a children's dance theatre show and he just loved it. It was just beautiful. It just flowed out of us and we were able to connect all the points to tell that story as a children's show.
Brendan Daynes – The production will be part of Arts Centre Melbourne's Families and Children Program. How does it feel to be contributing to a program that aims to engage and educate young minds through the arts?
Stephen Page – I think back to Bangarra's 34 works that we've done over the years and realise we were telling a new story every year. Those stories were representing black social issues, creations, traditional, mythological or spiritual works and we were tapping into such diverse themes. I always had in the back of my mind that we've gotta find the right story and it just happened that this show came at the right time. It showed itself and all the elements are lined up. "Waru – journey of the small turtle" is a beautiful show that's going to awaken a long thread of children's stories that Bangarra will be telling for the future. So we're just really excited to get it out there and share it.
Brendan Daynes – As a creative artist and cultural leader, you've had a profound impact on Indigenous dance and storytelling. Looking ahead, what is next for you?
Stephen Page – Hunter and I have got a few little sacred projects. We're working on some film and some television projects. I've always got ideas. What I missed when I stepped out from Bangarra was having that room where you create stories. I love telling stories. I want to continue to tell stories. There'll be theatre works that I want to do in the future and television and film. I can't wait for this next journey.
Waru – journey of the small turtle is set to grace the stage at Arts Centre Melbourne's Fairfax Studio from September 15 to 19 before touring nationally. For more information visit https://www.bangarra.com.au/productions/waru-journey-of-the-small-turtle/