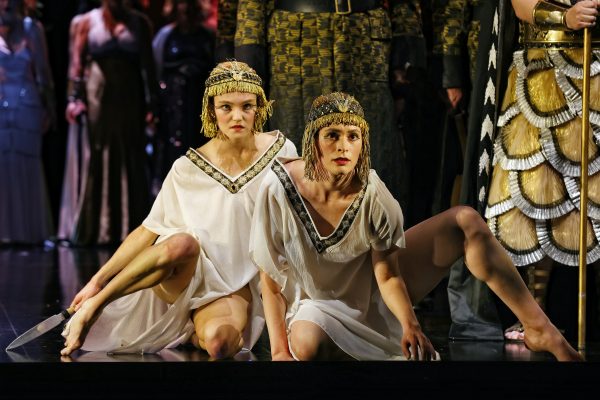 Opera Australia's Aida
Sydney Opera House
Interview by Brendan Daynes
Allie Graham is a contemporary dancer who has performed with numerous companies, including Pinchgut Opera, as well as numerous productions with Opera Australia including the original production of Aida in 2018. She is now working as Dance Captain on the production and recently caught up with Brendan Daynes during rehearsals of the current iteration which opens at Sydney Opera House this month.
Brendan Daynes: Can you please share a little bit about your journey and experience and how you came to be involved with and eventually become Dance Captain for this production?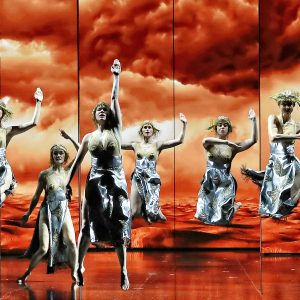 Allie Graham: I'm a freelance artist who trained in contemporary dance and classical ballet but have a particular interest in improvisation. As a trained contemporary dancer you don't envision what role or what character you'll play or where in the industry you'll land and so I auditioned for Aida in 2018. It was one of my first major contracts so it was kind of by surprise, but that landed me in the world of Opera. At that time it was the first iteration of Aida and so working on it now in 2023 I've really kind of lived through the trajectory of the production. From its first conception with Davide Livermore (Director & Choreographer) to now, I have seen it evolve and have new life injected into each iteration. Taking the role of Dance Captain for this production was definitely a different muscle for me. It's nice to exercise this sort of new mentality and approach to movement, in this position you are really like two halves, one half is really looking at cleanliness and symmetry and an organisation of people. While the other half is you as a dancer and your interpretation and characterisation. Both of these halves rely on allowing the narrative to inform the movement so it's really been a very unexpected trajectory for myself working with this production.
Brendan Daynes: What are the key responsibilities of a dance captain in a large-scale production like Aida?
Allie Graham: It's really like a hybrid version of a rehearsal director, I suppose. You are working alongside the Creative Team, the Director, Assistant Director, the Conductor, and stage management so you're really like this conduit between all paths in relation to the movement. I have to watch the archival footage on repeat so that I can relay and teach the choreography of the original production and I also have to relay the physicality and the characterisation. I'm also translating the Italian libretto to English as well as trying to know the orchestral score back to front because the accents and the flavour of the orchestra and music dictate and inform the movement and choreography, these are the motive behind how we interpret the movement. I also have to oversee the movement direction of the singers, alongside the Director, and that can involve anything from just demonstrating the movements or injecting imagery that will inform our collective physicality because we really work as one team. I find I'm always picking up and relaying the small details and trying to influence the movement alongside the Director. I've also got a crazy colour coded scrapbook with colour coded mind maps which allow me to see and understand the symmetry and formations, which I suppose is quite uniform across all forms of dance but in this production there's also the choreography of the LED screens. They have their own choreography and they shift and rotate. Then there is also the use of props, so as you can see there's a lot of negotiating many elements alongside the movement.
Brendan Daynes: Could you tell us about the specific choreography and dance styles featured in Aida?
Allie Graham: So if we go back to Davide in the original development of the piece, it was very much a fusion of his own references. He is an opera singer, actually a tenor, but he's also a director, and so he had his own set of imagery and ideas. Then the dancers that are involved are of a classical ballet/contemporary dance background and so in the piece you see kind of two really distinct styles of movement. Davide would reference famous ballerinos such as Vaslav Najinski who has really elevated jumps or the Baroque movement, which is an earlier form of classical ballet with light and quick jumps and emphasis on placement. Then we also become warriors so the dancers utilise completely different movement that is really rooted in contemporary dance techniques, like release technique, where our centre of gravity is straight down and we're crashing to the ground, collapsing as though we're in the battlefields, using bow and arrows. So the choreography references some very different physicalities depending on the role/scene. In the initial rehearsal process Davide placed major emphasis on movement being a mechanism for storytelling and that the audiences are looking to us for the story, and they are following and gauging the dramatic plot line through our gestures and our body language.
Brendan Daynes: What challenges have you encountered during rehearsal process and what have you done to overcome those challenges?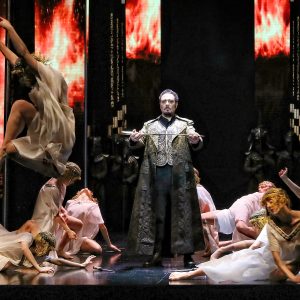 Allie Graham: I suppose in this current rehearsal process there's a lot of organisation of bodies and the classic choreographic problems of transitions. It can be challenging to negotiate the pathways of everything from the principal singers to the LED screens all while maintaining the integrity of the original production that we are adapting to new circumstances. Another challenge is being true to the original choreography and then also bringing out the narrative and the character as well. The piece is very centred around order and precision and if one person in the group is not embodying the feeling and the physicality it really sticks out. A personal challenge for me was stepping into the role of Dance Captain. This role came with additional responsibilities and I have had to balance my own need to rehearse and to retain detail as a performer and also be of service to the team. I feel as though I often had to divide my attention between two roles.
Brendan Daynes: Are there any specific moments in Aida that you believe showcase the dancers' technical prowess and artistic expression exceptionally well?
Allie Graham: The temple scene is a great example of artistic expression. We are performing rituals of service to the gods and we use a lot of improvisation in this scene. There's a whole section where we each have our own moment of improvisation so each of the dancers will utilise their own imagery and own movement language. It is actually really aggressive, we are shaking and our bodies are contorted and it's super aggressive and wild and the dancers really shine because they can use their own influences and their own ideas. The major battle scene in Act II is very technical and super physical and because it is just the dancers on stage for five minutes it really demands a lot of technique. It's an instrumental interlude and we are reenacting the war and so we become warriors who are really athletic. This really showcases the versatility and ferocity of the dancers and demands a lot of classical and contemporary dance technique and endurance as well.
Brendan Daynes: Could you share any memorable moments or highlights from your time as a dance captain for Aida?
Allie Graham: A memorable moment for me as Dance Captain occurred in the first few days, when I had to relay the movement. This was because in my role as Dance Captain I was able to inject my own ideas and approach and I was able to watch the dancers take on the choreography. It was empowering to be able to lead a team and be a representative of that element of the production, The movement is such an integral element and it was certainly a highlight to be driving part of the production.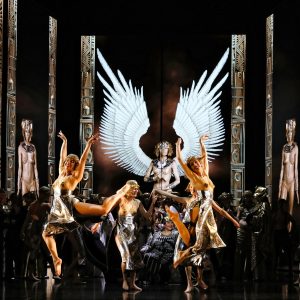 Brendan Daynes: How do you approach giving constructive feedback to dancers while maintaining a supportive and encouraging atmosphere?
Allie Graham: To make feedback constructive it always has to be a positive. You highlight the strengths of the dancers and address the problems not as problems but as enhancements to the piece. I also try to address as a team as its often a lot of collective notes that they can all brew on and all take on. I also try to approach notes and corrections with mindfulness by wording things in a holistic way. It is so easy with this cast because they are so collaborative and open minded. I've worked with a lot of them over the production so we are like team mates and the whole process is very collaborative. If you open the rehearsal as a collaborative environment you become one team and just one of the members of the team.
Brendan Daynes: What advice would you give to an aspiring dancer who wants to step into a dance captain or leadership role in a large scale production?
Allie Graham: My tip would be to engage in a wide scope of interests and to really be open to learning from all kinds of disciplines and styles. Also develop an interest and appreciation of other art forms like music, theatre and voice as this will expand your perspective on your first discipline. Then just go for it and try to find opportunities to perform and contribute creatively, this could be choreography or creating and directing your own work. This will allow you to develop an understanding of what you like, your own movement practice and personal style of creating. It is important to get to know yourself through exploration and to be open to try things that feel out of your comfort zone. Always be open and willing to grow.
Aida is a four act opera by Giuseppi Verdi with a libretto by Antonio Ghislanzoni. This production was directed and choreographed by Davide Livermore. The creative team includes Shaun Rennie (Revival Director), Danielle Maas (Assistant Director), Stuart Stratford and Tahu Matheson (Conductors), Gio Forma (Set Designer), Gianluca Falaschi (Costume Design), John Rayment (Lighting Designer), and D-Wok (Digital Content Design).
Opera Australia's Aida
Sydney

 –   Sydney Opera House
From 19th June 2023 – 21st July 2023
Brisbane

– Queensland Performing Arts Centre
From 6th December 2023 – 20th December 2023