Hot Talent Watch | Ivan Krslovic
Melbourne Tradie Breaks into LA Hip Hop Scene
Article and Interview by Heather Clements
Starting late to the dance world, at 25, Ivan "The Aussie" Krslovic has very high hopes to make it big in the LA dance and movie world. Standing at a noticeable 6'6″, Ivan has had to work hard to turn his height from a disadvantage into a marketable commodity. It goes without saying, he is not lost in a crowd and plans to make his mark.
Currently paying the bills as a trade labourer and fitness instructor in Melbourne, Ivan Krslovic recently gained attention at the 2017 BuildaBEAST Experience (BABE) dance convention in Los Angeles in August where he scored three wins and became the first Australian to win a scholarship to the elite ImmaBEAST Exchange program in November. He was even given a huge social media shoutout by the event's famous dance conveners Janelle Ginestra and William 'Wildebeest' Adams!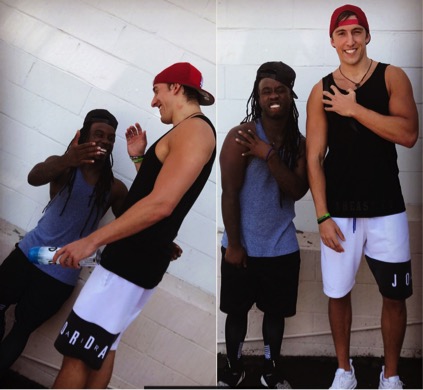 BABE attracts the best hip hop talent from around the world, all vying for the attention of Adams and Ginestra, who count superstars like Usher, T-Pain, Rihanna and Madonna on their list of famous choreography clients. It was during his participation in the BABE events that Ivan earned the nickname of "Ivan The Aussie" by his new American friends, and he happily let it stick. He has also been signed up to BTB Management in LA who manage some of the biggest names in dance talent. After several years forging an acting career in Australia, Ivan is now setting his sights on making it in the US and confidently states he would gladly be the next Channing Tatum!
Please join me in getting to know Ivan Krslovic.
***
Q: How did you move from acting into dancing? Was there a particular encounter?
My best mate had a dream to be a backup dancer for Justin Timberlake, so he started taking dance class. He knew I was doing acting and he just needed that moral support to go into a hip hop class … he being that little bit older. I thought "yeah whatever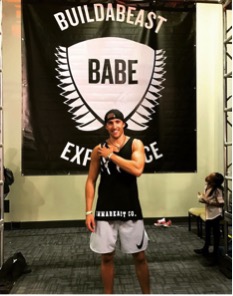 ", I was already in the arts acting so I agreed to go. After we went to that first class he never went again… but I loved it!
So I took one or two classes for a year. Then one of the teachers told me that if I loved it and wanted to take it more seriously I needed to do more hours and broaden my range as a dancer. So I finished my full time acting course on a Friday and the next day I started full time dance training at Jason Coleman's Ministry of Dance.
Everyone thought it was ridiculous me starting dancing, obviously starting late at 25 years old. They said I was throwing my money away and I hadn't much support for a while.
But I had to came to that audition with my own routine and got in. I had to find my feet – literally! – at the start. I could tell people thought I wasn't going to last … I got that vibe. Some people were supportive just because of my attitude and my energy in the class, plus I've done a bit of motivational speaking and stuff like that so I'd like to think I've always been a positive influence on people.
Q: So you got qualified and learned other styles?
I did. If someone could have filmed me in my first few months at ballet, jazz and other stuff I think it would be a good comedy show. I knew it would all help me in the end though, so I just battled on and got through it.
Q: When did that switch from acting to dancing happen?
Previously, I had completed study at Melbourne's Film & Television Studio International and even completed a few courses at the prestigious Beverly Hills Playhouse in LA. I knew I wanted to combine the arts, acting and dancing altogether but then I competed in the Wildebeest for the first time last year, and decided that dance was what I wanted to focus on. I had never done anything like that before! This year in July I went back for the second time and was actually noticed!


Q: So tell me a little bit about the ImmaBEAST comp?
The comp was started a few years ago by two really respected and experienced dancers – Janelle Ginestra and William 'Wildebeest' Adams. The whole ImmaBEAST experience is pretty hectic! You start classes at 9 and might finish 7pm. It's non-stop dance classes and they bring the best of the best and it's 800-1000 dancers in one room so everyone there is really hungry to be noticed. A lot of people coming there are also there to audition at the end for the ImmaBEAST Dance Company. The first year I went was really just to up-skill because I knew I wasn't ready for the company. People go just to be around the best and obviously pick-up stuff, hanging around a few people who are better than you, and it's just about being around the best, training with the best and just levelling-up with any chance you get.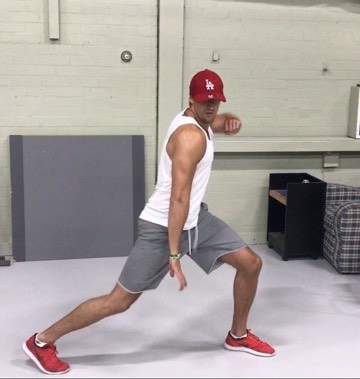 Q: And this year you actually got noticed?
Yes! I threw myself into the deep end. I got offered a scholarship to the ImmaBEAST intensive in November, so I get to go back and train with the ImmaExchange program where they bring in the best teachers in LA for that week. They take around 40 people for each intensive. I feel pretty privileged and excited to do it!
I worked hard and I've got a VIP pass which means I get to be at the front of the class. What I didn't realise though was that the kids up front are mostly there because their parents paid for the VIP  ticket (LOL!) So there's a sea of kids in the VIP area and then there is me … this 6 foot 6 inch tall man … I couldn't hide and there's 700 LA dancers that are ridiculously good behind me and I know they can only see me.
Q: So in terms of acting what have you done in Australia?
I've worked off and on over the years with acting. I've had a recent guest role on Neighbours as a stripper called Hugh Brennan. [Of course he did!!] That was fun. It was a decent part and I was on the lot for two weeks choreographing and just working with the directors, so it was a good foot in the door.
Q: What has been the biggest challenge for you to break into the dance industry?
Well I am just above 6'6" in height. To be honest it's probably my height, as much as I think it's an advantage it's also a disadvantage because obviously for dancing you are expected to be the opposite. Unless you're really strong you have to be in the middle. Whether dancing or acting, opposite a partner, it can look ridiculous if you are too tall. So I have really worked hard to make my height less of a problem. 
Q: How do you manage being a tall dancer?

Most people think I look like a footy player, so it's a bit of a shock when they find out I'm a dancer. I do a lot of hard work. My size means I've had to work incredibly hard at flexibility, agility and just looking lighter on my feet. It's been tough, but I like pushing boundaries – and the hard work makes the success even sweeter! If I look back at old videos when I first started I realised I was pretty sour-faced. But I needed to get over that hill and once I started seeing progress I realised it was okay and only going to get better. I like to think I took a potential weakness and have turned it into a strength.
Q: You have agents for both acting and dancing now – what is your end goal?
My first big milestone would be to get a lead role in a dance film – like Channing Tatum did in the first Step Up movie! Of course I have other goals, but to be a lead in a dance film that is also a drama would be awesome.
Q: Don't forget to let us know if you do get the big role.
Don't worry … I'll let the whole world know if that happens!

Follow Ivan The Aussie on social media: