RESTORATION presented by NAISDA
November 22-25 | Carriageworks
This year has marked the 40th anniversary celebrations for NAISDA Dance College and they wind-up the powerhouse year with a return to Carriageworks in Sydney as they present Restoration.
Playing from November 22 – 25, Restoration, is the latest production to emerge from the critically-acclaimed NAISDA's impressive catalogue, promising to be one of its most ambitious and captivating seasons to date.
Helpmann Award-winning choreographer and Director of Restoration, Frances Rings has enlisted an enviable line-up of national and international choreographers to lend works to the show, including celebrated Indigenous artists Sani Townson and Raymond D Blanco, as well as New Zealand's Taiaroa Royal.
"We are thrilled to have Indigenous choreographers Sani Townson and Raymond D Blanco lending their unique voices to this year's production, as well as Taiaroa, who is one of New Zealand's most treasured dance talents," said Frances, NAISDA's Head of Creative Studies.
"As always, we are also excited to be staging the works of some of NAISDA's own Developing Artists, giving these young dancers a chance to present their talents, not only as performers, but choreographers, as they prepare for a career in the performing arts industry," she added.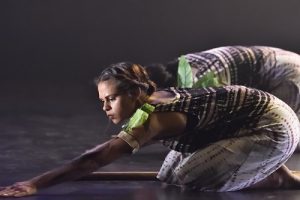 During the production, audiences will witness the cultural song and dance of Moa Island in the Torres Strait, led by NAISDA graduate and Cultural teacher Dujon Nuie and the Arpaka Dance Team, alongside a suite of contemporary works which explore themes of identity and connection.
"Restoration will take audiences on a journey through ancient trade routes, reconnecting stories inherited through bloodline and shared through breath.
"Our narrative, as told through dance, aims to restore these ancient knowledge grounds for a new generation to experience," concluded Frances.
In line with Restoration, NAISDA will be launching its Songlines Summer Appeal 2017.
The annual appeal raises funds to ensure that the iconic cultural organisation continues to support the growth of its Developing Artists in their pursuit of education to become our country's next generation of cultural and creative leaders.

NAISDA is Australia's elite registered training organisation offering full-time, nationally-accredited education and qualifications in contemporary, cultural dance and performance studies for Aboriginal and Torres Strait Islander people. As a member of ARTS8, the Australian Government's Roundtable for Arts Training Excellence, NAISDA is one of just eight of our country's elite arts training bodies. Many of the College's alumni go on to enjoy successful careers in the arts, including residencies at Bangarra Dance Theatre, roles in television and film, the theatre, the music industry and beyond.
RESTORATION | NAISDA Dance College
Wed 22 – Sat 25 November
Carriageworks, 245 Wilson St, Eveleigh, Sydney