Hot Talent Watch | Cassandra Merwood
Hard Work and Patience Pays Off for This Rising Star
Interview & Article by Heather Clements
At 12 Casandra Merwood decided to be a dancer. At 19 she moved to Sydney alone, knowing no one either personally or in the dance world. Now at only 22, she is establishing herself as an up-and-coming choreographer and artist with a list of corporate credits plus being in The Dream Dance Company and a finalist in the NEXT Choreographer challenge. However, more than anything else though, Cass has earned respect from her peers and mentors by proving that nothing can replace hard work, focus and persistence in turning a gaol into a reality. It also helps that she is improving her chances of success by continually learning, embracing her own uniqueness, and being a genuinely nice person in an industry that can be a tough battle. 
Please get to know Cass Merwood and take in the sound advice she has to offer to others looking to make their mark.
***
Q: How do you describe yourself in this industry?
I describe myself as a commercial jazz dancer. But also, I love taking urban/hip hop classes. I like to think I'm a super hard worker, as I like taking a lot of different class, and I'm still learning as I teach. And I feel like that's rare within our industry.
Q: So you still actively go to open classes?
Yeah, and I do a lot of travelling overseas as well to get my training up and learn from a lot of different people.
Q: What is your background?
I'm from Brisbane originally. I started at the Johnny Young Talent School, moved around a lot, did a little bit of McDonald College when in Sydney. I started dancing super young at 2, but decided I wanted to dance professionally at 12 which is when I started going to DLDC, so the transition from the studio to full time was easy there. I did the full time musical theatre course at DLDC, and a lot of jazz training with DLDC which led me to get my teacher's certificate, and I'm super grateful for that, because I had a year of assisting teaching for free, so now I really appreciate it, because I work so hard. And really learnt how to deal with students. Then I moved to Sydney at 19.
Q: So did you originally think you would go into musical theatre? How did that focus turn to choreography?
I try to audition for as many different things as I can … I'm actually auditioning for musicals now. But here in Australia I feel like I want to make my mark as a choreographer more, just because our work is very slim here. But when I went to check out LA this year, I went as a dancing. But in Australia, I really want to be like the next-gen for commercial jazz choreographers.
Q: You have been selected as one of the finalists in The Australian Dance Festival's NEXT Choreographer competition – tell me how that came about for you.
There was a video submission process where I had to explain my choreography, who I am, my motivations, inspirations … plus the choreography. The eight finalists were announced and I'm competing against all my friends and even my boyfriend, Neven Connolly… so that should be exciting! I've got a group of 19 dancers who will perform at the ADF this month. The winner gets $5000 to create a video of their work.
Q: What are you currently working on at the moment?
Aside from planning the ADF piece, I just did Greenpeace's energy campaign, which is super cool. And that was my first time doing aerial. I'm also diving into a show development with Lucky Lartey who is an African dancer involved with the DirtyFeet company… it's 3 weeks development and then we get to do a show at the end.
Q: What was that the turning point for you to decide to move to Sydney?
After full-time I did get a job at Dream World, but I wanted more and there weren't that many auditions in Brisbane. So, that's when I decided to move to Sydney when I was 19. I found regular work to earn a living, long hours, but then I just did as many classes as I could. And because no one knew me here, it was hard for me to get dance jobs at first. The transition or me to Sydney on my own was actually quite hard, especially if you've never lived out of home before. I learnt a lot of life skills, especially not knowing anyone. I'm quite an introvert, but I had to put myself out there, which is daunting in a new place. I literally did not know a single person when I moved here and it took me about 8 months to settle in and start liking Sydney.
I worked a lot and did a lot of open classes. My first dance job was at Luna Park. Then it led me to do the Showbusiness course with Marko Panzic. It really helped me meet Sydney teachers in the industry. I was in his first year of the Show biz program. And I made some of my closest friends through that group, and it was quite intense, because we were all there to be even better professionals. We were all out of our comfort zones. We all had to sing in front of each other. I remember within the first week, we all had to do activities that you wouldn't normally do in an open class setting. Which was super confronting, but we all had to do it. Then I was super fortunate enough to get into the second Dream Dance Company show, The Secret Society, choreographed by Candace Brown. I was obsessed with trying to get into that, 'cause I love Candace Brown and needed to work with her… it was pretty surreal.
Q: What would you like to see happen for you if everything moves in the right direction?
I'd really live to work as a choreographer in Australia, with the goal to always create more jobs for people like me. And also, just to open up and make it more diverse, as I feel like a lot of people get disheartened with the industry, as there's such a mould right now. And I would really love to be a change for that to break that mould, especially for young girls. I think they see a lot of people who are being hired, and they feel like they need to change their look or alter it. And I really just want to make it more diverse and open it up to every single look and body shape, all of that.
Especially with people like my age, we're figuring out we have to be unique. And now that we've figured that out, and actually stuck to who we are, we're all striving and excelling and getting more opportunities, because we are who we are. We're not trying to be like this one person, 'cause that just doesn't work.
Q: What do you consider unique about your offering?
I was looking up to certain people and I felt I had to dress a certain way and move like them. I even tried to teach styles like other teachers. But I know deep down, I'm a jazz dancer, and I know all those techniques. So, I really just went, "Hang on, what am I doing? I love urban and hip hop, but that's not that my thing, so let's just go back to the jazz!" And my sort of jazz is like the LA commercial jazz. And I feel like the Australian jazz is a little bit different to that. So, I want to bring that style.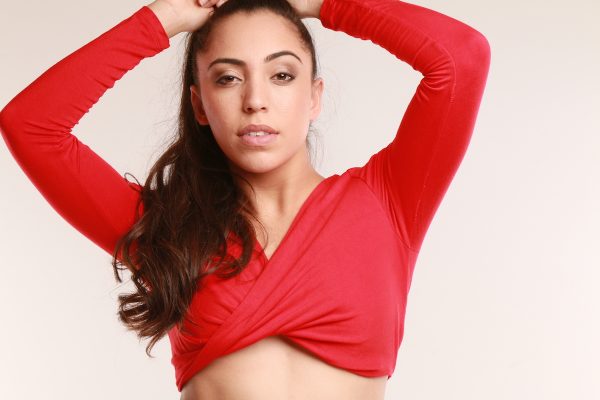 Q: Who has been a mentor or an inspiration to you?
Dana Foglia is a big inspiration to me. She's from New York and choreographed for so many great people like Beyoncé. I did her class when she came to Sydney last year and I'm going to Singapore next to do another with her. And I also look up to Miguel Zarate, also American. I took his class in LA… his stuff is epic.
Q: What would be your bucket list job
I think it's everyone's dream to book a world tour and get to travel the world whilst dancing fro an artist. I love Ariana Grande and Justin Timberlake, I feel like especially right now, those are the tours that I would like to be on. Janet Jackson would be amazing too!
Q: What do you enjoy when not dancing?
I love going to live jazz bars and galleries, bingeing on Netflix is a good time waster, eating food and trying new places. And I love travelling! I have a habit of booking flights.
Q: What are you binge watching?
Brooklyn Nine Nine, The Sinner and How I Met Your Mother.
Q: I know you are only 22, but what advice would you give young artists who have decided to pursue this industry?
Sticking with it. Don't be disheartened if nothing happens super quick. And don't compare yourself to anyone especially on Instagram as it can be quite a lot to deal with mentally. Don't compare, just try a lot of different things, don't get caught up in doing the same class over and over again. Just keep working hard, and be a nice person!
If you want to pursue choreography, again take a lot of different foundation classes as it will broaden your vocab and moves. I've trained in a lot of different styles, and then I can incorporate that. Obviously, always looking back at the great legends of jazz, is super important too. Also, try just filming something just for you, not even for anyone else and then putting it out there. A lot of people are scared to put their work out there. But at the end of the day, it's art and people will talk anyway. So, if they like it or not …who cares? It's just dancing… I think people take it too seriously.
Doing a full time course is great especially for the connections you make. But there's training all around the world, so I would recommend either a full-time course here, or alternatively take that money and go travel and train at the same time. So, then you build those life skills and dance in another environment.
Q: How important has it been for you to have an agent managing you?
My agency has been is super amazing for me. I didn't know what to say and do at first having not had an agent before. But now I have a meeting every few months to check in with my goals and directions. My agent has really helped me move into choreography more.
I went to all the open call auditions for all the major agencies in Sydney, and got rejected by them all! But I didn't let it get to me, as rejection is part of this industry. So, if they say no let's just move on, there'll always be somewhere else. And then, there was an open call for Focus and I was like, "This is the one, I can feel it."
BIO | CASSANDRA MERWOOD
Cassandra Merwood (@cassandramerwood) is a Sydney based dancer and choreographer.
Trained in jazz, ballet, and tap from a young age, Cassandra grew up gaining years of experience performing throughout Queensland, where she also obtained her Diploma of Musical Theatre & teaching certificate (CSTD) at Davidia Lind Dance Centre. At 16 years of age, she discovered a passion for urban/hip-hop dance styles and began establishing herself as a professional commercial dancer. With the aim to gain more opportunities in the industry she moved to Sydney. Since having moved, three years on, her lifestyle quickly changed. Cassandra worked 12-hour days before running straight to dance class, every evening to train and introduce herself to the Sydney dance scene. This drive lead her to audition for the first stream of Show|Biz, in 2016 where she was mentored by Marko Panzic.
Since this experience, Cassandra has secured representation with Focus Talent Management and has been making an impression within the corporate entertainment circuit as a choreographer with credits including work for brands such as Myer, Harvey Norman, Green Peace and the ABC. She has also worked with music artists including Jessica Mauboy, Guy Sebastian, Nathaniel and Hermitude as a commercial dancer. Cassandra was also cast in 'The Secret Society', Dream Dance Company's second season choreographed by Candace Brown.
Cassandra describes her choreographic style as commercial jazz with influences of street and club dance styles. This hybrid style stems from her travels to LA, Japan and Singapore and her hunger to further her knowledge, repertoire and produce her own unique style in dance. Inspiration comes in many forms to Cassandra, with the main driving force coming from live artist performance. When it comes to choreography the energy that she loves and feels from live artist performances is the vibe she endeavour's to bring to her creative work. Her constant focus lies in striving to produce quality movement that's full and dynamic and challenging the current 'mold' of a working commercial dancer in the Australian dance industry.
Cassandra has been fortunate to have choreographed for various corporate events, branded fashion launches very early on in her choreographic career with clients including ABC Kids, Rachel Disalvo Swimwear and most recently she was the movement coach for Australian recording artist, Sayah.
Cassandra is currently represented by Focus Talent Management & is the agency's resident choreographer.