HTW  |  Bec Morris
by Nikita Liddell
Bec Morris is out to inspire and create. Dancing and learning the tricks-of-the-trade first, starting from the bottom, and then working her way up, is how she is planning for longevity in the industry.
With strong technique behind her, Bec pointed out that she is "not just a street dancer", but chooses to dance and choreograph how she feels in the moment and uses music as her inspiration. 
DanceLife spoke to Bec about this recently… this is what she had to say:
Q: What have you been up to lately?
Last year I worked on X-Factor with Squared Division and was lucky enough to perform with Charlie XCX and Little Mix, as well as some of the contestants. That was at the end of last year, finishing off the year really well. I am also working and teaching and choreographing in Sydney.
Q: How did you first get started in dance?
When I was two-and-half years old I started at Brent Street, I'm still there. My mum was a dancer and she knew a lot of people in the industry so she put me in straight away. She was a tap and ballet girl… but I've done every single style my whole life! I graduated full-time training in 2010 and I'm still there and dancing!
I'd probably like to point out that I'm trained in every style. It's a big misconception that I don't have any technique … I grew up in a dance studio doing two ballet classes a week and all my ballet exams. While I don't train like that anymore, I do have that technique and that will guide me and help me in everything I do. I'm not just a street dancer. I'm not just a hip hop dancer.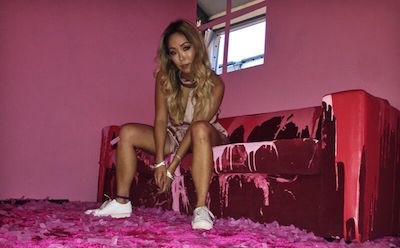 Q: Who or what inspires you the most?
It's more of a 'what' … music inspires me the most. I've always been musically inclined. Throughout all of school I played flute. For me, music drives me whether it's dancing, or choreography … Inspiration wise; what mainly drives me is what's coming out fresh on the charts at the moment or underground.
As a dancer, I like artists like Beyoncé, Chris Brown, and Justin Beiber… that also dance … they really push me because I just want to be behind them! I really appreciate having that 'triple threat' aspect to it and hopefully one day will be able to assist them by dancing or creating for them.
I don't have an end goal. I know I've said I would die happy that if at some point in my life I got to dance behind Beyoncé… but eventually my end goal is to inspire and be able to create.
Q: What is the best advice you have ever been given?
Probably the best advice I have been given – but also give as a teacher and choreographer – is that dancing is not about learning steps; it's about performing! If you don't know how to perform and sell it to your audience, it doesn't matter how good you're doing the steps or what you're doing… it's not going to resonate. That's how I try and pass it on!
Q: What skills would you like to learn?

As a dancer, I would love to be a jazz dancer! Plus, I would love to be in a musical like 'Hamilton'. For me to do that, I need to pop out of my pocket and probably get better at singing and acting!! (haha) But in saying that, my true dream lies in the commercial world and I personally think that if I got to have my time over again I would learn how to break dance. I think it would be a very nifty skill to have up my sleeve as a street dancer and be able to be like 'This is my trick!' as opposed to just being able to flip or something… just being able to do an extra thing!
Q: What can DanceLife readers expect to see from you during 2017?
I believe everyone can expect a lot of change … just trying to find something new and a different way of looking at how the world's working… I'd like to think that in the quarter of my century I would like to bring a different breadth to my life, and more of a change!

BIO
Bec Morris is a professional dancer, based in Sydney Australia. She attained her Certificate IV in Performing Arts in 2010. She has trained in many styles including classical, tap, musical theatre and contemporary, however, she specialises in hip hop and jazz.
Bec Morris has had the pleasure working with the following artists: Justin Bieber, Little Mix, Jessie J, Redfoo, LunchMoney Lewis, Aston Merrygold, Charli XCX, Cody Simpson, Kelly Clarkson and Flo Rida. She has also appeared, as a dancer on television shows: X-Factor, Australia's Got Talent, the Logie Awards and Dance Academy series and the upcoming movie.