Serendipity PLUS Sensational Talent Sees Kiana's Profile Soar 
Interview with Kiana De Van Der Schueren
Interview by Chris Duncan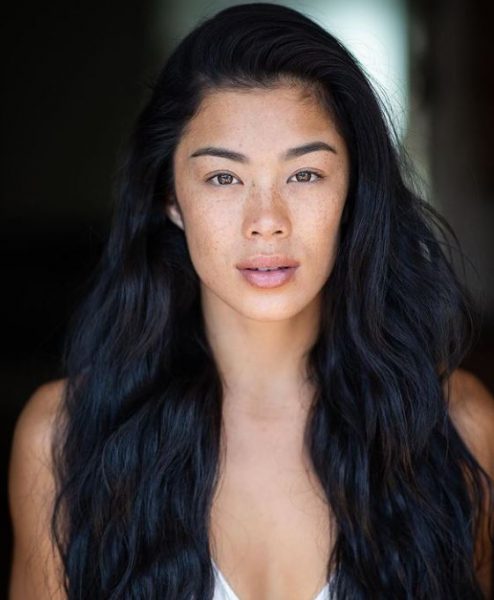 Through a random twist of fate, gorgeous Kiana De Van Der Schueren landed a coveted role in Magic Mike Live Australia, dancing next to her life partner and going viral on TikTok with over 31 million views! This young lady is no stranger to success having launched her professional career straight out of full-time training at Danceforce on the Gold Coast! From Cruise Ships to Cirque Du Soleil and Magic Mike, at just 23 years of age, Kiana already has a CV filled with exceptional contracts and memorable experiences.
Chris Duncan caught up with her last week to find out a little more about her success so far and what the future holds.
***
Q. What has been your professional journey so far?
I was really lucky just before I headed off into the professional world, I won two national titles while competing which both took me overseas. That started me seeing what's out there. I won a trip to Singapore and then I won a trip to Las Vegas. So that's actually what brought me here to the USA and Vegas initially. I remember walking around thinking, "I could see myself here … I could live here, who wouldn't want to live in Vegas". I guess that's where the seed was planted.
Once I graduated high school I worked on Royal Caribbean. I ended up doing three contracts with them on one of their biggest ships. I was a featured soloists and aerialist for them. It was an amazing opportunity! My itinerary was Asia, so I did China, Japan, and South Korea – it was incredible!
Then I did a contract which ported out of New Jersey. Again, I kind of got a taste of America and New York with that one. Between contracts, I did a Cirque du Soleil audition, and that was quite an extensive process. It was an incredible experience. I walked into it with no intentions, just to be quite open. With Cirque, they obviously work very creatively! It was a two-day process and it was very intense. I think there were like 250 people to start with, cut down to seven of us at the end of the second day. I went on my next contract and then I got a video call and it was my current artistic director, Tim. He said, 'Hey, we've got an opportunity, it's Mystere, Cirque du Soleil in Las Vegas, it's a residency show, it's been here for 26 years. We'd really love for you to be an artist in the show'.
So, I ended up coming over to Vegas – that was 2018! I was just a little baby in Vegas, it was crazy … I did 475 shows a year, 10 shows a week. There were incredible featured artists, and I was one of only five dancers on the stage next to Olympic champion tumblers and world medallists in their field … it was just phenomenal!
Then of course, due to COVID I ended up coming home to Australia, which was a beautiful blessing because I hadn't been home in so long to see my family and friends. But I was worried, 'What am I going to do for work?'
I managed to get work on a Baz Luhrmann production on the Gold Coast at Movie World – I never, ever thought that I would be working on a film production which was an incredible experience, with some really incredible people and names.
I continued training, and then I went to watch Blake (my boyfriend) in Magic Mike and an opportunity came up through timing, the synchronicity of life and how things go in our industry sometimes. I was asked to do a closed audition with the Magic Mike team and ended up in the show! I did five months with Magic Mike in the Sydney season as a featured female artist and aerialist and got to perform with Blake (Varga) and be a part of the cast. It was such an incredible experience!
Then the show wrapped up, I back to the US and now I'm in Vegas again.
Q. You were originally cast in Mystere, is that the show you are appearing in again now?
Yes, we reopened back at the end of June. We were the first show back of Cirque for the whole company. Mystere being 28 years old is considered iconic. It's very well-known here on the Vegas strip. We got to take our first bow for an audience after 14 months dark … the long intermission was over, and it was incredible! There will never be another experience where I can say I reopened an iconic show after a pandemic, so I feel really blessed for the opportunity – it was Incredible!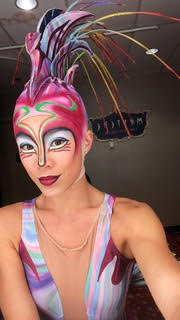 Q. Your first contract was working as a professional dancer on a cruise ship – what did you enjoy most about that type of contract?
I think with cruise ships you get the experience to travel and see a part of the world basically for free. Everything is catered for, they take such good care of you. You don't pay accommodation, you don't pay food, you just get to travel and perform and experience everything. For me professionally, I didn't really know straight out of high school, what I wanted to do with my career. I didn't see myself going in a certain direction. I wasn't really pushing to head straight overseas or anything.
I'd just finished school, so I think doing a ship contract was the best first step for me. I think it pushed me to grow up, even dance-wise. I went away and came back a better performer because it made me figure out that this is what I wanted to do for a job – it was the deciding point. Also, doing shows for people from a different culture, and so many shows a week – like our turnaround was so fast – I learned so much about my body and what it's going to take to be a dancer, what I'm going to need to do for injury prevention and furthermore for my career.
I had to figure out 'how am I going to sustain this for a job?' I also had a lot of opportunities on the ships that I never thought were going to come my way. I was fortunate enough to get like a solo track in the first contract, amongst a cast of almost 30 people and I was just 18! I didn't think that was going to be a possibility. I was blessed with that opportunity!
The next cruise ship contract I got a featured aerial role. I was flying and I hadn't really thought that I would be an aerialist. Then another opportunity came on the next ship where I was doing straps. All these opportunities came up that I just never thought were going to be possible with ships. It was a highlight for me in the sense that I think it kind of shaped where I was going to go with my career.
I remember at the time it was when Quantum Class ships first came out and I was in the second cast of a brand new show. We had all these big feathers and backpacks and there were aerial rigs … all of a sudden it was this big deal. It was full choreography and I was definitely lucky when I came into it.
Q. How was it that you were in the right place at the right time to take on a role in Magic Mike?
I went to Sydney to watch Blake's opening and was just going to spend some time with him. At that time a position became available because of unfortunate circumstances for the dancer who was previously in the role. But as our industry goes accidents and injuries can happen sometimes.
So, I was in Sydney and there was discussion about the situation. Primarily – because of COVID – they were having a situation where they had normally used audience members to pull up during the show. But that was obviously not possible because of COVID rules and regulations, so to keep it running they needed to do change things a bit. I was around and I technically was within the work bubble so they asked, 'Hey, could you help us out?'  Immediately I was like, 'Of course, yes, I'm here, I would love to'.
So that's how it started … it was initially only a week that I spent time with them. I started to get to know the cast and the company, and they found out I was a performer, that I'd been in Cirque. So when a position became available I was invited to send in my content.
I sent through an aerial reel and a demo video. Within a day they'd asked me to come in for an audition. So, I went in for a closed audition – there was only a few of us in the room. They filmed some content, sent it away. It got approved by artistic and the team in the US, and I think within the next maybe two days, I was in for my first rehearsal in the water scene with Blake. Everything went quite fast from there. I had my first and second rehearsals and literally went into the show that night.
Funnily, because the creative team was in the US, I had to learn the aerial number via Zoom. It was a different, challenging experience but within about two weeks I had it down. You've just got to put yourself out there and be brave and kind of make it happen sometimes in our industry. Everything kind of fell into place and within the month I was in a full show track and doing a few shows a week. It was incredible.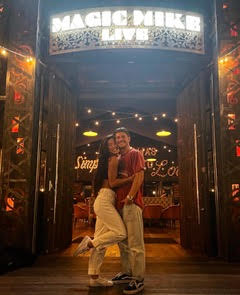 Q. It sounds like serendipity was in play to allow you guys to work together! I believe that your water scene went viral?
I didn't have a huge social media presence so Magic Mike definitely assisted in that! Yes, it was this one video and I truly didn't do it with any other intention besides sharing. It's cool that Blake and I got to share the stage because 6 years ago, we danced together (at DanceForce on the Gold Coast) and then we hadn't seen each other because we'd been traveling everywhere else. All of a sudden we're doing a pool scene together. So I put up the video on Insta reels with no intentions of anything happening and all of a sudden I had something like 6 million views and comments from people as far away as London saying, 'This girl in the water scene, like I would fly from London to see you and Blake perform, your connection is so surreal. Like you guys are meant to be, like this is your scene, this is meant to happen. Like you're such incredible performers.' Then a few months later, Blake put something up on his TikTok of us and there were like 31.8 million views, 4 million likes and 19.4k comments! I was like, 'What is going on right now?'
Q. What would your advice be to dancers wanting to follow in your footsteps right now?
Probably because of the way I started it out, feeling a bit directionless with what I want to do, I'd say don't put yourself in a box. Stay very open to different opportunities and a different job perspective. You never know what they're going to look for, you don't know what direction life is going to take you. One day you're in Australia and the next you've got a contract in Las Vegas, and you live here for three years.
I guess my thing is to stay open to opportunities and don't close yourself off to being say just one style of dancer. Like I have worked as a commercial dancer, when actually I am quite a technical performer and then I did Magic Mike which was aerial and a water scene. Life is a journey. I really, really love working with our younger generation, because I think I get to watch them and I feel inspired. It reinspires me seeing how driven they are. Maybe it's because they haven't had some of the hits that we've had as older people getting into the industry now. But I see them, they have that fire and can't wait to see what's out there.
I would say 'Keep your eyes open, go for everything, and then see what happens.'
The world is reopening. COVID is dissipating, things will restart, and the industry won't suffer forever. We've got our last Cirque residency show opening in the next month. The world is starting to open up and travel happening … it'll be good.
***
Kiana danced in many competitions over the years and was fortunate enough to take away TWO National Dance Titles that took her overseas. 
She then went on to work professionally abroad on 3 Royal Caribbean Cruiseline contracts as a dancer / aerialist.
She then landed her dream job as a featured dancer in Cirque Du Soleil 'Mystere' in Las Vegas NV. 
During the pandemic Kiana returned home to Australia where she was fortunate enough to work in a Baz Lurhman film production and performed in Magic Mike Live Australia Tour as a lead female dancer and aerialist.