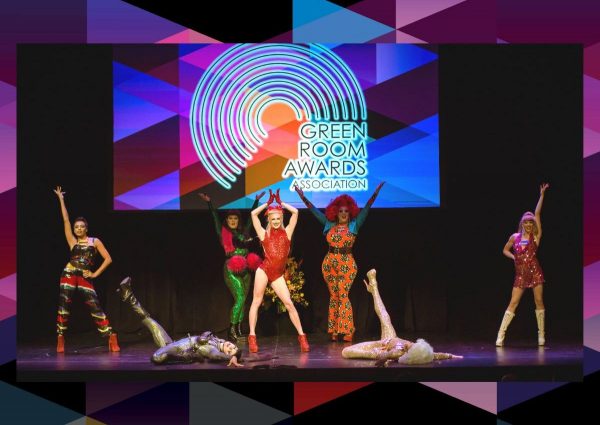 36th Annual Green Room Awards | April 1st
274 Nominations, 111 Productions, 62 Awards, 1 night
Join Melbourne's Arts Industry at the iconic Comedy Theatre on the 1st of April as they celebrate and applaud the achievements of the talented theatre industry and peers. Now in its 36th year, the Green Room Awards Association (GRAA) is Victoria's peak body for honouring excellence and innovation across our vibrant Arts sector.
In the categories of dance and musical theatre (as relevant to our readership) several nods have been given to works and performances by Chunky Move, Sydney Dance Company, Dancenorth, Stephanie Lake Company, Jo Lloyd, Beautiful; The Carol King Musical, Calamity Jane, Mamma Mia The Musical, Bring It On! and School of Rock.
As peer-presented Performing Arts Industry accolades, the Green Room Awards recognise outstanding achievements in productions from Cabaret, Contemporary and Experimental Performance, Dance, Independent Theatre, Music Theatre, Opera, and Theatre Companies. The awards acknowledge the contributions of the many diverse Artists and Technicians who create work in our local industry. Across its long history previous winners include Australian playwright Michael Gow, Soprano Marina Prior, dancer and Australian Ballet CEO, David McAllister, the multi-talented Tim Minchin, and performer Rachel Griffiths.
Hosted by legends of Melbourne performance Anni Davey and Maude Davey, the 2019 ceremony will be a jam-packed, electric night with live performances. This year will see one of the highest nomination counts ever considered in view of the outstanding work presented throughout 2018. Presentations will be made by valued Partners and Sponsors of the GRAA as well as arts industry professionals.
A highlight on the Melbourne Arts calendar, the annual Green Room Awards is a joyous celebration of our local Arts and Artists, not to be missed. This is a not-for-profit community event and public tickets will be available from the 19th of February. The GRAA is proudly supported by Creative Victoria, City of Melbourne, Marriner Group, Media Super, and the Media and Entertainment Arts Alliance.
The Nominations in the categories of Dance and Musical Theatre are listed in full below – for the full list of nominees across all 7 categories please go to www.greenroom.org.au/awards/nominees2019/:
DANCE
Performer
Joel Bray – Dharawungara (Chunky Move)
Deanne Butterworth – Year's Work
Janessa Duffy – ab (intra) (Sydney Dance Company)
Rebecca Jensen – Overture (Arts House and Jo Lloyd)
Jarryd Madden – Year's Work (The Australian Ballet)
Caroline Meaden – Lady Example (Slown, Smallened and Son)
James Vu Ahn Pham – Nether (Chunky Move)
Tara Jade Samaya – Common Ground (Chunky Move)
Yumi Umiumare – ButohOUT! (Yumi Umiumare and Takashi Takiguchi in partnership with Abbotsford Convent)
Luigi Vescio – The Venusian Slip (Harrison Hall) 
Duet or Ensemble Performance
ab (intra) (Sydney Dance Company)
Lady Example (Slown, Smallened and Son)
Overture (Arts House and Jo Lloyd)
Rainbow Vomit (Dancenorth)
Spartacus (The Australian Ballet)
Visual Design
Benjamin Cisterne (Lighting Design) – Spartacus (The Australian Ballet)
Jennifer Hector (Lighting and Set Design) – Overture (Arts House and Jo Lloyd)
Paul Jackson (Lighting Design) – Common Ground (Chunky Move)
Govin Ruben (Lighting and Set Design) – Rainbow Vomit (Dancenorth)
Ben 'Bosco' Shaw (Lighting Design) – Colossus (Arts Centre Melbourne, Melbourne Fringe and Stephanie Lake Company)
Music Composition and Sound Design
Emah Fox (Sound Design) – Lady Example (Slown, Smallened and Son)
Alisdair Macindoe (Composition and Sound Design) – Year's Work
Duane Morrison (Composition) – Overture (Arts House and Jo Lloyd)
Max de Wardener, Genevieve Lacey and Wang Peng (Composition) – One Infinity (Playking Productions andJun Tian Fang in association with Dancenorth and Beijing Dance Theatre)
Naretha Williams (Composition) – Dharawungara (Chunky Move)
Shirley McKechnie Award for Outstanding Choreography
Kyle Page and Amber Haines – Rainbow Vomit (Dancenorth)
Anouk van Dijk – Common Ground (Chunky Move)
Deanne Butterworth – Remaking Dubbing (Deanne Butterworth)
Jo Lloyd – Overture (Arts House and Jo Lloyd)
Stephanie Lake – Colossus (Arts Centre Melbourne, Melbourne Fringe and Stephanie Lake Company)
Production
Common Ground (Chunky Move)
Lady Example (Slown, Smallened and Son)
Overture (Arts House and Jo Lloyd)
Rainbow Vomit (Dancenorth)
MUSICAL THEATRE
Female Lead
Esther Hannaford – Beautiful: The Carol King Musical (Michael Cassel Group)
Virginia Gay – Calamity Jane (One Eyed Man Productions)
Natalie O'Donnell – Mamma Mia! The Musical (Michael Coppel, Louise Withers & Linda Bewick)
Tina Arena – Evita (Opera Australia, John Frost and David Ian)
Male Lead
Josh Piterman – Beautiful: The Carol King Musical (Michael Cassel Group)
Euan Doidge – Priscilla: Queen Of The Desert (Michael Cassel Group & Nullarbor Productions)
David Harris – Priscilla: Queen Of The Desert (Michael Cassel Group & Nullarbor Productions)
Brent Hill – School Of Rock: The Musical (GWB Entertainment & S&Co)
Kurt Kansley – Evita (Opera Australia, John Frost and David Ian)
Female Supporting
Jackie Rees – A Little Night Music (Watch This)
Johanna Allen – A Little Night Music (Watch This)
Lucy Maunder – Beautiful: The Carol King Musical (Michael Cassel Group)
Elandrah Feo – Bring It On: The Musical (David Venn in association with Stage Masters)
Jayde Westerby – Mamma Mia! The Musical (Michael Coppel, Louise Withers and Linda Bewick)
Male Supporting
Nick Simpson-Deeks – Falsettos (StageArt)
Mat Verevis – Beautiful: The Carol King Musical (Michael Cassel Group)
Tony Taylor – Calamity Jane (One Eyed Man Productions)
Rob Johnson – Calamity Jane (One Eyed Man Productions)
Phillip Lowe – Mamma Mia! The Musical (Michael Coppel, Louise Withers & Linda Bewick)
Lighting
Rob Sowinski – A Little Night Music (Watch This)
Peter Kaczorowski – Beautiful: The Carol King Musical (Michael Cassel Group)
Trent Suidgeest – Calamity Jane (One Eyed Man Productions)
Gavin Swift – Mamma Mia! The Musical (Michael Coppel, Louise Withers & Linda Bewick)
Natasha Katz – School Of Rock: The Musical (GWB Entertainment & S&Co)
Set
Derek Mclean – Beautiful: The Carol King Musical (Michael Cassel Group)
Lauren Peters – Calamity Jane (One Eyed Man Productions)
Linda Bewick – Mamma Mia! The Musical (Michael Coppel, Louise Withers & Linda Bewick)
Timothy O'Brien – Evita (Opera Australia, John Frost and David Ian)
Costume
Jodi Hope – Bare: The Musical (StageArt)
Alegjo Vietti – Beautiful: The Carol King Musical (Michael Cassel Group)
Anna Louizos – School Of Rock: The Musical (GWB Entertainment & S&Co)
Suzy Strout – Mamma Mia! The Musical (Michael Coppel, Louise Withers & Linda Bewick)
Sound
Marcello Lo Ricco – Falsettos (StageArt)
Brian Ronan – Beautiful: The Carol King Musical (Michael Cassel Group)
Mick Potter – School Of Rock: The Musical (GWB Entertainment & S&Co)
Mick Potter – Evita (Opera Australia, John Frost and David Ian)
Michael Waters – Mamma Mia! The Musical (Michael Coppel, Louise Withers and Linda Bewick)
Musical Direction
David Butler – Falsettos (StageArt)
Stephen Gray – Priscilla: Queen Of The Desert (Michael Cassel Group & Nullarbor Productions)
Daniel Edmonds – Beautiful: The Carol King Musical (Michael Cassel Group)
Laura Tipoki – School Of Rock: The Musical (GWB Entertainment & S&Co)
Guy Simpson – Evita (Opera Australia, John Frost and David Ian)
Choreography
Michael Ralph – Bring It On: The Musical (David Venn in association with Stage Masters)
Tom Hodgson – Mamma Mia! The Musical (Michael Coppel, Louise Withers & Linda Bewick)
Larry Fuller – Evita (Opera Australia, John Frost and David Ian)
Direction
Tyran Parke – Falsettos (StageArt)
Mark Bruni – Beautiful: The Carol King Musical (Michael Cassel Group)
Richard Carroll – Calamity Jane (One Eyed Man Productions)
Gary Young – Mamma Mia! The Musical (Michael Coppel, Louise Withers & Linda Bewick)
Production
Beautiful: The Carol King Musical (Michael Cassel Group)
Bring It On: The Musical (David Wenn in association with Stage Masters)
Calamity Jane (One Eyed Man Productions)
School Of Rock: The Musical (GWB Entertainment & S&Co)
GREEN ROOM AWARDS 2019
Comedy Theatre, Melbourne
Monday the 1st of April, 7:00pm
Tickets: $30
Bookings: 13 61 00 or online via www.greenroom.org.au
#GRA2019 #GreenRoomAwards