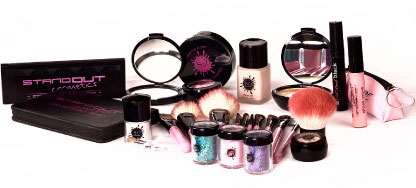 DanceLife Celebrity Dance Make up Expert Tina Sparks from Stand Out Cosmetics gives you the essential facts on Make Up to get you started.
WHAT'S IN YOUR BAG!!
Competition time is upon us again & even if you are a seasoned attendee for many years to these events some time or another we may forget something we need!
I have created the ultimate list of items needed for competitions & concerts for make up!. This list is for the beginner up to the professional so I'll leave the sorting out fun for you!
STAND OUT TIPS: LABEL EVERYTHING!
• Strong aluminum make up case! Invest in one that has a lock!
• Sewing /medi kit with needle, good selection of cotton in all colours/ mini scissors & quick unpick/ sewing tape for loose hems, safety pins in all sizes gold & silver as well as Hollywood tape. Band aids, panadol, muscle rub, instant ice pack, strapping tape/bandage/ breath mints / snack pack
• Make up remover or wipes / cotton tips & balls / sponges / tissues & hand towel
• 7 good make up brushes (most come in cases but you can use a pencil case too)
• Nail polish remover if you've forgotten but also great for stains!)
• Clear nail polish for frayed ribbons or stocking runs!
• Hair pin/ ties/ nets/ clips/ spray/ gel / brush & comb
• 3 sets of eye lashes that have been pre sized & cut with good DUO glue
• Moisturizer, especially after taking your make up on and off all day but if you forget your foundation you can ask to use someone else's & if it's too dark just mix a little moisturizer to tone it down!!!
• Eye shadow & pallet with your studio colours or ones that work best for stage. Gold's, creams, whites & bronze, then shaders in steel blues, blacks & brown. Blushes in pinks & roses.
• Lip stick in a good strong red that doesn't have too much orange, blue, or pink tone in them.
• Gloss's in light pink, cream and soft browns for contemporary routines.
• Mascara in water resistant (less chance of snapping your lashes) in strong black
• Pencils in nude, white, black, brown and red
• Blotting powder in Invisible to eliminate shine & sweat with out caking
• Foundation in a warm yellow not orange tone, 1-2 shades darker than you skin tone to stop you looking washed out.
• Skin primer, barrier creams & silicone based products are great!
• Eye Liners in creams, pencils or liquids
• Special effects pack with glitters / gems / make up wheel for bruising / body illuminator etc.
• Non perfumed anti- perspirant. Roll on is less invasive in the dressing room!
• Mini Rubbish bags.
• As phones may not be safe to leave in dressing rooms it's handy to have a note pad & pen.
Feel free to add to your list & to send in comments & tell us of what you put in your bag that has been handy or what everyone always borrows from you!
For more tips, information and Australia's number one preferred make up line for on stage and off visit Stand Out cosmetics at www.standoutcosmetics.com.au or email or call me Tina Sparks, any time!