Premiere Season for New WE.ARE Dance Project
April 12, 13 & 14
5 Shows Only!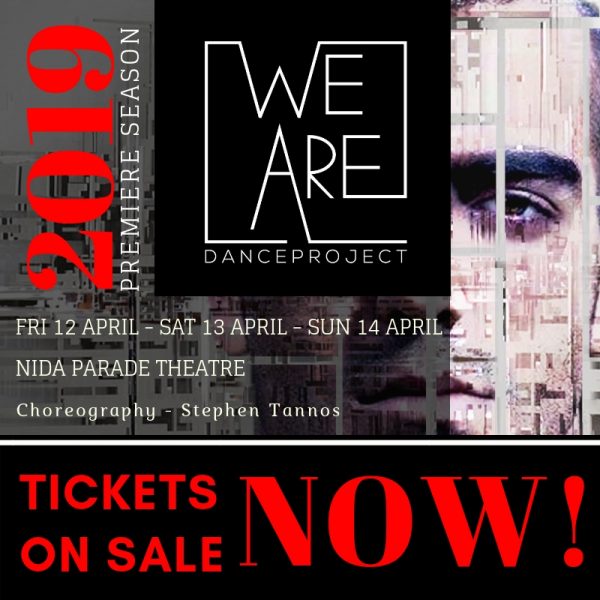 Cast of 12 Announced
After October auditions, the inaugural cast for the new WE.ARE Dance Project have been announced. The opening season shows choreographed by Stephen Tannos will be held at NIDA's Parade Theatre on Friday April 12, Saturday April 13 and Sunday April 14.
CAST
Jackie Chambers  ■  Alex Meidzinski  ■  Alysha Percy
Paris Cavanagh  ■  Lillian Jackson  ■  Lauren Seymour
Ben Zammit  ■  Callum Mooney  ■  Jordan Grant
Neale Whittaker  ■   Jacob Edwards   ■  Dayton Tavares
WE.ARE is a non-profit dance company for and by Dancers and states its mission as:
We are ONE. We are ALL. Simply, we 'ARE'.
WE.ARE is a revolutionary and collective concept of DANCE .. DANCERS .. 'THE DANCE'.
The ART of DANCE. The FEEL of DANCE. The CHEMISTRY and COMPOSURE of DANCE.
WE.ARE will IGNITE your MIND your HEART your BEING and …
REMIND you of WHY. REMIND you of WHEN.
REMIND you of HOW your DANCE BEGAN. Within your SOUL. Within your BODY.
Within your MIND. And then …
WE.ARE
SHOWS:
@ NIDA Parade Theatre, Kensington
Friday 12th April – 2pm & 7:30pm
Saturday 13th April – 3pm & 7:30pm
Sunday 14th April – 5pm
TICKETS

:
Single: $50 plus gst including booking fee
Group: 1 free ticket per 10 sold in a block
Studio Experience: Saturday 3pm or 7:30pm
40 tickets or more get 4 comp tickets
Meet and Greet Selected Cast and Choreographer after the show
45minute Private Class with a cast or choreographer to learn a section of the show
Limited spots available.
High School Groups: Friday 2pm show only
40 tickets or more get 4 comp tickets
Q&A after show with selected cast and choreographer