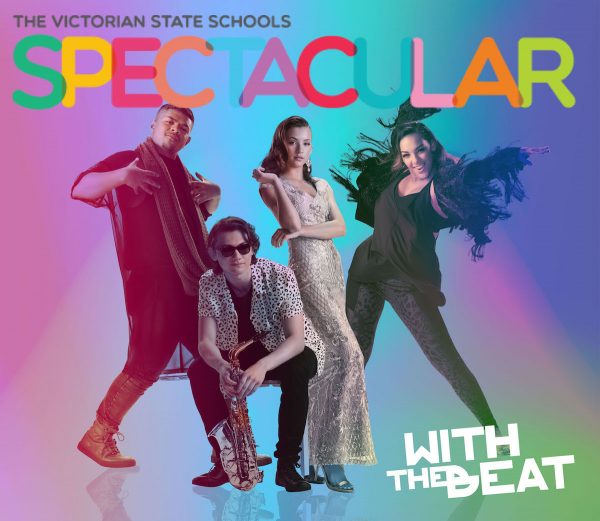 Victorian State Schools Spectacular 201 presents 'With The Beat'
Saturday 15 September, Hisense Arena
The 2018 Victorian State Schools Spectacular (VSSS) will showcase 3,000 young performers from more than 200 schools across Victoria for two shows on Saturday 15th September at Hisense Arena, Melbourne.
This year's production 'With The Beat' explores ideas of belonging and identity. The journey of exploration will see Hisense Arena transformed into a mystical Venetian masquerade ball and a wondrous Steam Punk Fairground in a cornucopia of new and old mixed together. For the first time the VSSS Pacifica Choir will perform, taking inspiration from the movie Moana, and the audience will be immersed viewing one of the most powerful forms of cultural dance, a 'HAKA'; specifically written for the show.
Taking inspiration from the Grimm Brothers folk tale – The Goose Girl, a famous story of lost identity, will feature a puppet designed by Philip Millar of Creature Technology Company bringing another performing dimension to the stage. Adding that extra bit of 'magic' will be student Tim Mason, an international award-winning magician who will delight audiences of all ages with his masterful showmanship far beyond his years.
This year's extravaganza will feature a 75-piece orchestra, 31 principal vocalists, 16 principal dancers, 20 principal ensemble dancers, 9 backing vocalists, 44 Victorian State Schools Choir members, 55 specialist dancers/singers, a magician, a puppeteer, a 1300 voice choir and 1,125 mass dancers!
Taking part in the Spectacular provides a unique training opportunity for students onstage, as well as behind the scenes in audio, lighting, video production, stage management, costume, make-up, marketing and photography.  The annual performance will see 33 secondary students and 90 Tertiary/TAFE students learning and working across these platforms in 2018.
This year the VSSS will be saying goodbye to some of the long-standing students who are coming to the end of their secondary education. Imogen Spendlove has been part of the VSSS for the past nine years where she has had the opportunity to perform over 30 songs as a Principal Vocalist.  Imogen says she has found "Spec to be a space to learn and explore the art of performance". VSSS also welcomes 116 new students in 2018 who will be involved in behind the scenes as well as on stage.
There is something for everyone's musical taste in this year's show with songs being performed from Macklemore, Imagine Dragons, Sheppard, Tim Minchin, Beyonce, Rihanna to Little Mix, as well as Camila Cabello, Vance Joy, Bruno Mars, John Legend, Elton John to Karl Jenkins and Hans Zimmer.
'With The Beat' is a creative vision of industry professionals including Creative Director Neill Gladwin (Olympic and Paralympic Opening Ceremonies), Musical Director Chong Lim AM (John Farnham MD, Dancing With The Stars), Dance Director Deon Nuku, (Scooby Doo, Happy Feet, Moulin Rouge) and Associate Dance Director Yvette Lee, (Dancing with the Stars, X-Factor Australia, Australia's Got Talent and So You Think You Can Dance).
The Spectacular has a long-term partnership with the Australian Chamber Orchestra, providing tutoring and mentoring to student string musicians.
The Spectacular supports the Education State targets of more students reaching the highest level of achievement in the arts; ensuring kids are happy, healthy and resilient; and building pride in their schools. It also provides students an invaluable performing arts opportunity, encouraging development of their creative skills, discipline, perseverance and confidence over months of rehearsals. The environment is non-competitive allowing students to learn from each other as much as from the mentors.  Lifelong friendships are often made on this incredible journey.
Success and achievement in the arts is one of the key targets for the Education State, as Victorian students learn to think critically and find creative solutions.
Minister for Education James Merlino says, "The Victorian State Schools Spectacular celebrates the next generation of creative Victorians who might be at the threshold of their future careers on stage and behind the scenes."
"The Spectacular provides an engaging performing arts opportunity and industry training experience for our young people while showcasing the talent that exists in Victorian government schools."
The VSSS is one of the largest recurring productions in Australia.  Across the two shows, over 10,000 people will have the chance to see some of the rising stars of today.
Presented by the State Government of Victoria, the 2018 Victorian State Schools Spectacular – With The Beat, is a not-to-be-missed event. 
THE VICTORIAN STATE SCHOOLS SPECTACULAR | WITH THE BEAT


Hisense Arena, Melbourne
Saturday 15 September – 1pm & 6:30pm
Performance length: 3 hours
Bookings:   www.ticketek.com.au/spectacular  or call 132 849.
Buy 10 tickets and get one adult ticket free (for group bookings please call 1300 364 001)