Cast Announced for School of Rock Musical Opening in Melbourne in October 2018
Amy Lehpamer & Brent Hill Head up Cast of Talented Juniors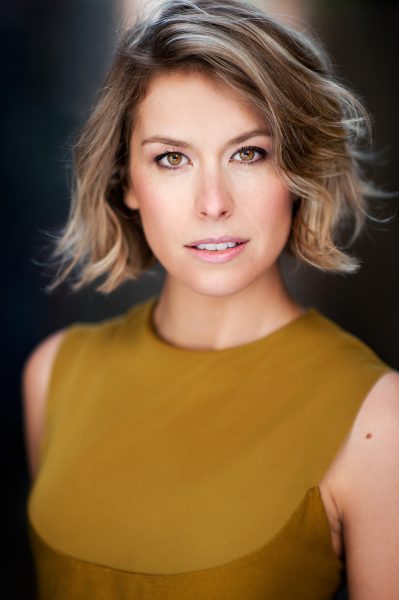 Amy Lehpamer has been announced as the uptight headmistress Rosalie Mullins in the cast of School of Rock, opening at Her Majesty's Theatre in Melbourne in October.  She joins Brent Hill as music teacher and wannabe rock star Dewey Finn, famously played by Jack Black, plus the three alternating casts of 12 pint-sized musical prodigies.
This production is the Australian premiere of Andrew Lloyd Webber's Broadway and West End smash hit rock musical School of Rock which opens 31 October 2018.
In the role made famous by Joan Cusack in the hit film, Amy Lehpamer will button up, starch up and don her spectacles to play the uptight but loveable straight-laced schoolmarm with a hankering for Stevie Nicks.
With numerous award nominations and a Best Actress awards, Amy has enjoyed enormous success and playing a diverse range of leading roles including Dusty Springfield in Dusty, Maria in The Sound of Music, Tracy Lord in High Society, Reza in Once, Christine Colgate in Dirty Rotten Scoundrels, Sherrie in Rock of Ages and Margaret in Margaret Fulton: Queen of the Dessert.
Other cast announced include John O'Hara (Priscilla, Queen Of The Desert, Dusty, Cats, Singin' In The Rain) who will play Ned Shcneebly, Matt Crowley (Molly: the Molly Meldrum Story, House Husbands) as Theo and Joe Kosky (Kinky Boots, High Fidelity, Priscilla: Queen of the Desert) who will be the alternate Dewey.
Sydney-based actor and composer Brent Hill will play wannabe rock star Dewey Finn. With an impressive lineup of musical theatre credits including multiple awards and nominations for his starring roles in Little Shop of Horrors, Once and Rock of Ages, along with numerous appearances in The Production Company shows, Hill was recently seen alongside Hugo Weaving in The Resistible Rise for Arturo Ui at Sydney Theatre Company and in Eddie Perfect's Vivid White at Melbourne Theatre Company.
Hill will be joined on stage each night by an extraordinarily talented group of young Australian performers, aged nine to 13 years of age, who will deliver scorching riffs, pounding drums and all-live rock. After a nationwide search, these 36 performers will alternate in the following roles:
*  Ben Swissa, 12, from Rose Bay NSW   *  Jayden Tatasciore, 9, from Landsdale WA  *  Zane Blumeris, 11, from Mooroolbark VIC – playing ZACH
*  Kempton Maloney (Wind in the Willows), 9, from Newtown VIC   *  Bailey Landeg, 11, from Riverside TAS  *  Ethan Stephenson, 12 from Nunawading VIC – playing FREDDY
*  Caleb Elbourne, 11, from Ferntree Gully VIC   *  Orlando Schwerdt (Carmen, Matilda), 12, from Sandhurst VIC
*  Heath Jelovic (Parsifal and Turandot, The Secret River), 13, from Cherrybrook NSW – playing LAWRENCE
*  Samantha Zhang, 10, from Menai NSW  *  Remy Grunden, 10, from Oakleigh South VIC  *  Tiana Mirra (Matilda, Strictly Ballroom), 13, from Park Orchards VIC – playing KATIE
*  Ava McInnes, 10, from Geelong VIC   *  Stephanie Kipnis (Matilda), 10, from Mount Waverley VIC   *  Yvette Pugat, 10, from Clyde North VIC – playing SUMMER
*  Bella-Mia Bortolin, 11 from Heidelberg Heights VIC  *  Chihana Perera (Matilda), 12 from Harkness VIC  *  Riley Thomas, 10 from Taylors Hill VIC – playing TOMIKA
*  Annie Jones (Sound of Music), 10, from Glenroy VIC  *  Kayla Muir (Sound of Music), 10, from Warrandyte VIC   *  Riya Mandrawa, 10, from Hawthorn East VIC – playing MARCY
*  Ashlyn Norman, 11 from Port Melbourne VIC   *  Ava Rose Houben-Carter, 10 from Pakenham VIC  *  Rachel Kipnis (Sound of Music, Les Misérables), 13 from Mount Waverley – playing SHONELLE
*  Lucia Schwerdt (The Wind in the Willows), 10 from Sandhurst VIC   *  Maya Corbett, 10 from Edithvale VIC   *  Ruby Moore (Sound of Music), 11 from Armadale VIC – playing SOPHIE
*  Hudson Sharp (Matilda, Dream Lover), 12 from Balwyn North VIC   *  Amon Prete (Dream Lover, Carmen), 12 from Warranwood VIC  *  Lenny Thomas (Priscilla), 11 from Bonbeach VIC – playing BILLY
*  Aston Droomer (The Bodyguard, The King And I), 10 from Templestowe  *  Oscar Mulcahy (Dream Lover, Kinky Boots), 11 from North Melbourne VIC   *  Elijah Slavinskis (Kinky Boots, Priscilla), 9 from Ashburton VIC – playing MASON
*  Gabriel Ingram (The Bodyguard, Kinky Boots), 11 from North Carlton VIC   *  Zac El-Alo, 10 from Coburg North VIC   *  Lachlan Young (Dream Lover, Kinky Boots), 12 from Glen Iris VIC – playing JAMES
Of the Australian child cast, Andrew Lloyd Webber said: "I've just seen all of the audition tapes for School of Rock in Australia and I know we've got a really great cast. We've got great kids in a show that is all about how music can empower children."
"I've never had such a good time as I have had with School of Rock and I know it's going to be fantastic in Australia too."
Joining them as ensemble cast members are Bianca Baykara, Ellis Dolan, Alex Hyne, Andrew Kroenert, Bree Langridge, Jenny Little, Zachary Pidd, Michaela Powell, Sophie Weiss and Stephen Wheat.
School of Rock producers, GWB Entertainment stated: "We are thrilled with the cast that has been assembled for the Australian premiere of School Of Rock. It's a true delight to bring together some of Australia's leading stage performers alongside some incredible emerging talents. We have no doubt that audiences will fall in love with the wit and charm of School of Rock when we open at Her Majesty's Theatre later this year."
SCHOOL OF ROCK


Her Majesty's Theatre | Melbourne
From 31st Ocotber
Bookings: ticketek.com.au