Learn and Share Timomatic's 'Power' Dance to Uplift and Unite
Join Tim Live in Lockdown July 27 for a Free Virtual Dance Session
Multi-talented performer Timomatic (Tim Omaji) wrote a song called 'Power' and choreographed a dance with the sentiment that you can keep going no matter what challenges you face. It's a movement he hopes to create where families can get together and learn the dance to pass it and share the vibe – either on social media, amongst their friends or with the community hub at www.unstoppable.org 
Unstoppable.org is a 'different kind of' mental health initiative which aims to inspire hope, build resilience and encourage connection across communities through the universal language of dance. With lockdowns and isolation very much part of our daily lives, Unstoppable.org encourages people to believe that they can keep moving forward by 'rising up' and joining in on a shared movement.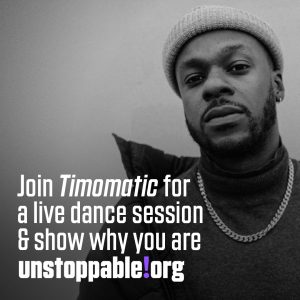 Multi-platinum entertainer Timomatic, has conquered many milestones throughout his career. From dancer to recording artist to attaining a Logie nomination as a TV personality. Timomatic has become a staple in the Australian entertainment industry, however it's clear that this new chapter sees Timomatic step into his true role as singer, songwriter, producer and entrepreneur.
Unstoppable.org is a collaboration between Carrie-Ann Lesson, CEO of suicide prevention charity Lifeline ACT, and Francis Owusu, CEO and Founder of youth transformation and empowerment not-for-profit Kulture Break, in response to society's growing anxiety, with the goal to build resilience and hope amongst all Australians.
They approached multi-platinum Australian performer, Timomatic to pen an uplifting anthem called 'Power' accompanied by a series of dance steps, which people all over the country could learn and share as part of a national community.
"Unstoppable.org is a simple initiative that people can be part of in order to feel connected and communicate with those around them. Whether young or old, it's important to unite our community and voice a message of positivity and hope, particularly through the joyful, inclusive medium of dance," said Owusu.
"With mental health an important topic around the world, we hope that Unstoppable.org can be a way to seize a moment of self-doubt and replace it with resilience even in the toughest times. This is really what this whole initiative is about, uplifting all Australians and helping them spread that Unstoppable fire inside of them," said Leeson.
Unstoppable.org asks people to learn Timomatic's choreographed 'Power' dance moves or create their own and share their experience on Facebook, Instagram or YouTube, responding to the sentence "I/we am/are Unstoppable because…"
Using the #Unstoppableorg hashtag, these moments will then be shared as part of the initiative's community hub, encouraging others to feel inspired, take part and spread a bit of joy in the world. Whether you are an individual or part of a community group, sports team or school, it's a way to help one another by sharing a moment of positivity to navigate challenging times.
"Unstoppable.org is an expression of the mindset. It's a decision that every day, when you wake up, you are going to energise yourself and keep going. By taking part in these Power dance moves, you are sharing that positive, hopeful message with others. We all need to feel Unstoppable, particularly during tough times, and spread that message so it doesn't get lost in the noise of everyday life," said Timomatic.
To launch the Unstoppable movement, Timomatic is inviting you all to join him LIVE to learn the Unstoppable dance to his 'Power' anthem!
With lockdowns currently in play for many, this is a great way to create some positive energy in your household and also amongst the wider community… all by taking part in and sharing why you are Unstoppable!
We encourage everyone to join Timomatic by sharing a video or photo of your dance moves using the #unstoppableorg hashtag which will appear on our official community hub, supported by Lifeline ACT and Kulture Break.
To learn more and take part in Unstoppable.org, visit www.unstoppable.org
FREE 'UNSTOPPABLE' VIRTUAL EVENT WITH TIMOMATIC
Tuesday, 27 July 2021
8:30am – 9am (AEST)
Register: unstoppable.org
About Lifeline ACT
Lifeline ACT exists to support people in crisis and save the lives of those experiencing thoughts of suicide. For 50 years, our highly skilled volunteers have provided 24/7 support via our local 13 11 14 crisis support service. www.lifelinecanberra.org.au
About Kulture Break
Kulture Break is a not-for-profit social enterprise mental health and well-being community service provider; committed to the transformation and empowerment of children and youth. Established in 2002, Kulture Break is an organisation committed to the wellbeing, transformation and empowerment of young people and the community. We do this by engaging them in a safe and active environment, using the performing arts and leadership development to empower and change lives.