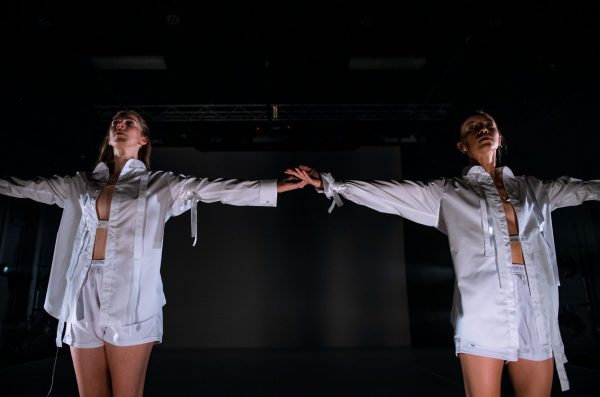 Keir Choreographic Award 2022
Australia's Most Prestigious Choreographic Award
The Keir Foundation, Australia Council for the Arts and Dancehouse, together with presenting partner Carriageworks, today announced Tra Mi Dinh as the recipient of the $50,000 Keir Choreographic Award for 2022 –  Australia's most prestigious choreographic award.   
Jenni Large was selected as the recipient of the $10,000 Peoples Choice Award. 
The recipient of the 2022 Keir Choreographic Award is Tra Mi Dinh for her work The ___. The artist's work The ___ explores the duality and complexity of endings in a duet caught between harsh and slippery edges. Two dancers oscillate through shifting scenes that challenge the finality of "endings" and what it means for something to come to a close. In their attempts to navigate the interchanging framework that shapes each experience against the next, multiple timelines converge to show that while some endings are final, others linger.
Tra Mi Dinh is a dance artist and emerging choreographer interested in movement that is surprising, absurd, rhythmic and presentational. As a dancer she's worked with artists and companies including Lucy Guerin Inc., Chunky Move, Victoria Chiu and Michelle Heaven. Her choreography has been supported through residencies at Tasdance's On the Island Program, Sydney Fringe's Art in Isolation, Critical Path and March Dance. Her current choreographic curiosities lie at the "edge" of things – blurring the lines between random and deliberate, significance and insignificance. Dinh graduated from the Victorian College of the Arts in 2014 with a Bachelor of Fine Arts (Dance).
The recipient of the Peoples Choice Award is Jenni Large, for her work Wet Hard. In Wet Hard  two women smear across an other-worldly landscape in nuanced union, balancing atop 8-inch heels. They slyly navigate the instability and innuendo of the pedestals underfoot, subverting expectation and toying with the viewer in a display of strength and focus. Their bodies melt and solidify, unaffected by interruptions from sound and light. Wet Hard references the sculptural virtuosity of erotic dance forms and aerobics in an exposed and empowered use of movement, costume, sound and light. An exploration of the effort required to disrupt the limits and expectations placed upon female bodies.
Jenni Large is a contemporary dance artist, performer, choreographer, teacher and rehearsal director working across Australia, based on the lands of the palawa people in lutruwita/Tasmania. Large has performed extensively both nationally and internationally across independent and company environments, including as a formative member of Dancenorth with Kyle Page and Amber Haines, Leigh Warren and Dancers, Legs on the Wall and GUTS Dance. Currently a creative associate at Tasdance, Large's practice is grounded in her passion for working in regional settings. She is driven by the personal and political potency of embodiment, locating the body as a site for play and transformation. 
Eight artists and collectives were selected to take part in the biennial award, dedicated to the commissioning, presentation, promotion and dissemination of new Australian choreography. The selected artists were: Alan Schacher and WeiZen Ho, Alice Will Caroline, Jenni Large, Joshua Pether, Lucky Lartey, Raghav Handa, Rebecca Jensen and Tra Mi Dinh.  
An esteemed jury of international dance leaders were tasked with the responsibility of selecting the recipient of the 2022 Keir Choreographic Award, which included Daniel Riley (Wiradjuri/Australia), Eko Supriyanto (Indonesia), Laurie Uprichard (Ireland), Lemi Ponifasio (Aotearoa/New Zealand), and Nanako Nakajima (Japan). For the first time, Carriageworks and Dancehouse presented all eight works over a two-week season, featuring two presentations of four works each in a rotating program.
Keir Choreographic Award Founder Phillip Keir said: "Congratulations to Tra Mi Dinh for her work The ___ as the winner of the 2022 Keir Choreographic Award. In a strong field of other works, this exciting duet explored the idea of endings and aptly displayed Tra Mi's talents as choreographer, performer and director. I'm excited that this years' prize has been awarded to a gifted young artist and we hope the KCA will be transformative for her. We're excited to see more from Tra Mi."
Australia Council CEO Adrian Collette said: "Congratulations to Tra Mi Dinh and all the talented participating artists who showcased their work as part of the fifth edition of the Keir Choreographic Award. The Australia Council is delighted to once again be a part of this important partnership and in supporting the development of diverse choreographic work in Australia."
Dancehouse CEO and Artistic Director Josh Wright said: "My congratulations to all the artists in this years' Keir Choreographic Award. It's been a delight to see a range of choreographic ideas and investigations from eight unique and talented choreographic voices. We have seen the largest audience for the KCA in 2022 evidencing interest and passion for Australian independent dance artists. My congratulations to Peoples Choice Award winner Jenni Large for her provocative piece Wet Hard who delighted spectators with a slippery and innervating duet performed on 8-inch platform heels." 
Carriageworks CEO Blair French said: "Carriageworks congratulates the recipients of the 2022 Keir Choreographic Award, Tra Mi Dinh and Peoples Choice Award Jenni Large, and is proud to support all participants in developing innovative choreographic work. Supporting artists to experiment and create new work is an important focus of our programming, and the Keir Choreographic Award is integral to this." 
The full KCA program is available digitally On Demand Australia-wide from 3-17 June via https://vimeo.com/ondemand/kca2022 
The Keir Choreographic Award is a partnership between Dancehouse, The Keir Foundation and the Australia Council for the Arts, with presenting partner Carriageworks. The sixth edition of the Award will take place in 2024.