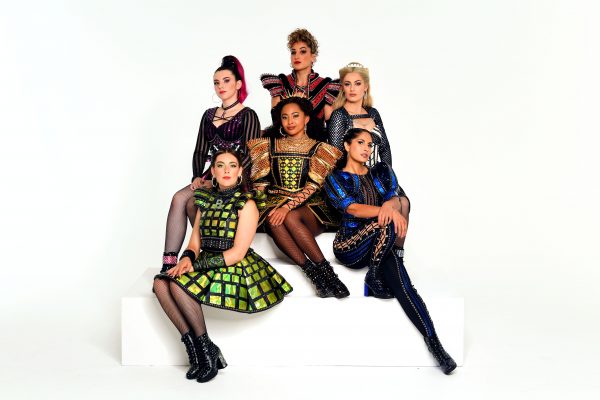 All Girl Pop Concert that is Entertaining, Uplifting and Empowering
Melbourne – The Comedy Theatre
Reviewed by Brendan Daynes
The West End smash hit, SIX: The Musical, tells the story of the six wives of Henry VIII through an all girl pop concert that is entertaining, uplifting and empowering.
What do you get when you write pop music that is based on Tudor history? SIX: The Musical.
Conceived in 2017 by British pair Toby Marlow and Lucy Moss, the Australian production had its Melbourne debut on Thursday 24th June at the Comedy Theatre and audiences came ready for a reimagined history lesson in the form of a pop concert.
The musical has a simple plot, the six wives of Henry VIII have come together to form a girl group.
Every good girl group needs a lead singer and to decide who gets the coveted role the girls will battle it out in front of the audience and let them decide who had the worst experience at the hands of their common husband. Over the next 75 minutes the six women belt out tune after tune detailing their personal circumstances with Henry VIII.
Although SIX is considered a musical, it would be easy to believe that you were at a pop concert, with a simple set design by Emma Bailey and lighting design by Tim Deiling, the stage resembles that of an arena concert. The six women are dressed to reflect their own unique style and flair, with costumes designed by Gabriella Slade, and look exactly like the iconic girl groups we all know and love, complete with studs, sequins and everything, including their microphones, is bedazzled.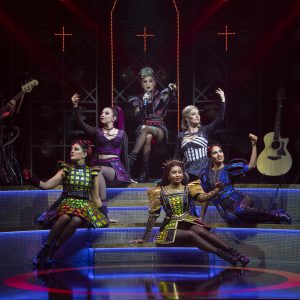 Each of the women, based on one of the wives, takes "queenspiration" from modern day divas. Catherine of Aragon, played by Phoenix Jackson Mendoza, is every bit Beyonce and Shakira with her quick lyrics and hip shaking moves. Kala Gare is sublime as Anne Boleyn, taking the quick wit of Lily Allen and the angst of Avril Lavigne to have the audience eating up her every word. Jane Seymour who allegedly is "the only one he truely loved", played by Loren Hunter, provides the ballad inspired by the soaring vocals of Adele and the vulnerability of Sia. Kiana Daniele plays the perfect Nicki Minaj and Rihanna inspired diva, Anna of Cleves, who is full of attitude and isn't afraid to work it. Inspired by more modern and ditsy pop divas Ariana Grande and Britney Spears, Katherine Howard played by Chelsea Dawson, is the perfect amount of innocence and sexuality. At this performance we were treated with Swing Shannen Alyce Quan, in place of Vidya Makan, playing Catherine Parr, who gets her soul and depth from Alicia Keys and Emilie Sand.
Played to perfection by the onstage band, affectionately dubbed the "Ladies in waiting", lead by Music Director Clare Hayes, each and every tune sounds familiar and could stand alone as a pop hit. Choreographer, Carrie-Anne Ingrouille, has done an incredible job of highlighting each of the divas and allowing their personality to shine through, while keeping with the girl group feel and having the girls stomp around the stage and perform simple but effective choreography in unison.
The very simplicity of the plot and the often overused theme of feminism could have been the downfall of this musical but in fact it is quite the opposite. It is the exact combination of the theme, the fact that the whole team is made up of women and that these women happily lean into a modern retelling of their story, whether completely factually accurate or not, that give this musical its appeal. The fact that each and every song feels like a familiar hit that you can't help but tap your foot and sing along to, sung by a group of ridiculously talented performers, keeps the audience entertained and they erupt into thunderous applause with the final explosion of the glitter cannons.
SIX: The Musical is the perfect night of entertainment for anyone and everyone. Although shorter than most other musicals, it contains catchy tunes that you can't help get stuck in your head which is the reason why its soundtrack has become a hit, being streamed more than 200 million times worldwide since its release. If you enjoy and appreciate music then get ready for a night of "HER-story" and girl group realness all wrapped up in this smash hit pop concert musical.
SIX: The Musical is playing at the Comedy Theatre in Melbourne until 21st August before heading to New Zealand and Brisbane with more details to be announced. For more information and tickets visit https://www.sixthemusical.com/australia/home