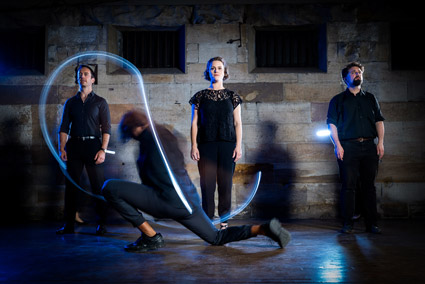 Arms of Love
August 24 – September 4
Buxtehude's monumental meditation on suffering and the human body reimagined with contemporary indigenous choreography from Karul Projects, and a major new Australian work from Chris Williams, setting words by Behrouz Boochani.
Co-curated/directed by Robert Macfarlane, with choreography by Thomas E.S. Kelly, performed by dancer and Wiradjuri man Neville WiIliams-Boney against the background of an ongoing refugee crisis at home and abroad.
24 AUG – 4 SEP
DUNGOG | NEWCASTLE | SYDNEY | WOLLONGONG | CANBERRA | MELBOURNE
Program
Dietrich Buxtehude: Membra Jesu Nostri
Chris Williams: I pray the sea
Robert Macfarlane – Director
Thomas E.S. Kelly – Choreographer
The Song Company is proud to be reuniting with choreographer Thomas E.S. Kelly – from contemporary Indigenous dance company Karul Projects – in a pageant of light and movement to Membra Jesu Nostri by Dieterich Buxtehude and I pray the sea by Australian composer Chris Williams, commissioned with funding from the Silo Collective and setting words from No Friend But the Mountains by Behrouz Boochani.
Williams's flotilla of seven short fragments and one extended final movement is interspersed with Buxtehude's intimate 17th-century cycle of seven cantatas on the physical and spiritual aspects of the Crucifixion.
The Song Company's Artists, Amy Moore, Chloe Lankshear, Stephanie Dillon, Thomas Flint, and Robert Macfarlane are joined by a continuo made up of a Tarogato (a wooden saxophone), played by Hylton Mowday, |Jenny Eriksson on electric viola da gamba, and Artistic Director Antony Pitts on a classic Rhodes keyboard.