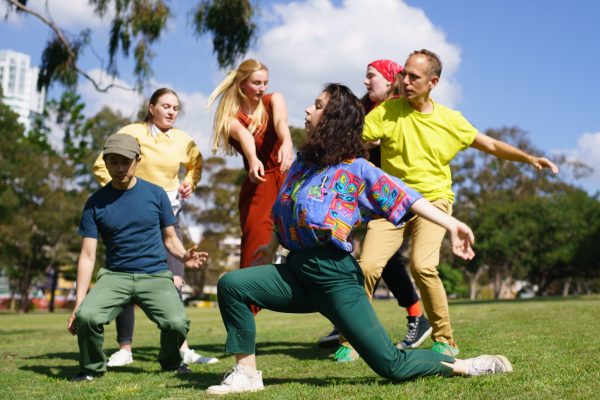 Dance Makers Collective & Future Makers present Premiere of IN SITU
Sydney Festival, Parramatta Park, January 21-24
As part of the 2021 Sydney Festival, Dance Makers Collective and its youth company, Future Makers, will present IN SITU.
IN SITU is a site-specific promenade dance performance embedded in the surrounds of Parramatta Park. It is a collecgtion site specific dance works telling First Nations stories, choreographed by dancers including Wakka Wakka/Kombumerri woman Katina Olsen and Wiradjuri woman Emily Flannery. This roving project was conceived in consultation with Darug elders Peta Strachan and Julie Webb.
The event invites guests to take a walk in Parramatta Park, the heartland of the Parramatta people, and uncover a collection of hidden dances along the way.
The landscape here has changed drastically since colonisation. Buildings have been erected, pathways carved and gardens manicured, meanwhile an entire city grows skyward around it. Responding to the stories and the landscape, ten of Sydney's best choreographers create a series of solos, performed by the next generation of dance artists.
Collaborating choreographers on the event are: Martin del Amo, Craig Bary, Richard Cilli, Ryuichi Fujimura, Riana Head-Toussaint, Brianna Kell, Julie-Anne Long, Zachary Lopez, Katina Olsen & Lee Serle.
Dancers featured are:  Emily Flannery, Sarah Goroch, Jessica Kuit, Beryl La, Bedelia Lowrencev, Cinzia Marrocco, Matina McAneney, Rachelle Silsby, Christopher Wade & Ella Watson-Heath.
Audience members are required to bring a phone with internet access, and headphones to the performance. This performance takes audiences on a walk through Parramatta Park commencing at the George Street Gate and concluding at Buttons Bridge, which is approximately a 1km walk from start to finish.  The walk involves an upward incline and some off-path sections.  Please wear appropriate footwear and clothing for walking in the forecast weather conditions, including sun protection or wet weather protection as appropriate.
Audience members are advised to arrive at least 10 minutes prior to the scheduled performance time to ensure a COVID safe check in.  Audience numbers are capped at 20 people per performance to comply with the NSW Government's Health Order.  Latecomers will not be admitted.
IN SITU