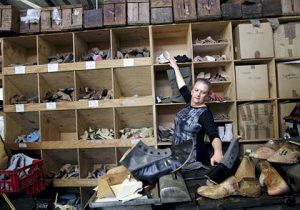 Where did they get the shoes that are worn in Mary Poppins? How do they get all the shoes for Wicked? What shop sells theatrical shoes like the ones in Cats or Hairspray or Rock Of Ages?
Well the answer is one company, 'Steppin' Out', makes them all. And the creative force behind Steppin' Out is Jodie Morrison, who's responsible for most of the footwear worn by actors, dancers and singers alike, from television to film and across every stage in theatre and opera. Since 1979, Steppin' Out have been providing handmade shoes for every different style show and I visited Jodie for the first time in 1989, as part of my wardrobe fittings for 42nd St and later worked together with Jodie getting the two tone tap shoes correct for Hot Shoe Shuffle. Recently I attended the workshop, where it all happens, for an interview with Jodie Morrison.
Jodie on Love Never Dies, 'I think we're making about 70 or 80 pairs of shoes and shoes take about 20 labour hours, so that's why we've got a lot of bodies in here at the moment, getting things done and finished. Meanwhile we're doing The Hobbit in New Zealand, so we're making the footwear for that, so I've just been making elven boots for Elron for Hugo Weaving'. I couldn't help myself, thinking there might be an oversized bare foot/shoe that was created, so I interrupted, 'I didn't think Hobbits wore shoes'? Jodie is quick to correct me, 'No Hobbits don't wear shoes, but the movie's The Hobbit and so the elves wear shoes and Gandolf wears boots and dwarves wear boots, lots of dwarves, we've done lots and lots of dwarves', she laughs. 'And meanwhile in Australia, we've got Wicked and Dr Zhivago, The Music Of Andrew Lloyd Webber and in Opera Australia we've got La Boheme and doing a little something for the Wiggles and we just did something for Opera Queensland, so lot's of things going on at the moment'.
Jodie and her team have outfitted shoes for hundreds of productions over 35 years and on file she has over 5000 feet measurements. 'So for example if I get a call to say Chris Horsey is doing the latest show, I get his file and use it to make the first fitting', Jodie explains. I wanted to know how closely Jodie works with the designers of the shows to best facilitate the needs of the performers and she responded in great detail, 'When I did Singin In The Rain and Todd McKenney was dancing on metal grill with holes in it because they were actually bringing the water down and so initially he was just aquaplaning. So then we had to work out what rubber we could use that would disperse the water, give him grip, but not so much grip that he couldn't move. We have to sort all those things out'. Jodie adds, 'so today, we're working out how to; in Love Never Dies, one of the woman is on one of those big fitness balls in point shoes, in a circus scene, so I'm working out how to do the rubber on the toes of the point shoes so she'll grip'.
It all started, as a lot of success stories often do, by chance for Jodie and her bespoke footwear business. Jodie had an exhibition and was invited to appear as a guest on a daytime television programme. Jodie describes the day of the appearance as a particularly rainy day in Sydney, to the point of being dangerous. But she turned up despite the weather. As it happens, Jim Fishburn, the producer of La Cage Aux Folles, was watching the TV that day and saw Jodie's interview. 'We don't have to send to America to have the boots made, we'll get her to do it'.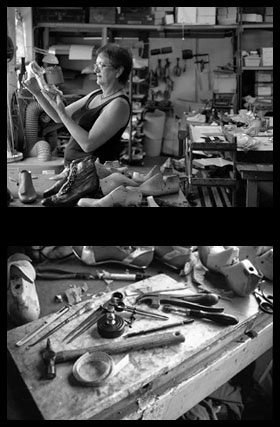 Prior to that she was making shoes for the Nimrod Theatre, but La Cage was her first really, really big production. It was also at a time when Adelaide Festival Trust and Cameron McIntosh were coming into Sydney with all the big shows, Guys and Dolls, then Cats and then Les Miserable and Miss Saigon and Phantom. Jodie was in the unique position to have just done La Cage and she remembers, 'I made the shoes for that [La Cage], SO heavy and STRONG, because they were men dressed up as women, I made them so they could survive a nuclear holocaust', she laughs, 'but now I go for light and strong with a dance shoe, as flexible as possible'. Her timing was excellent, it was the 80's, there was lots of money therefore there was lots of money to spend on the shows.
Finally I asked Jodie what has been her favourite shoe or show to work on and maybe she was playing politics but she admits, 'I do love it when they tap dance and Love Never Dies because I could be a little more creative, Hairspray, Mary Poppins, I love them all'.
So next time you are watching a musical, opera, play, TV show or film you may consider, 'I wonder if Jodie Morrison is responsible for these shoes'? Chances are very high, she is.
For a look at the gallery of shoes, visit the Steppin' Out website www.steppinout.com.au.