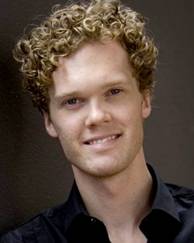 Last night, in Melbourne, the winner of the annual Rob Guest Endowment was announced at the Gala Concert hosted by Bert Newtown, Rob Mills and Lucy Durack at Her Majesty's Theatre.
Glenn Hill trained with Rodwells Studio of Dance and the Brent Street School of Performing Arts in Sydney, with vocal training from Lynda Barnes and Patricia Oertel. He then began his professional career, aged 16, in Jolson – The Musical with Rob Guest and was an original cast member and Assistant Dance Captain for the Australian and Japanese tours of the QUEEN musical – We Will Rock You.
Glenn is currently appearing in Legally Blonde The Musical and covers the role of Emmett. Other recent credits include the World Premiere production of Dr Zhivago, for which he was also Dance Captain. After a successful Australian tour he travelled to Seoul as part of the creative team to stage a Korean production of the show. Other theatre credits include Kookaburra's debut production of Pippin, Sweet Charity and Little Me for The Production Company and a Korean tour of Eurobeat – Almost Eurovision. He appeared in Monty Python's Spamalot in Melbourne in which he was Dance Captain and understudy for several lead roles. He also toured nationally with MAMMA MIA! understudying Pepper and Eddie.
Glenn's other performance credits include Royal Caribbean Cruise Lines, Sydney 2000 Olympic Games Opening Ceremony and various ARIA Awards broadcasts. He has appeared for Australia's leading choreographers at numerous corporate, sporting, live and televised events.
Following hundreds of applications and auditions, the six finalists performed various musical theatre numbers. Kirby Burgess (An Officer & A Gentlemen) performed With You from Ghost the Musical; Andy Conaghan (South Pacific) sang Empty Chairs at Empty Tables from Les Miserables; Euan Doidge (A Chorus Line, Legally Blonde the Musical) sang Her Voice from A Little Mermaid; Samantha Hagen (Rock of Ages) performed The Wizard and I from Wicked; The Secret Garden's A Bit of Earth was performed by Glenn Hill (Legally Blonde the Musical, Dr Zhivago); and Allyce Martins (Wicked) sang Oklahoma's I Can't Say No.
The finalists for the 2012 ANZ Trustees Foundation, Rob Guest Endowment were selected by judges Kellie Dickerson, Guy Simpson, Jason Coleman and Stuart Maunder.
Also performing at this year's concert was the 2011 Rob Guest Endowment recipient, Blake Bowden and many stars of the stage including Chloe Dallimore , David Harris, Michael Snell; Daniel Koek, Marika Aubrey, Rob Mills, Christie Whelan, Christopher Horsey and Silvie Paladino. The 2012 Gala Concert was directed by Kris Stewart.
In 2008 ANZ Trustees established a memorial fund in Rob Guest's honour to encourage emerging young performers in musical theatre. Recipients receive the opportunity to study in New York under the guidance of the best that Broadway has to offer to the value of $10,000. This year, for the first time, a lucky runner-up will receive the inaugural Production Company Artists Development Award, which is a cash prize of $5,000 and features a guaranteed live performance in one of the Production Company's sure-to-be exciting seasons in the following two years. The remaining four finalists will each receive a $500 cash-prize.
More information can be found on http://robguestendowment.com.au/
ROB GUEST OBE
Awarded an OBE for his services to the New Zealand Entertainment Industry, Rob Guest began his career in the New Zealand pop charts. He performed in more than 40 musicals and TV productions in New Zealand, Asia and America. Rob won overnight fame after coming to Australia to audition for Cameron Mackintosh's production of Les Misérables in which he took over the lead role of Jean Valjean and performed it as he toured Australia and New Zealand for the next three and a half years. In 1995 Rob went to London at Cameron Mackintosh's invitation to appear in the 10th Anniversary production of Les Misérables.
In 1992 Rob was cast in Cameron Mackintosh's Australian production of Phantom of the Opera and performed the role of Phantom for a record 2,289 performances over seven years. Rob Guest was performing in the Australian Premiere season of Wicked as The Wizard when he died shortly after midnight on Thursday October 2, 2008.
THE ROB GUEST ENDOWMENT
After the sudden death of Rob Guest OBE in October 2008, and in recognition of his achievements in the musical theatre industry, ANZ and ANZ Trustees established a memorial fund in Rob's honour to help emerging young performers in musical theatre. The ANZ Trustees Foundation Rob Guest Endowment is awarded each year to an emerging musical theatre performer selected by a panel of industry experts. The Award provides the emerging performer with further knowledge and training in the industry to develop their potential.
The Endowment is currently entering its forth year under the guidance of the Endowment's representative committee, John Frost OAM, Bernadette Hayes, Kellie Dickerson and James Thane.
The purpose in 2012 is to keep growing the Endowment through fundraising initiatives including the 2012 Rob Guest Endowment Concert, One Evening with Stephen Sondheim, sponsorship contributions and bucket collections at various musical theatre shows across the country.
GOALS
The endowment aims:
· To build a supportive community for upcoming musical theatre artists where they can seek support and opportunities from leading industry experts;
· To choose six performers annually who they feel are of great potential and value to the industry and introduce them to the musical theatre community;
· Provide one day per year where all facets of the industry join together for a night to remember Rob Guest OBE and to usher in a new generation of musical theatre performers;
· To build a strong reputation around the Award where the winners will be recognized throughout the industry as being rising stars with a fruitful future.