30 Semi-Finalists Announced for Prestigious Musical Theatre Scholarships
Committee Makes Statement on Lack of Diversity Complaints
After this year's first ever online auditions were conducted over the past few weeks, the 30 Semi-Finalists for the 2020 Rob Guest Endowment Award were announced this week.
The Rob Guest Endowment committee is pleased to announce the following Semi-Finalists who will perform for a panel of judges to determine the six finalists for the 2020 Rob Guest Endowment Award:
Finn Alexander, Carly Bettinson, Kelsi Boyden, Molly Bugeja, Keiarn Chesebro, Austin Cornish, Sian Crowe, Mia Dabkowski-Chandler, Mackenzie Dunn, Darcey Eagle, Joshua Firman, Mitchell France, Lauren Goetz, Lachlan Greenland, Manon Gunderson-Briggs, Emma Kavanagh, Sarah Krndija, Jordan Malone, Owen McCredie, Paige McKay, Jessica Mills, Emily Monsma, Olivia Morison, Elise Muley, Tomas Parrish, Madeline Plum, Sara Reed, Samuel Richardson, Alec Steedman and Stephanie Wall.
Boasting the largest single Musical Theatre scholarship in Australia, a $50,000 prize along with the coveted RGE Trophy, the competition is now offered biennially, with the second place winner receiving $5,000 and four runners-up receiving $1,500 each.
The Rob Guest Endowment was created following the sudden death of one of Australia's finest musical theatre performers, Rob Guest OBE, in October 2008. In recognition of his achievements in the musical theatre industry, the Rob Guest Endowment was established in his honour with the aim of building and maintaining a community for emerging musical theatre artists and to provide them with support.
Previous winners of the Rob Guest Endowment Award have since been launched into the industry, starring in lead roles in musical theatre around Australia. Past winners include Annie Aitken (Thoroughly Modern Millie), Daniel Assetta (West Side Story), Blake Bowden (The Book of Mormon), Francine Cain (Grease), Samantha Dodemaide (The Wizard of Oz), Glenn Hill (Jersey Boys), Georgina Hopson (Evita) and Joshua Robson (Shrek).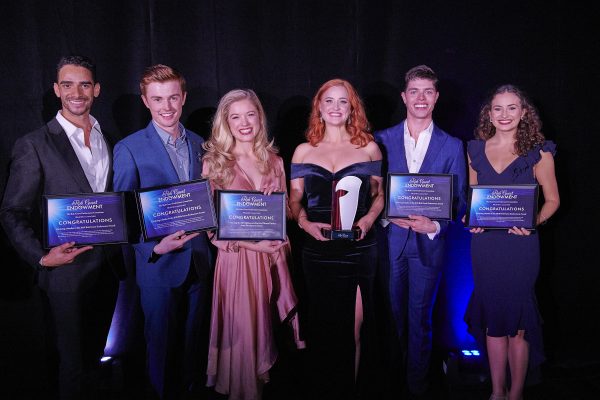 In response to many vocal criticisms that the selected finalists depicted a clear lack of diversity in its choices, the RGE committee today responded with this statement:
"The Rob Guest Endowment is a competition open to all young performers of any ethnicity or colour and we are constantly striving for diversity. The competition was widely publicised on social media, theatre websites, and to over 100 agents and schools. We received a record 251 applications for this year's award and the process does not make any attempt to document an entrant's ethnic background. The only metric considered by our judging panel wa talent. They did not consider race, colour, religion or gender when choosing a semi-finalists. We clealy need to work harder at encouraging entrants from the BIPOC community because we are seeing d=few entries from that community.
'The Rob Guest Endowment will continue to work on our message that diversity can only be good for our industry, and to encourage and welcome the BIPOC community to participate in the competition. We will continue to seek ways to inject this thinking into the running of the competition including BIPOC appointments to our leadership team."
These 30 semi-finalists will perform in September to determine the 6 finalists, with the grand final being held in October.