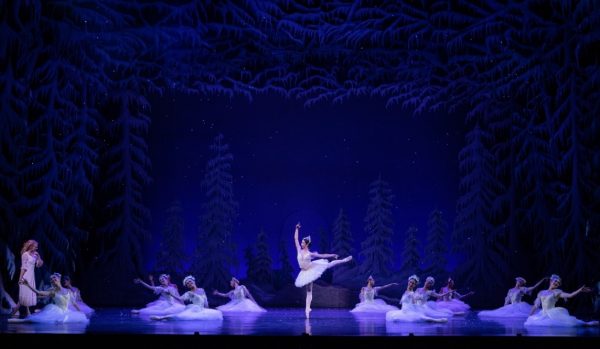 "A Beautiful Tale for all the Family – Every Scene a Magical Story"
December, QPAC Lyric Theatre
Reviewed by Adelle Givney
The fairy-tale that is "The Nutcracker" returned to Brisbane from 16th to 23rd December.  This beautifully staged production has something for the whole family – magic, laughter, glittering tiaras, beautiful costumes, stunning dancing and incredible pas de deux, pas de trois and more!  There is even snow falling not only on the stage but over the audience!
The first act opens with the guests arriving to the Stahlbaum house for their Christmas Eve party.  The children are all playing with the toys that they have been given, which affords some very light hearted moments.  Fritz (Luke Dimattina) and Clara (Lou Spichtig) play off each other very well, and the other children chosen to perform, all Queensland Ballet Academy Students, demonstrated great promise.
The laughter provided by Grandfather (Rian Thompson) Auntie (Mia Heathcote) and Grandmother (Laura Tosar) was very well received by the audience.
Enter Dr. Drosselmeyer (Alexander Idaszak)  with a magical flourish, entertaining children and adults alike with his tricks and wind up dolls (Patricio Reve', Vanessa Morelli, Samuel Packer and Isabella Swietlicki), finishing by handing Clara a beautiful wooden Nutcracker.
Clara falls asleep, and dreams of a larger-than-life sized Nutcracker (very well performed by Liam Geck) fighting with King Rat (Vito Berasconi) along with the Soldiers and Rats.  The Nutcracker turns into a handsome prince (Camilo Ramos) and transforms the house into the Land of Snow.
The Snow Queen (Neneka Yoshida) and the Snow Prince (Victor Estevez) pas de deux was enthralling, with the timeless Tchaikovsky score, performed exceptionally by the QLD Symphony Orchestra,   conducted by the very able Nigel Gaynor, enhancing the lighting and set.  Add the children's chorus of the St Peters' Lutheran College Choirs and Voices of Birralee during the climactic Snow Flakes dance at the end of Act One, with snow dropping on both stage and onto the audience and it is a truly magical experience, sure to delight everyone.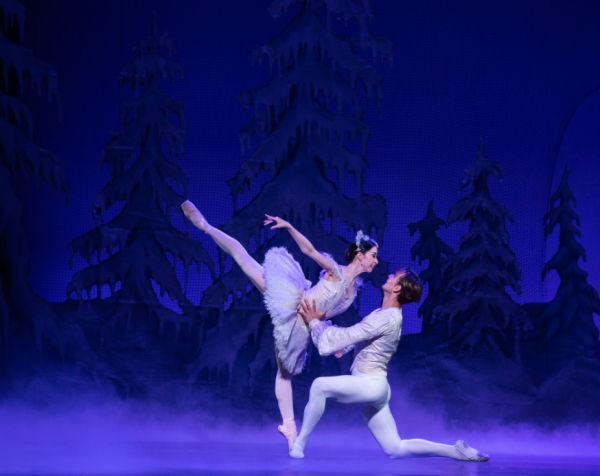 The retiring Camilo Ramos, partnering his beautiful real-life fiancée Yanela Pinera, dancing the cherished role of the Sugar Plum Fairy, dazzled the audience in the variations.  Pinera's fouettes were nothing short of amazing – two triple pirouettes in her sequence had the audience showing their appreciation.   Queensland Ballet audiences will miss Ramos' strength and mastery of steps going forward, and the audience showed just how much by delivering a standing ovation.
Other leads roles were received with delight by the large audience.  Chiara Gonzales and Patricio Reve (Arabian dancers) were strong and technically exact, enthralling with their lifts and lines.  The Lead Flower Couple (Georgia Swan and Joel Woellner) radiated joy, and were a delight to watch with their beautiful synchronicity.  Mirlitons, danced with vivacity by Mia Heathcote, Liam Geck and Laura Tosar was another beautiful feature of Act Two.  The Chinese Dancers (Shaun Curtis and Edward Pope) demonstrated some excellent partnering work.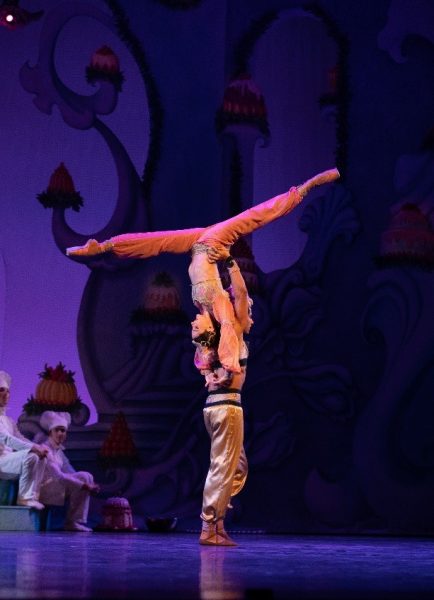 Vito Bernasconi reprised his strenuous role of Gopak, the Russian Dancer.  It is a spectacular solo of jumps, kicks and turns, and he did not disappoint his audience.  He demonstrated his strength and flair through the whole variation, in particular in execution of Cossack squat kicks balancing on his hands behind him, earning him a very well deserved cheer from the audience.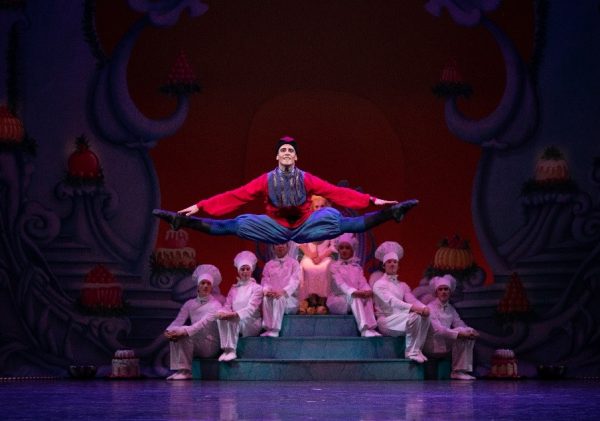 Mother Ginger (Lachalan Mair) delighted with several Ginger Children making an appearance.  Younger members of the audience love seeing the aspiring ballet dancers up on the stage – doing what they may dream of themselves.
After the revised Nutcracker season in 2020, where a shortened version was performed due to restrictions, it was a delight to see the full ballet as it had been choreographed by Ben Stevenson, and staged by Li Cunxin.
Queensland Ballet Company are truly world class, and I look forward to their 2022 season, which promises to be spectacular!
Photos David Kelly, Queensland Ballet, 2021.