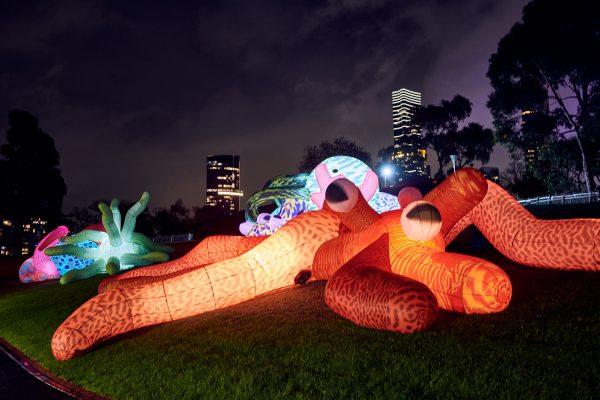 Rising Was Able to Fully Rise in June 2022
Melbourne's RISING Festival
Reviewed by Brendan Daynes
Like a beautiful morning sunrise that had been peeking through the clouds for the last two years,
Rising was able to fully rise in June 2022 and Melbourne is basking in the glow and warmth that is world class art.
The arts industry has been hard hit by COVID and Melbourne's RISING festival, which was supposed to premier in 2020, was finally able to kick off after years of false starts. RISING is the marriage between popular Melbourne festivals, White Night and Melbourne International Arts Festival, and audiences were entertained for two weeks from 1-12 June by world class art, music, performance and ceremony.
The centrepiece of Rising was The Wilds, a fluoro fantasy of art, sound, taste and ice. Melbourne's iconic Sidney Myer Music Bowl was transformed into a complete sensory experience by New York City based, Australian artists and creative technologists Tin & Ed and Filipino contemporary fine artist Leeroy New. Audiences were surrounded by sculptures, soundscapes and digital movement – responsive art and massive mythic architectural organisms while being able to indulge in the best of Melbourne food and drink. In addition to having a complete sensory experience, audiences were able to be thoroughly entertained by some of Melbourne's best performance artists while skating around Rinky Dink at the main stage, which had been transformed into an ice skating rink.
Opening with the festival, intercultural dance company Marrungeku bravely presented Jarruungu Ngan-ga (Straight Talk), a piece that encouraged audiences to look our treatment of others. This piece boldly explored many moral issues including race and gender and left the audience both devastated, by showcasing the horrific mistreatment of others, but also hopeful that art and the language of dance can shine a light on these confronting issues and hopefully create change.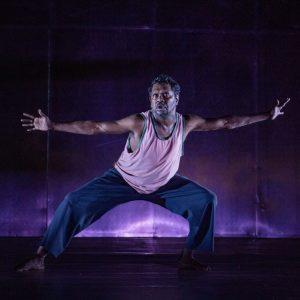 Danish choreographer, Mette Invegartsen, had two very different yet similar works on show during the festival. Her first work titled 21 Pornographies explored power, submission and observation and the second, The Dancing Public, highlighted how in times of crisis we simply can't resist the urge to dance. Both pieces explored very different themes and were staged almost in opposition, with one asking the audience to simply observe the solo performance and the other imploring the audience to become a part of the performance, but were similar with both being rooted on absurd historical facts. Walking away from both performances it was clear that audiences were provided with a lot to think about and discuss.
Fart Fabulous provided audiences with side splitting comedy thanks to Fat Fruit. This playful punk variety show was jam packed and full of laughs and also showcased the amazingly talented group of performers unique skills in circus, drag, dance, visual art and live music. The show was a big mess but that was part of the charm and it started from the moment audiences walked into the foyer of the iconic National Theatre in St Kilda with the performers interacting prior to the show commencing.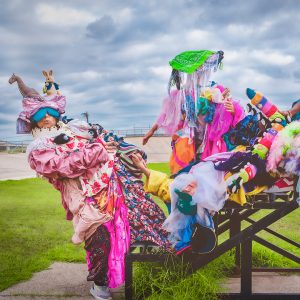 Anything & Everything provided audiences with an intimate look through a camera lens into  the effects of growing up in the world of social media and screen culture. The ensemble aged between 11 and 21 shoot and then curate their own short film that fulfils each of their self generated fantasies of their identity. This leaves the audience to question who they really are and is that the person that exists in the online world.
Manifesto presented by Stephanie Lake Company was a festival standout, each and every rhythm and movement was executed with precision, demonstrating the technical prowess of the dancers and drummers and the genius of the score and choreography. Manifesto was more than deserving of the thunderous applause and standing ovation it received and was simply breathtaking.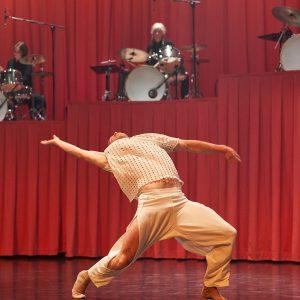 Uruguayan choreographer Tamara Cubas brought together 70 locals from all walks of life to create Multitud. The volunteers, mostly amateurs, who helped create and participated in the performance spent over ninety minutes moving around a dimly lit space, using mostly running and walking to create a zombie like, dystopian world. The beauty of this piece was that each performance would have been slightly different, due to the artistic choices of the performers and would also have been experienced differently by audiences depending on where they viewed this from.
Walking through the city of Melbourne on a mid week cold winters night, there was a sense of excitement, anticipation and enthusiasm from passers by. What would normally have been a dreary and cold evening, where most would prefer to be cuddled up on the couch, turned into two weeks of thrilling entertainment that has audiences excited for what's to come and the arts industry well on the road to recovery.
The Victorian Government through Creative Victoria and Visit Victoria presented RISING at various locations in the heart of Melbourne, Victoria from 1-12 May 2022.