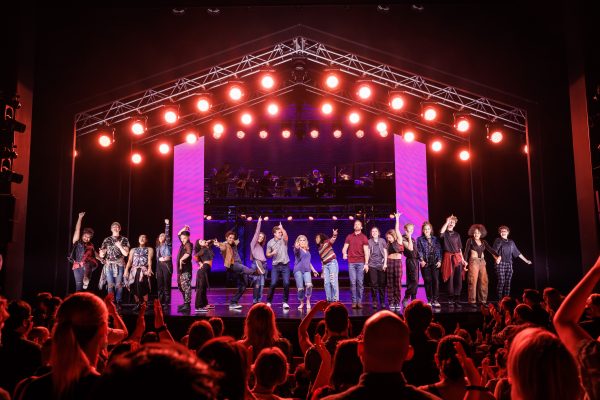 Young Cast Rock this Modern Day Musical with a Message for a New Generation
Theatre Royal, Sydney, Thursday December 9
Reviewed by Heather Clements
As the latest incarnation of Sydney's Theatre Royal re-opened last week, it is perhaps fitting that a new and bitingly contemporary musical is the first production to welcome back audiences. The first premiere of Jagged Little Pill outside of the US is the perfect debut for this iconic inner-city stage embracing the 21st century.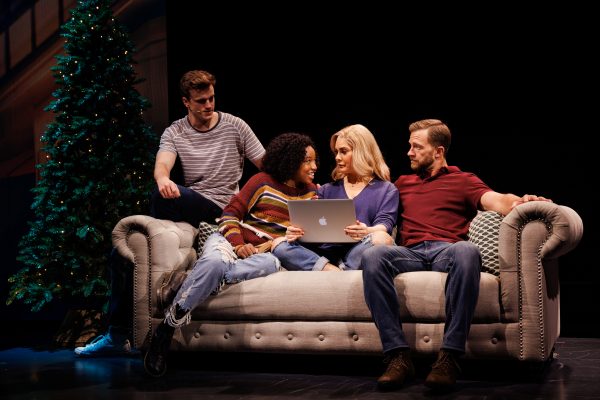 With the pandemic closing down productions world wide over the past year, the crowd at the opening night of Jagged Little Pill was bustling with enthusiasm to be back mingling with societal celebrities and eager to experience both the dazzling refurbished venue as well as assess the hype of this new musical.
All musicals have their place in the entertainment genre, but some change the genre. Much like HAIR in the sixties, A Chorus Line in the seventies, and RENT in the nineties, Jagged Little Pill has tapped into the cultural zeitgeist of 'now' and reinvented the musical for a new generation.
Based on the songs of Alanis Morissette's historic, angst-filled 1995 album of the same name, Jagged Little Pill is more than a jukebox musical. The original storyline is crafted by celebrated screenwriter Diablo Cody (Juno, Tully) and introduces us to the contemporary, suburban Healy family. From the outside the Healy's are the perfect middle-class family complete with a workaholic dad, home goddess mum, do-no-wrong-son and 'woke' adopted black daughter. However, we soon learn that the pressures of modern life bring the Healy's cracks to the surface, when they are entangled in a troubling sexual assault. Aside form the script's incredible ability to speak for each character, the true genius is the way Cody has perfectly adapted the decades-old songs to the story as if they were newly written works. Morissette wrote only two new songs for the show – 'Predator' and 'Smiling'.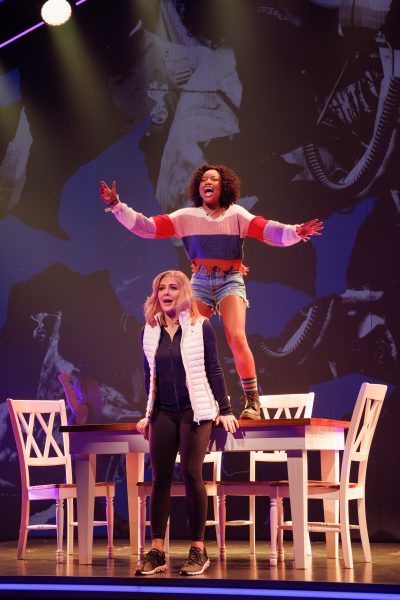 Alongside the brilliant music (which was a personal joy to rediscover), the cast for Jagged Little Pill is another stroke of genius. Producers have wisely chosen a relatively unknown and diverse cast with many in their first professional roles. However, the senior lead is played Natalie Bassingthwaighte – who, after her acclaimed role of Roxie Hart in Chicago in 2019 – is quickly establishing herself as the leading lady of Australia's musical theatre scene. Bassingthwaighte is sublime as the strung-out mother Mary Jane (MJ) Healy in her active wear and puffer jacket trying to uphold her perfect family image. Not only does she have a powerful voice in this role, her natural comedic timing adds the necessary light to this quite heavy tale. But it is the vulnerability displayed in Bassingthwaighte's performance that really hits home, especially in 'Uninvited' where MJ overdoses.
Joining in the parental role as father and husband Steve Healy is critically acclaimed film, TV and stage actor and recording artist, Tim Draxl. Draxl's performance epitomises the frustrated and over-worked corporate father that has become disconnected from his family. His emotional vulnerability is also a welcome trait to see in a male character.
In the junior lead role of daughter Frankie Healy is Emily Nkomo in her professional debut. This vibrant young performer shines as the somewhat rebellious adopted daughter of MJ and Steve and truly captures the sentiment of today's youths' passionate idealism and vocal activism. Alongside her is Liam Head as her brother Nick Healy who is also making his professional musical theatre debut. Both delivered compelling performances that indicate they are young performers to be watched.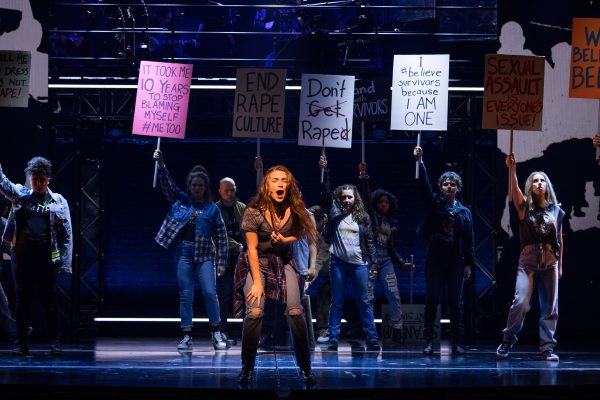 The pivotal role of Jo (Frankie's best friend/girlfriend) is played by rising musical star Maggie McKenna who originated the lead role in Muriel's Wedding the Musical. McKenna is a pure delight in Jagged Little Pill. They take on the role whole-heartedly and present a character in Jo that is both likeable and pitied because of her mother's reluctance to accept her sexuality and unrequited love for Frankie. Also of note are AYDEN as Frankie's new love interest Phoenix and the ethereal Grace Miell as Bella. The triple-threat talent in this young cast is truly outstanding!
The set is minimalistic but with purpose. The over-arching lighting suggests the roof of a family home within which the story unfolds. The moveable sets and props are done smoothly by the ensemble cast without the story being rushed along. Plus, a live band playing rock music is always a winner.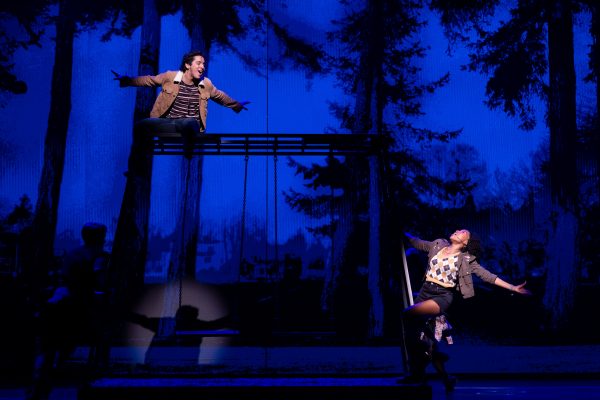 The original choreography for Jagged Little Pill is by Sidi Larbi Cherkaoui and from the outset it is clear why he won the 2020 Tony Award for Best Choreography. Every movement is intentional for the characters and storytelling, with a talented ensemble cast delivering an energetic and loose dance style throughout piqued with explosive rocks moments. A truly moving number is 'Smiling' early in Act I where MJ reveals her dependency on painkillers and the struggle she goes through each day. MJ moves through her day backwards, starting with getting painkillers in the alley, doing her daily activities and ending with her running out of pills at the beginning of her day. This is beautifully depicted on stage with the cast literally reversing the entire choreographic movement. It is an emotional number and I knew then that the choreography would be integral to the emotion of this show. Read my recent interview with Sidi Larbi Cherkaoui here.
All of the classic Alanis Morissette songs are featured in this musical including 'All I Really Want', 'Hand In My Pocket, 'Head Over Feet' and 'You Learn'. I am so glad that the show explicitly addressed the fact that her iconic song 'Ironic', is not at all ironic, and makes for one of the funniest highlight numbers of the show.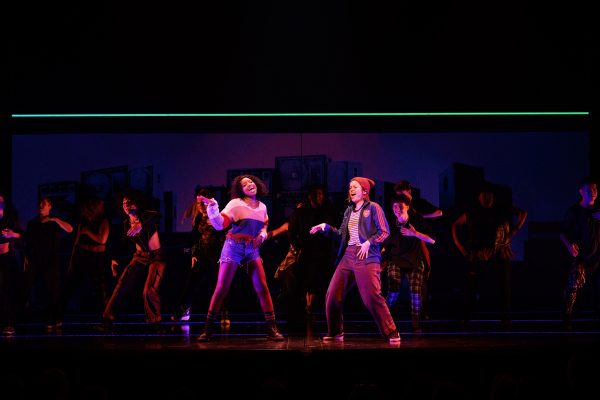 However, without a doubt the standout moment of the show was the powerful performance of Alanis' biggest hit 'You Oughta Know' by Maggie McKenna. I had goose bumps and the standing ovation in the middle of Act II was well and truly deserved.
Jagged Little Pill may not be to everyone's liking because it is a modern rock musical that addresses difficult issues of today: racial identity, depression, addiction, pornography, sexual assault, gender identity, racism, sexuality, family pressure and relationship breakdowns. This is definitely a show confident in delivering a message – but isn't all good art supposed to?
There is a lot packed into Jagged Little Pill as it travels at a swift pace but manages to balance the serious tone of its issues with a good amount of humour, levity and fun music. This show is self-aware to the point of it being 'woke' in an ironic sense. Special mention must be made of Leah Howard who, as the resident Australian director, has battled through many obstacles to finally get this incredible show on stage and make it entirely palatable to an Australian audience.
Even if you are too young to remember the sensation of the Jagged Little Pill album in the late nineties or not a big Alanis Morissette fan, this musical with a message has a special vibe about it. The talent and diversity of the mostly young cast feels right for the times, with Bassingthwaighte anchoring the show with her experience. The end result is a raw, chaotic and poignant portrayal of people trying to heal their pain.
The message from this new musical is to listen to those around us and that valuable lessons are learned from mistakes. 'You Learn' is the finale song where the lyric "swallow it down/what a jagged little pill" gives the album and show its name. In a pitch perfect ending, the show closes with the whole company singing to the audience: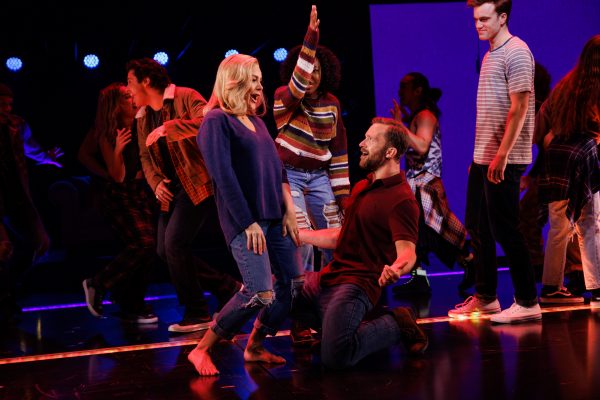 "You live, you learn
You love, you learn
You cry, you learn
You lose, you learn
You bleed, you learn
You scream, you learn"
Jagged Little Pill is currently playing in Sydney until 19 December 2021, with a return season announced for July 2022. The production will play in Melbourne in January 2022 and Perth in May 2022.
***
JAGGED LITTLE PILL
SYDNEY ⏤ Theatre Royal
2 – 19 December 2021
From 9 July 2022
MELBOURNE ⏤ Comedy Theatre
From 2 January 2022
PERTH ⏤ Crown Theatre
From 14 May 2022