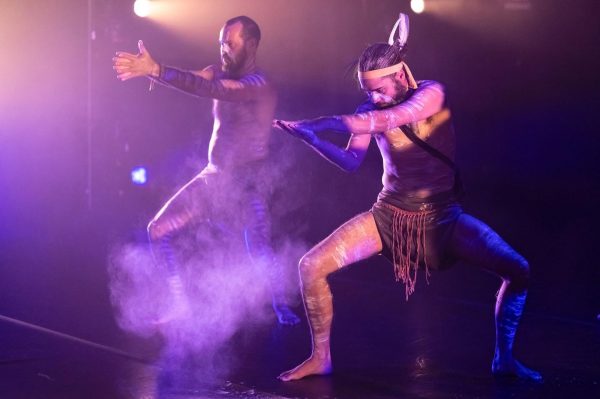 Double Bill: Culture Evolves + Kisiskâciwan
A Masterful Fusion of Tradition and Modernity in First Nations Dance
Reviewed by Brendan Daynes
Double Bill: Culture Evolves + Kisiskâciwan is a brilliant showcase of First Nations contemporary dance from two different continents, combining traditional and modern art forms to create a powerful and emotional experience. The show is a collaboration between Australian Brent Watkins and Canadian Jeanette Kotowich, both of whom bring their unique perspectives and cultural heritage to their respective performances.
Culture Evolves, choreographed by Brent Watkins, tells the story of Boondjil Noorook, a Gunnai Kurnnai man who travels from the Bogong Moth ceremonies to 90 Mile Beach in Gippsland. The performance combines traditional dance, hip-hop, and music to explore the historical account, and brings to life the ongoing relevance of the Bogong Moth ceremony to today's society. The incorporation of modern art forms highlights the cultural significance of the moth in Gunnai/Kurnnai society and its role as a keystone species in South Eastern Australian ecosystems.
Brent Watkins, a Gunai Kurnai man from southeastern Victoria, and Sean Ryan, a Kuku Nyunkal clan of the Kuku-Yalanji nation of far North Queensland, Cape York, both bring their ancestral epistemology to their art forms. Brent draws from his ancestral epistemology and combines it with contemporary narratives to convey the struggles that First Nations people are experiencing in Australia today.
Kisiskâciwan, choreographed by Jeanette Kotowich, is a beautiful journey to one's self, speaking to a Métis cultural narrative of identity and home. The performance evokes memories of childhood summers embraced by the valley of Kah-tep-was, a sacred place that calls generations of peoples for gathering, hunting, and spiritual replenishment. Jeanette brings her Nêhiyaw/Métis [Turtle Island] cosmology within the context of contemporary dance and Indigenous futurism, creating a performance that is both intergenerational and vocational.
The two very different but equally interesting performances reveal the depth of the artists cultural understanding and the importance of their work in preserving and maintaining Aboriginal cultural identity. Culture Evolves utilises traditional Australian Aboriginal dance, songs, and lore to highlight the importance of social justice and social ecology in today's society from a First Nations perspective. Jeanette's work, on the other hand, reflects Nêhiyaw/Métis cosmology within the context of contemporary dance and Indigenous (Canadian) futurism, working from de-colonial perspectives, land-base research, creative embodiment, and collaboration.
Double Bill: Culture Evolves + Kisiskâciwan is a breathtaking performance that highlights the importance of preserving and maintaining Aboriginal cultural identity through traditional and contemporary art forms. The two performances both combine the emotional and cultural significance of their respective Aboriginal traditions with the modern art forms, bringing to light the importance of Aboriginal cultural identity in the community in two different continents. It is a must-see performance that leaves a lasting impression and encourages audiences to learn more about Aboriginal culture and history.
Culture Evolves was co-commisioned and presented by YIRRAMBOI, VicHealth and Arts House and Kisiskâciwan was presented by YIRRAMBOI Arts House playing from Friday 5 – Saturday 6 May 2023 as part of YIRRAMBOI which played in various locations across Victoria from 4 – 14 May. For more information on YIRRAMBOI visit https://yirramboi.com.au/