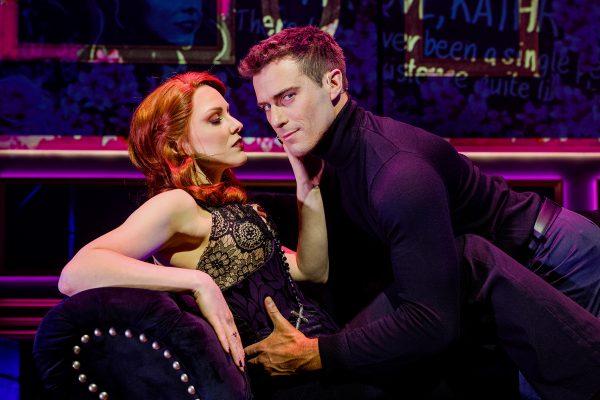 A Nostalgic Trip Back to the 90s
Athenaeum Theatre, 27th May
Reviewed by Brendan Daynes
On March 5 1999 Cruel Intentions, a modernised film adaptation of the 1782 novel 'Les Liaisons Dangereuses' by French novelist Pierre Choderlos de Laclos, was released and it has since become regarded as a cult classic. Fast forward to 2015 and Roger Kumble, the film's original writer and director, visited a preview of an unauthorised project version of the film as a jukebox musical and instead of calling the project off, Kumble joined the creative team and became a champion for the piece which has now played all over the US and the UK.
 On Friday 27th May at the Athenaeum Theatre in Melbourne, Cruel Intentions: The 90s Musical, had its Australian premiere and the audience was ready for a night of nostalgic fun. The musical follows affluent adolescent step siblings Sebastian, played by the alluring Drew Weston, and Kathryn, played by the vocal powerhouse Kirby Burgess, who agree to a revenge-fuelled wager. Sebastian, a notorious womaniser, must seduce the incoming headmaster's daughter Annette, played by newcomer Kelsey Halge, who has published an essay in support of chastity until marriage. The siblings soon find themselves playing a dangerous game with only one rule: Never fall in love. Just like the cult classic film, the musical explores themes of: love, lust, angst, adolescence, sex, drugs, and romance.
In addition to the principal cast, the supporting cast including Cecile, played by Francine Cain, who discovering herself as a woman and has a crush on her coloured music teacher Ronald, played by Rishab Kern; Greg, played by Joseph Spanti, is the college jock who is having a secret relationship with Blaine, played by Euan Fistrovic Doidge, Sebastian's flamboyant gay friend; Mrs Caldwell, played by Fem Billing, is Cecile's overprotective mother and also Sebastian's therapist, treating him for sex addiction. This small but impressive supporting cast do a spectacular job, each have a show stealing moment of their own.
Although the plot doesn't vary from that of the film, there is one clever addition; that of the music. Each and every song added somehow perfectly captures and propels the story forward while still being an iconic 90s banger that you just can't help but sing along with. Musical Director Daniel Puckey and his onstage band play everything from the powerful opening number "Every you, Every Me", which originally featured in the film, to the heartfelt ballad "Torn",as well as the unmistakable dance hit "Bye, Bye, Bye" and the cast rips it up, using every note and trill to showcase their ridiculous vocal talent.
Freya List, one of Australia's most prominent choreographers, has done a marvellous job with the movement which perfectly complements the iconic tunes we know and love. The movement is a perfectly updated version of the dance moves from the iconic film clips we used to watch every weekend on Video Hits.
The technical production team have done an impressive job of further showcasing these songs with Set Designer James Brown and Lighting Designer Declan O'Neill projecting the lyrics of the songs onto the set. The projected lyrics help create emotional and comedic impact and although not originally written for this show, they are perfectly woven in and it seems as though they were.
The whole Australian production team, headed by Director Alister Smith and Producer David Venn, have done a fantastic job of bring the fun of a retro 90s themed party that promises to have audiences singing at the top of their lungs and dancing in their seats.
Cruel Intentions: The 90s Musical is playing at the Athenauem Theatre in Melbourne until 25th June before heading to other major cities in Australia as detailed below:
State Theatre, Sydney from 30 June 2022;
Fortitude Music Hall, Brisbane from 27 July 2022;
Regal Theatre, Perth from 24 August 2022;
Her Majesty's Theatre, Adelaide from 8 September 2022;
Canberra Theatre, Canberra from 5 October 2022;
For tickets visit https://www.cruelintentions.com.au/