Delicious Charlie Delivers for Sweet Story Lovers
Her Majesty's Theatre, Melbourne, August 15
Reviewed by Caterina Kuljis
"The Candyman can, cause he mixes it with love and makes the world taste good…" ⏤ and just like that Roald Dahl's iconic story and seventies film Willy Wonka and the Chocolate Factory comes alive before our very eyes at Her Majesty's Theatre.
Delightful, delectable and deliciously entertaining featuring the memorable delightful tunes "I've got a Golden Ticket", "The Candyman" & "Pure Imagination".
Changes to the original movie storyline and character twists ignites this production's originality whilst still capturing the essence of this family classic.
The eclectic Willy Wonka, played by Paul Slade Smith, is delivered with witty, eccentric & effervescent flavour and the humour is on the mark. Channeling Gene Wilder, Slade plays well to the audience and fellow cast members.
On opening night Lenny Thomas (12) brilliantly played innocent young Charlie Bucket, and captures the character beautifully with pure joy, confidence and enthusiasm. Charlie's role is shared between 4 other boys – Benjamin Besley (10), Elijah Slavinskis (10), Edgar Stirling (10) & Lachlan Young (13).
Interestingly, the entire cast other than Charlie are adults, giving this musical theatre performance a pantomime feel, layered in slap stick comedy, one liners and parody. The talented and passionate cast that captivated us were:
▪️ Grandpa Jo ⏤ played by Tony Sheldon is funny, quick witted and entertaining with his Australian anecdotes;
▪️ Mrs Bucket ⏤ played by Lucy Maunder has a perfectly delightful voice;
▪️ Augustus Gloop & Mrs Gloop ⏤ played by Jake Fehily and Octavia Barren were both warm hearted and adorable yodelling Bavarian sausage lovers;
▪️ Veruca Salt ⏤ played by Karina Russell captured the spoilt Russian ballerina with attitude who danced en pointe for the entire show;
▪️ Mr Salt ⏤ played to perfection by Stephen Anderson is Veruca's wealthy businessman father where no price is too high to please his princess daughter;
▪️ Violet Beauregard ⏤ played by Jayme-Lee Hanekom; now this Queen of Pop girl has some sass!
▪️ Mr Beauregard ⏤ played by Madison McKoy is Violet's father and is super cool, with a swagger and a likeness to Eddie Murphy, no less;
▪️ Mike Teavee ⏤ played by new comer Harrison Riley depicted the cyber brat so well and was so entertaining with his acrobatic slapstick comedy; and
▪️ Mrs Teavee ⏤ played by Jayde Westaby was like she just stepped out of a 60s sitcom with her sublime voice and onstage presence.
The Oompa Loompas and the squirrels were brilliant and a real treat in the show! They are a true highlight and their flexibility and range of moves were through the roof! This show had a Great integration of puppetry.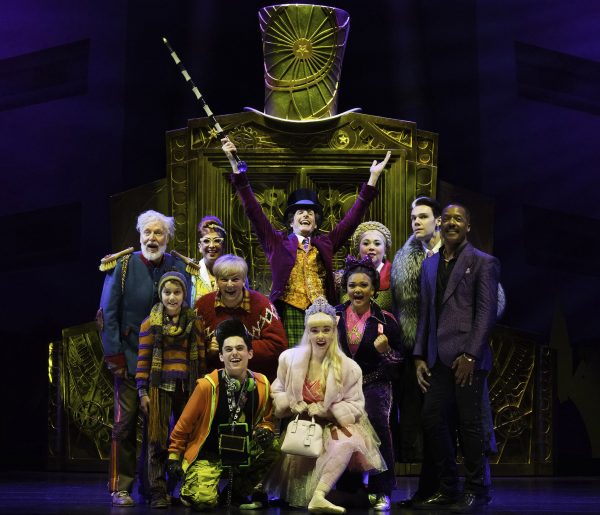 There are a few surprise moments that you don't expect. Crossover and integration of animation and special effects were exceptional, adding a new dimension to a live stage, all timed to perfection.
TOP SHOW REVIEW CHECKLIST:
▪️Props galore – Check! ✅
▪️Dimensional sets varying from tin and iron to grand sets of steeped brass, copper and rich in colour ✅
▪️Brilliant lighting, animation, special effects and timing✅
▪️Authentic and colourful costuming ✅
▪️Clever twists of the characters and storyline ✅
▪️Key tunes and quotes from the iconic film ✅
▪️Laughs to be had ✅
▪️Engagingly talented cast and crew ✅
▪️Slap stick comedy and laugh out loud one liners ✅
▪️High energy and dynamic choreography ✅
▪️Live orchestral accompaniment ✅
▪️Entertainment factor -Check! Check! ✅✅
All round, Roald Dahl's Charlie and the Chocolate Factory A New Musical is  a great layered entertainment show for all ages. Kids and adults alike can relate to this magical world of bliss, and no one should leave disappointed by this version of the magically sweet story we have all come to know and cherish.
#GoldenTicketOz
CHARLIE AND THE CHOCOLATE FACTORY
MELBOURNE

– Her Majesty's Theatre
Until December 2019
BRISBANE

– Lyric Theatre, QPAC
From March 2020