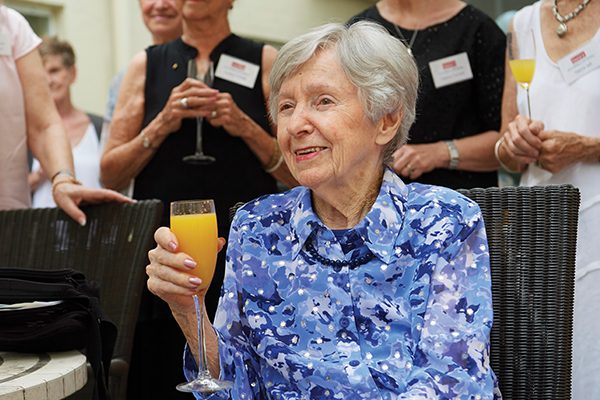 Joan Halliday OAM FRAD
1919 – 2019
This week, the Australian dance world lost one of its greats in Joan Halliday. She had celebrated her 100th birthday in February 2019.
The Royal Academy of Dance (RAD) Australia announced Joan's passing on Thursday with great sadness.
Joan Halliday and her sister Monica were RAD Life Members, Fellows and a very dear part of the RAD community in New South Wales and beyond.
Born in Melbourne, Joan and her sister Monica commenced their early ballet training with Phyllis Danaher in Brisbane. They relocated to Sydney to train at the Kirsova School of Ballet and danced with the Kirsova Ballet Company.
Joan and Monica then joined the Borovansky Ballet and later Ballet Rambert for its Australian and New Zealand tour.
After a career dancing with Kirsova Ballet Company, Borovansky Ballet (which later became The Australian Ballet) and Ballet Rambert, Joan and Monica became RAD Examiners and teachers for many years. Their legacy endures in the many students they inspired and trained.
They established the Halliday Dance Centre in Sydney and many 'Halliday' students went on to careers with The Royal Ballet, The Australian Ballet, American Ballet Theatre and with Madrid's Nacho Duato.
In 1960 Joan and Monica sat their RAD Advanced Teacher's Diploma becoming RAD examiners, Joan a Major examiner and Monica a Grades examiner, and they examined internationally and throughout Australia. As RAD Life members, they were awarded Fellowships of the Royal Academy of Dance in 1991. And in 1993 Joan and Monica were awarded the Order of Australia Medal in the Queen's birthday list, for services to classical dance. In 1998 they received an Australian Dance Award for outstanding achievement in dance education.
Joan survived her twin Monica for many years and went on to become Patron of the New South Wales Regional Advisory Panel. Our Graded Awards Day in New South Wales was named in honour of these remarkable women and plans to commemorate their life at the Joan and Monica Halliday Awards in March 2020 will be announced nearer the time.
See Joan and Monica's Ballet in Bush 1965 summer school here
Joan is now finally reunited with her beloved twin Monica and will be greatly missed. Our thoughts are with her family and friends and the thousands of dancers whose lives she touched.
The RAD have Plans to commemorate Joan at the Joan & Monica Halliday Awards in early 2020 which will be announced nearer the time.
[Information courtesy https://au.royalacademyofdance.org/vale-joan-halliday-oam-frad-1919-2019/]