Premiere of Amazing Grace – Innovative Calisthenics Spectacular
The National Theatre, St Kilda, Feb 9
Reviewed by Caterina Kuljis
Walking into The National Theatre and looking around at the audience, we were surrounded by friends and family of the cast, all armed with flowers and smiles which gave this show a real community family feel.
When the lights dimmed and the show started we were met with 'Cirque de Glee'!
This show is seasoned with the best that the calisthenics world offers. Amazing Grace blends Cabaret Cirque, song, dance, balletic movements, acrobatics, contortion and spiced with Glee – elegance, strong sharp lines, splits, acrobatics, pirouettes, baton twirling and more!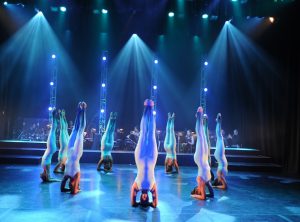 It is so unique is it difficult to describe and even harder to define. But there was no doubt it was truly entertaining.
There was a live 13 piece band that accompanied the cast and show on stage which added a magical touch to the mix. The strength of the calisthenics performers' teamwork, their versatility, flexibility, endurance and timing was exceptional. Each performer was a mirror of the next with perfect lines and formations. Speed, accuracy, timing was second to none. Just like artwork- masterpieces of sculpture.
The sets were plain and simple but the performers well and truly made up for this. Whether the costumes contoured their bodies or were free flowing, they were an array of colour and were brilliantly matched for each performance item. The lighting was better in the second half of the show. The pieces were much more interactive in formations, had more energy and the music was more upbeat.
I understand the creators of this show have purposely set out to re-invent calisthenics and take it to a broader audience – similarly to what Riverdance did for Irish dancing. If the aim was to showcase calisthenics and the diversity within this realm then Amazing Grace totally hit the mark with the selection of numbers showcased. However, if it was to be a theatrical performance it missed a narrative and the journey that a stroyline takes you on.

It would have been lovely to see the singers engage more with the performers. Having said that though, the three singers (Thomas McGuane, Samantha Morley and Taneel Van Zyl) were wonderful! Their harmonies blended smoothly together and it was wonderful to see a pregnant Taneel Van Zyl onstage and still shining and giving it her all. The acoustic version of Five Hundred Miles was breathtaking.
Each performance element in Amazing Grace was spectacular, with my particular favourites being Palladio, Cell Block Tango, Mein Heir, O and Hungarian Rhapsody.
As entertainment for the whole family, I took along my son and we both thoroughly enjoyed the show and were truly inspired by the incredible talent showcased.
Hopefully, this production will tour with more seasons elsewhere and introduce audiences to the power, precision, and potential that is modern day calisthenics.
CLICK HERE >> To read more about Amazing Grace in our previous article